Yo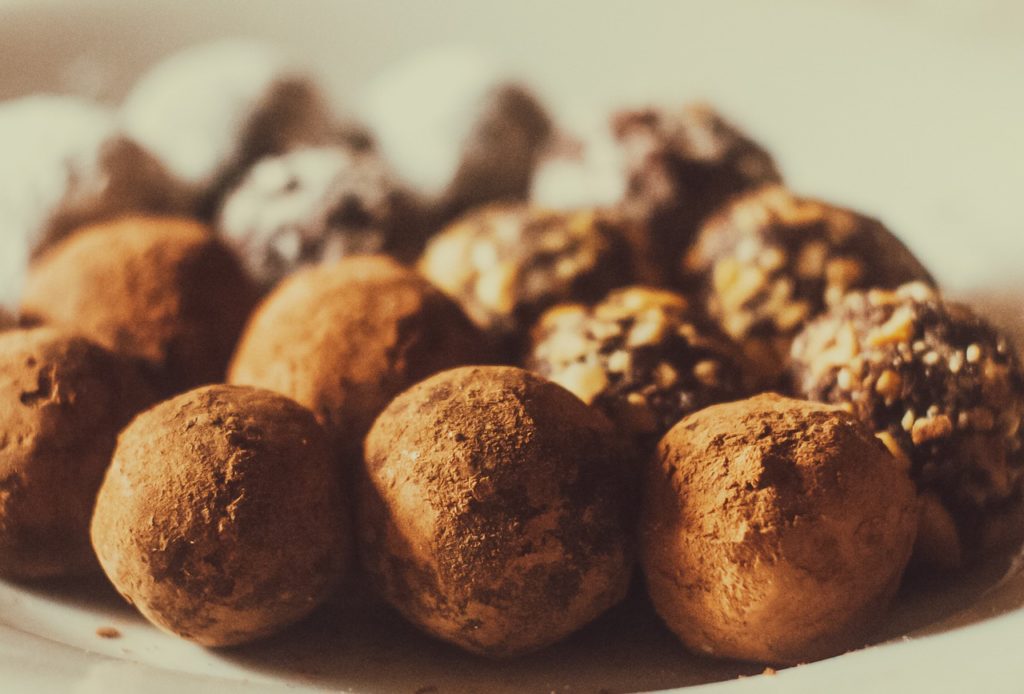 u slowly peel the ribbon away, opening that little box or bag to reveal the spheres of surprise within. You don't always know what you're getting until you take a bite. Oooey gooey caramel … or maybe creamy peanut butter? Your eyes close as the buttery confection melts on your tongue.
Yum.
I'm as particular about my chocolate as I am about my martinis. For the latter, I prefer them straight up, a little dirty, garnished with three olives — and only with Belvedere vodka. We're both of Polish origin, after all. Ketel One (Netherlands) and Grey Goose (France) may be of the same pricey price point, but I'd bet a bottle of each that I can tell the difference in a cocktail.
When it comes to chocolate, Hershey's and Nestle have nothing on Ghirardelli. But there are plenty of other wonderful brands, too. And really — the better the chocolate, the better the truffle. If you are up for experimenting, I'd recommend researching some organic and fair trade brands.
I started making truffles as presents a few years ago. Emboldened by the very warm welcome my first batch received, it's become a hallowed holiday tradition. Each time I make these chocolates, I experiment — as I do with every recipe I've made more than once. What began as truffles with rum has become so much more: Margarita truffles, Three Wise Chile truffles and now, a few new flavors — including this week's offering: Sweet and Spicy Salted Honey Truffles. That's the great thing about this recipe: you can use the same base to make multiple varieties just by tweaking the ingredients.
I typically opt for semi-sweet in my ganache and dark chocolate for rolling when I am using chile in truffles. I find it stands up to the chile particularly well. I'd suggest using more honey for your liquid as a counterbalance and opting for an extract to impart more flavor. Taste the ganache as you are flavoring to make sure you don't use too much.
Happy holidays!
Truffles, Your Way

Adapted from What's Cooking America's Honey Spice Chocolate recipe.

For ganache:

1/2 cup heavy cream
2 tablespoons unsalted butter
3 tablespoons honey
1/2 teaspoon cayenne (more if you like it with a kick … taste as you go!)
9 ounces high-quality semi-sweet chocolate chips, or chopped bar chocolate

For dipping and rolling:

6 ounces high-quality dark chocolate chips, or chopped bar chocolate
Himalayan or smoked salt for sprinkling

Method:

Place semi-sweet chocolate in a bowl and set aside.

Mix the cream, butter and honey in a small saucepan over medium-high heat. Bring to a full boil, add cayenne, stir and remove from heat. pour over chocolate and cover, allowing to stand for about five minutes. Stir thoroughly to incorporate and add more chile, as  desired. Transfer to bowl and refrigerate for about 45 minutes, stirring every 15. The mixture will begin thicken after 45 minutes. Continue to refrigerate, stirring every five minutes for an additional 10 to 15 minutes. Stirring is a critical step — if you skip this, ganache will solidify. Then you will just have to eat it. Poor you.

Between stirrings, line baking sheets with parchment paper (a Silpat works great, too) and place salt for sprinkling in a small bowl. The chocolate will be firm, but using a solid spoon, stir until it is workable. Using the spoon as much as possible, form chocolate mixture into one-inch balls or smaller. I'm not gonna lie — this isn't easy. It can soften, and fast. Especially when you start "shoosh-ing" them into shape with your hands. Just roll the balls from the spoon in your palm (they will never form perfect circles, so OCD be damned.) You may need to put the ganache back in the fridge until you get the hang of it. As the balls are ready, move to paper. Chill for 10 to 15 minutes.

Now it's time to melt the remaining 6 ounces of chocolate. So many ways to do this, and so many to screw up. You can nuke it in short bursts in the microwave or put water in one pan and stack another, slightly smaller pan, inside to make your own double boiler. Or use a real double boiler, if you have it. Don't burn the chocolate, and don't get any — and I mean any — water in it. In either scenario, you will have to start over (you'll know when the chocolate won't go over the ganache smoothly; it's like it seizes up and gets thick.) My favorite method is to boil some water in a small saucepan and then remove it from the heat. Put chocolate in a glass bowl inside the water and just let it sit. You still need to be careful not to get water into it, but it won't burn, and you can just let it sit while you are working on other things.

Allow chocolate to cool as much as possible before dipping the ganache balls into it. You want it to coat easily, but not to melt your hard-won spheres of goodness. Use a spoon (or, if you think you'll make these a lot, something like this) to swirl them around, one at a time. Remove, letting excess drip off, and place on paper. Once they have cooled slightly, sprinkle with salt. Allow to cool completely.

These should be kept refrigerated in an air-tight container. They will keep for several weeks (if you hide them really, really well … good luck with that).

Makes about 18 larger truffles.