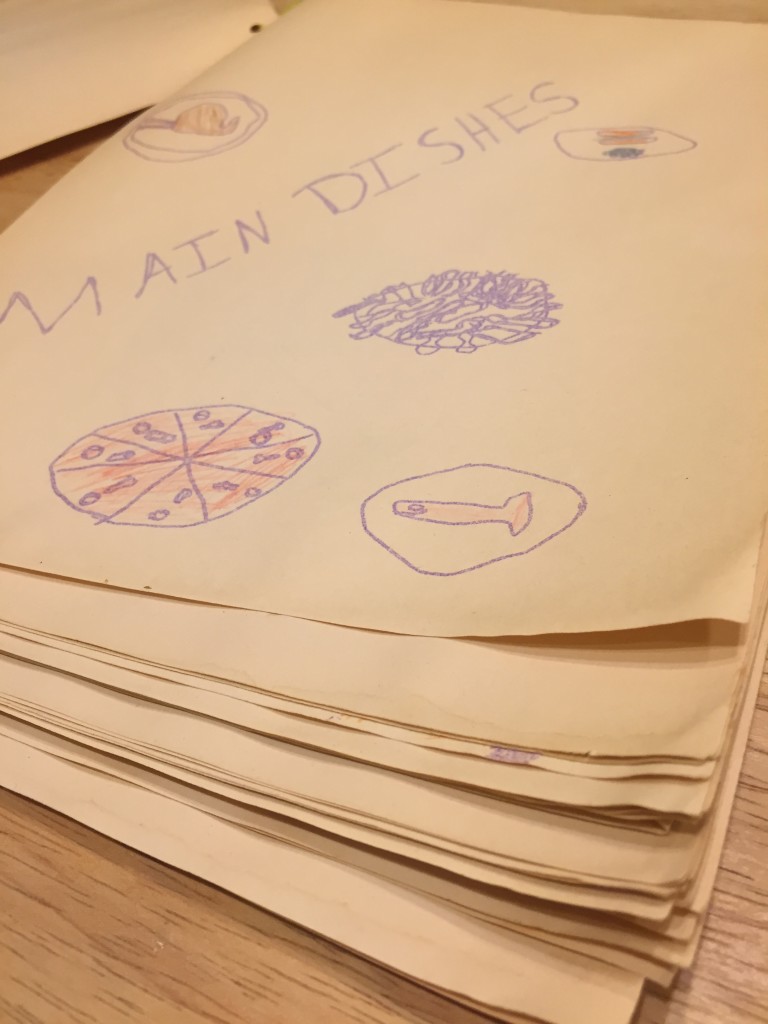 One of the interesting challenges presented by this month's theme is that many of our Eaters don't use cookbooks, let alone recipes. They feel their way through dishes, making magic out of thin air (or left-overs). My mom is no exception.
Elena Hammond is the quintessential Italian mother. I remember trying to get her to teach me how to make tomato sauce. The ensuing instructions including "pinches" of this or that and other non-specific measurements that a data-minded guy like me can't seem to get a full handle on. But, when asked what her favorite cookbook was, she didn't hesitate:
"It's the cookbook your fourth grade class made."
What in the world? To say that I was skeptical would be an understatement.
"No, really," She insisted.  "I still use the recipe for oatmeal cookies."
Okay, point for mom. I love those cookies. She deviates only slightly from the recipe in the book as my dad and I never liked raisins in our cookies. Mom replaces them with chocolate chips.
The cookbook includes favorites from old schoolmates, like  Mike's Spinach Pie, Kim's Dandy Dip, Paul's Italian Pizza and Jonathan's Super Whoopie Fried Egg. There's also plenty of bread recipes — Patty's Super Squash Bread and Lucky Lisa's Banana Nut Bread — but the bulk of the contents focus on sweets. Desserts like Kathleen's Chocolate Pudding Pie, Brian's Fantastic Wowie Cake, Aruna's Marshmallow Treats and Sarah's Sweet Date and Nut Balls.
Only a mom would preserve and reference this snapshot of fourth grade me.
"My favorite 'cookbook' is not what you would call a traditional cookbook. You know the hardcover, yummy pictures sort of cookbook.  No, my favorite is an inexpensive paper book held together with a piece of yellow yarn and published by son's fourth grade class," she explained fondly.
"What makes this cookbook so wonderful and unique is that it is printed entirely in the children's own handwriting, proudly showing off their family's favorite recipes."
I grilled her for her favorite recipes from the aged text and she's quick to list those oatmeal cookies, a Hawaiian pork dish and "Adam's Rootin Tootin' Ravioli."
Of course, she's biased by her son's foodie writing debut. But it goes deeper than that, bringing back memories of cooking this made-from-scratch ricotta-filled pasta perfection with her own mother.
"My mom and I would make these together at holiday time. Not only delicious but filled with the happiest memories… a family favorite," she said.
"Adam always teases me about holding on to so many of my 'old things' … but this is one of my treasures I'll never give up. After all, I still use use my favorite cookbook!"

1978's Open Fourth's Favorites
Spelling errors corrected.

Adam's Rootin' Tootin' Ravioli
1 pound ricotta cheese
2 pounds flour
3 – 4 eggs
1/4 cup water
salt to taste

Mix ingredients together except ricotta.

Roll out into two separate pieces (like you would for a pie only square).

On one piece of rolled out dough, place small amounts of cheese – leaving spaces in between because you will be making tiny pie squares.

Place second piece of dough on this and with pizza cutter, cut through making individual squares with cheese in the center of each square.

Separate each square until dough gets firm and dry.

Then, cook these in boiling water about 15 minutes.

Drain water being careful not to break small pies.

Serve with homemade sauce over ravioli.

And, just in case you're interested …

Billy's Oatmeal Cookies
3/4 cup all purpose flour
1/2 teaspoon baking soda
1/2 teaspoon salt
1/2 cup margarine (soft)
1/2 cup brown sugar
1/2 teaspoon vanilla
1 egg
1 cup uncooked oats
1/4 cup coconut
1/2 cup raisins
1/4 cup water

Heat oven to 375.

Sift flour, baking soda and salt.

Blend butter, sugars, vanilla and water (the water is a guess as this ingredients measure was omitted from the original recipe!). Beat egg and add to mix. Next add flour mixture. Stir in oats, coconut and raisins.

Drop by 1/2 teaspoon sized cookies onto greased cookie sheet.

Bake 10 to 12 minutes.

Ted's Hawaiian Pork
2 cups cooked cubed pork
3 tablespoons shortening
3 tablespoons cornstarch
1 3/4 cups of water
2 1/2 tablespoons vinegar
1 tablespoon salt
1/4 cup soy sauce
1/3 cup sugar
1 teaspoon ginger
1/2 cup (small can) crushed pineapple, including juice
1/4 cup ketchup

Melt shortening in skillet (possibly "excellent skillet" as it is spelled "skillent" in the original transcript). Mix with cornstarch.

Add all ingredients except meat and pineapple. Mix together and then add fruit and meat.

Cover and simmer 20 minutes, stirring occasionally.

Serve over rice.