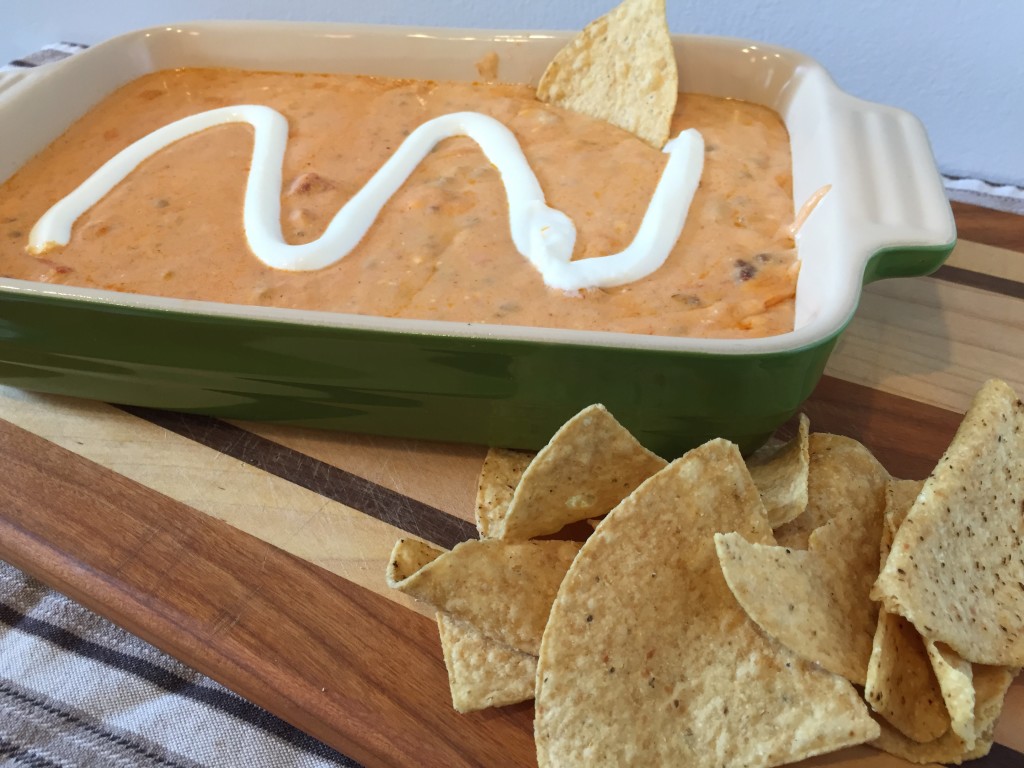 I confess: One of my guilty pleasures is Chili's Skillet Queso. I'm a sucker for chips and queso as it is. For some reason, though, Chili's takes the concept to a new level serving the sizzling dish in a skillet with two distinct sides to the dip. It was delicious. At least….that's how I remembered it.
When I pitched this idea to my betrothed foodie, she cocked an eyebrow in doubt. Then she googled the recipe and paled. The at-home version was made up of the bio-chemically created phenomenon Velveeta (a big giant block, in fact) and a can of Hormel (that can't possibly really be) chili. And, it's not that we bear any ill will towards these products, it's just that inclusion of them as ingredients in a We The Eaters recipe is strictly anathema.
With news of this challenge (and a devilish smile at my spouse's concern for my choice) I decided: I'm going to make a healthy version of Chili's Skillet Queso! Well…as healthy as any cheese dip can be.
Admittedly, I am not the guy to freestyle. I usually require some sort of recipe to guide me on my way. But this time around, after about 5 minutes of Googling, I got pretty bored and decided to wing it. I gleaned a few pieces of information… Velveeta substitute is made from Colby, so that helped me pick one of my natural cheeses. I noted somewhere that a chili recipe called for paprika, so I mentally bookmarked another ingredient. Otherwise, I thought, "What could possibly go wrong?"
As it turns out nothing did. The final result was fantastic and my parents and I demolished the dip with tortilla chips for lunch. Here are a few lessons learned though…
First, when I was creating the cheese mixes, I included milk. That is totally unnecessary. I saw it in one of the velveeta knock off recipes and tried it but I definitely didn't need that ingredient.
Second, there is great opportunity to be more adventurous with cheese. I probably should have gone with a Monterey Jack cheese as one of my options.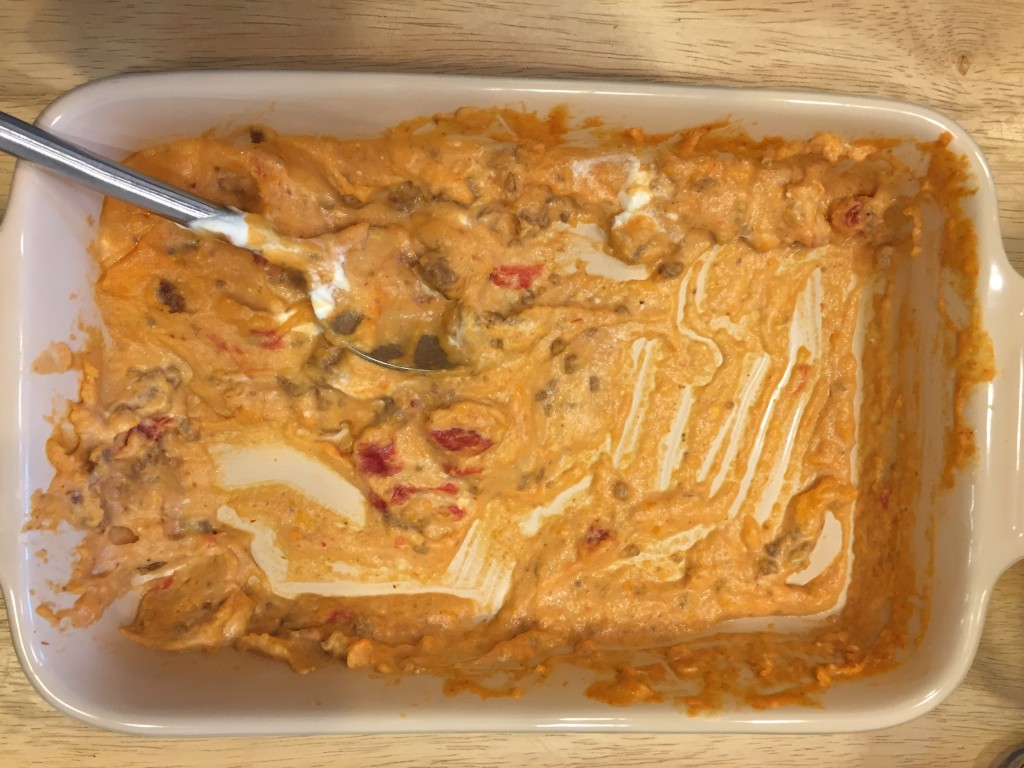 Also, the no-bean chili psyched me out. I am convinced a side of black beans or refried beans in with the cheese sauce would be great. In general, this dish calls for adventure – one side with meat and bean chili, the other (lighter cheese probably) with fresh cut up peppers. Adding different spices and seasoning to either side would really enhance the differences and dish, too.
I'm sure I could have put more work into the added topping, beyond just piping on some sour cream. I could have whipped that up with some other ingredients into something that would have had much more added value.
Finally, presenting it sizzling in a cast iron skillet would have been a much more visually appealing product. I would have used one if I had one available…
I'm definitely walking away from this feeling pretty good. And while a cheese dip isn't all that risky, I still made this up on my own without poisoning anyone! AND, I think I stayed true to the tenants of We The Eaters recipes making sure my most loved editor could palate this dish.
Adam's Split Personality Queso

Chili Ingredients
1/2 pound ground beef
1 can (8-ounces) diced tomatoes
1 can (6-ounces) tomato paste
2 teaspoons paprika
2 tablespoons minced garlic
1 tablespoon chipotle pepper

1 8-ounce package white cheddar cheese
1 8-ounce package Colby cheese
6-ounce cream cheese
1 cup milk
1/4 cup sour cream

Make the chili by first browning the ground beef. Move ground beef to pot and add diced tomatoes and tomato paste. Add paprika, chipotle and garlic. Let simmer. Split in 2 parts and put aside.

In 2 separate pots, add 1/2 cup milk and 3 ounces of cream cheese. Cut the cheeses into small cubes. Add Colby to one pot and cheddar to the second. Stir as ingredients melt to combine. Add in chili and stir.

Move cheese to two ceramic dishes or skillets and cook in stove for 5 – 10 minutes at 350 degrees to firm up cheese.

Remove dip from oven and let sit to allow cheese to firm up more.

Pour Colby dip into one side of a skillet or ceramic dish and then pour the cheddar in the other side. If your dip hasn't set enough, use a piece of aluminum foil as a "damn" to keep the sides separate and remove the foil once both sides are full.

Put the sour cream into a sandwich bag and use a scissors to cut a small snip in the corner and pipe the sour cream on to the top of your dip.

Serve with your favorite chips.