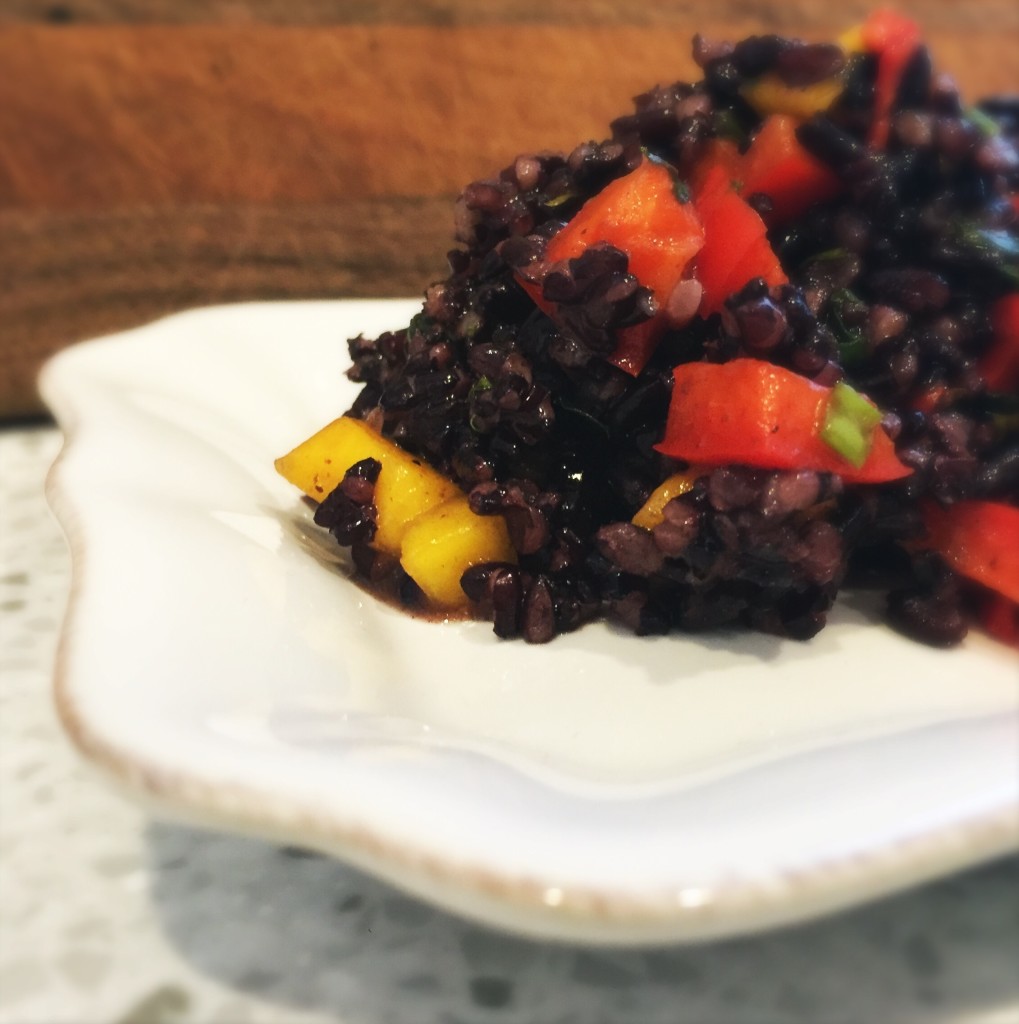 These days there are a lot of food I either can't—or shouldn't—eat. Or food that I should overcook, just to make sure it's cooked thoroughly. Then, there are the foods I crave like crazy.
You see … I'm pregnant.
A lot of my energy goes into making sure I'm eating the right things. And making sure I eat enough. And making sure I don't eat too much. And making sure I get fix for what I'm craving somehow. The rest of my energy goes into making a tiny human being.
It's hard work.
Thankfully this month's topic has been easy: salads. When done right, they're packed full of nutrition—lots of vitamins and minerals—to fuel you through anything your day throws in your path, whether work, play, or baby building, as the case may be. This week I found a way to up my salad game even more and satisfy one particular craving—for Thai food.
I could eat Thai food at almost every meal. A little sweet and a little kick of spice makes me a happy girl. I stumbled upon a Thai-inspired salad while looking up ways to use the black rice that's been in the back of my pantry for a while. It sounded like it might hit all my requirements: mango and honey for sweetness, peppers and Sriracha for that spicy kick.
Of course, if you think rice in your salad is strange, hold up. There are plenty of salads with whole grains. Millet, farro, quinoa and brown rice are all are excellent healthy options that won't break your carb bank. It's far better than pairing croutons wit your greens. And, as it turns out, of all the rice options out there—black rice is the best. Compared to white, brown and red rice, it's the highest in protein, fiber, iron and antioxidants.
Black rice, also called forbidden rice, has an earthy, almost nutty flavor. It pairs great with fish. In fact we ate tilapia alongside this salad, (Though, to be honest, I really only wanted the salad. You know how cravings go. You want pickles, next thing you know all the pickles in the jar are gone. Oops.)
And what a cool name: forbidden rice. Although the history of the rice and where it got that name isn't really cutesy or cool. Lauded for it's health properties, the elite noble class in ancient China forbid the consumption and growth of the grain by the common people. Even today, the rice still carries the name and it is grown far less than normal rice. If you run across a bag in your grocery store or specialty food market, do yourself a favor and take it home with you.
Thankfully, while some foods are forbidden from my current with-child menu, black rice is not in the list. And it should be part of your diet too!
Black Rice Thai Mango Salad
The dressing makes a great marinade for fish or chicken. Make double and marinade for at least 30 minutes. Or just eat the salad. All the salad. Also, this works great served over leafy greens for an added nutritional punch. The dressing on the rice will filter down to the greens.


1 cup black rice
2 limes, juiced
1/4 cup rice vinegar
2 tablespoons honey
1 tablespoon olive oil
3 tablespoons soy sauce
2 teaspoons sesame oil
2 teaspoons Sriracha sauce
1 clove garlic, minced
zest of 1 lime
1 mango, peeled, pitted and cubed
1 red bell pepper, cubed
4 green onions, thinly sliced
1 spicy red pepper, seeded and diced
1/3 cup cilantro, minced
1/4 cup mint, minced

Cook the rice according to the packaging's instructions. In a medium sized pot add the rice and 1 3/4 cup water with a pinch of salt. Bring to a boil, cover and simmer for 30 minutes. Take off the heat and let sit covered for 5 minutes. Spread the cooked rice out on a baking sheet to cool and dry a bit.

Whisk together the lime juice, vinegar, honey, soy sauce, olive oil and sesame oils, Sriracha, garlic and lime zest to make the dressing.

In a large bowl, mix together the mango, red bell pepper, green onions, cilantro and mint. Add the rice and dressing. Toss to coat all.