In the wee hours of the morning on Saturday, I became a foster mom for the first time. This is something we've been working toward for nearly two years.
The funny thing is, this comes in the aftermath of my declaration that I was done waiting for this to actually happen. I had decided to live my life, continue to grow my business, and stop focusing on something I have no control over.
And things have been amazing! I recently picked up a major freelance assignment writing a tour for the National Gallery Of Art (I know—I can still hardly believe it myself. But come late fall, head on over to the East Building and pick up a headset.) And I just picked up a new chef-ing client. And I  picked up two new kitchen organizing slash design clients. And I just happened to be housesittng all weekend for two little dogs and a fat organizing project.
So when it rains, it pours. And out of the sky feel these two little angels right into what used to be an empty room. It hasn't even been three days, and despite all that we have going on, we've found time to make pancakes, go to church followed by a baptism ceremony and BBQ at the beach (which turned into three hours of sitting in the car in traffic. Ever done that with little ones? Yeah. Thankfully, I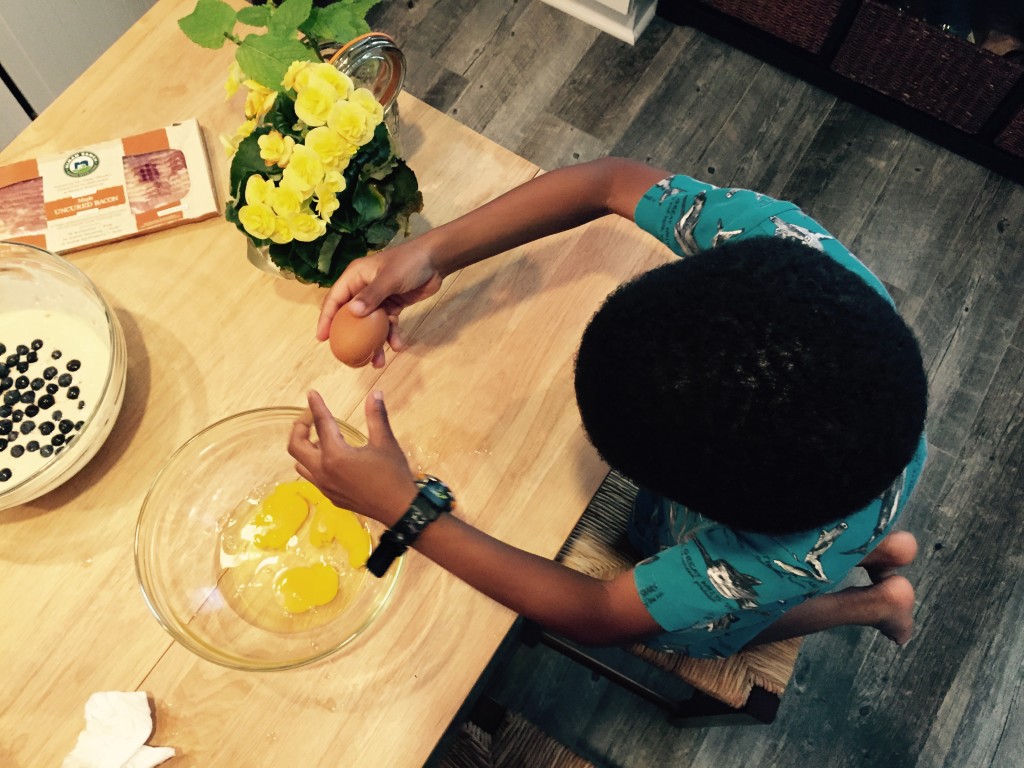 packed snacks and can throw a mean game of Rock, Paper, Scissors.) Today we had a play date and brought—and ate—dinner to one of our favorite foster families.
My point here is that I have not been a parent before and I now have a newfound and extremely healthy respect for anyone that has procreated, borrowed or finagled their way into one or more offspring. WHAT IN THE WORLD. How do you do it?
I am exhausted to the tenth power. As you can plainly see, the post that was supposed to publish at 10:00 am this morning is actually hitting an Internet near you nearly 12 hours later. There are piles of clothes brought to us by so many wonderful friends from church and our various foster family support groups. I don't think we have milk. There was at least a 48 hour period when I didn't change my clothes. Back when I had two thoughts to rub together (basically in the hours before miraculous placement), I thank God I had the foresight to shower. I'm hoping I can do that again soon.
Honestly, I can barely remember my name.
I'm lucky I remembered it was my turn to write about raw desserts, which I love, by the way. Primarily because I love desserts and eating raw means I can eat more. Okay, I know moderation is still important, but I am not stressing about eating it like the fried chicken we got for dinner because I am too tired to cook. And it is unclear when I would do grocery shopping, anyway.
These are so stupid easy you could make them blindfolded. Or sleeping, which is what I did last night. They are kind of like a Larabar, but taste super fresh. And they give you a nice little (portable) energy pick-me-up when you need it most. For me, that's most of the time.
That's what makes this week's post perfect. Just like every moment of what we've got going right now.
Amy's Cranberry Cashew Energy Bites

Just a note here: raw means using unroasted, unsalted nuts and dehydrated, unsweetened cranberries. Don't care? Don't worry. They'll still be super good for you, Even if you coat them in chocolate, which is not necessary. So just eat the chocolate separately. Not into coconut? skip it. Reduce the cranberries and dates to 1/2 cup each.


1/2 cup raw cashews
1/2 cup raw almonds (I like using almonds with the skins on)
1/4 cup desiccated coconut (that's dried, unsweetened)
2/3 cup medjool dates, pitted
2/3 cup dried cranberries
1/4 cup hemp seeds or ground flax
1/2 teaspoon vanilla extract
Pinch of salt

Place nuts and coconut in a food processor and pulse until finely ground, taking care not to turn them into nut butter.

Add in dates and cranberries and blend or pulse until fully combined. Add hemp, vanilla and salt and give it a go one more time until thoroughly mixed.

Scrape down the sides and add a tablespoon of water at a time until the mixture holds together when rolled into a ball (usually about 2, but you can add more if it is too dry),

Roll into about 20-25 balls and store in an airtight container in the fridge or freezer.