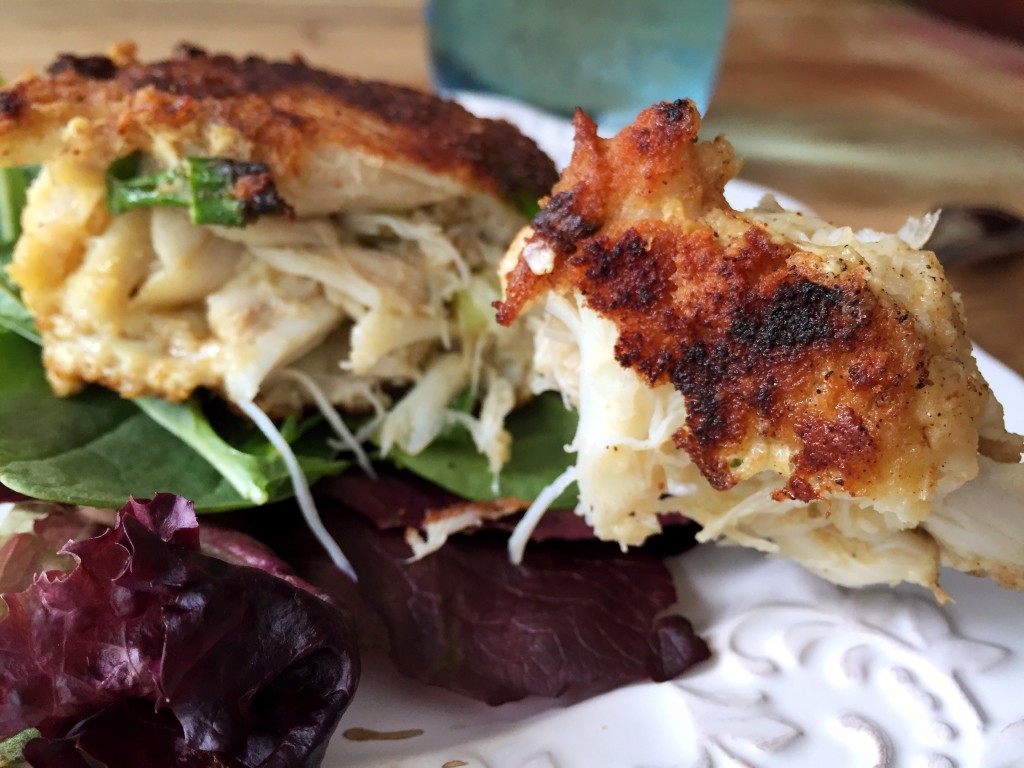 Ever since I tasted my sister-in-law Deirdre's crab cakes, they've become the bar against which all other crab cakes are judged.
There's no mayo or Old Bay seasoning found here, just simple, fresh flavors … and lots of crab. The chunky crab meat is doused in butter and flavored with nutmeg, lemon, shallots and cayenne pepper. They are my favorite—hands down.
As you'll recall, this month we're giving you simple five-ingredient Paleo recipes. "Paleo" being the operative word here: Why even mention crab cakes and suffer the torture of realizing that breadcrumbs and all that melty butter is a no-go? Plus, a workaround would have to contain way more than five ingredients, right? Not necessarily true. Like all things, you simply have to make some tweaks and do a little experimenting.
Thankfully, Deirdre gave me and my (other) sister-in-law, Siobhan, copies of her go-to recipe, found in Alabama native Frank Stitt's Southern Table. Stitt's cookbook is packed with traditional and inspired recipes alongside stories of the places and people who have inspired him. Deirdre not only gave us copies of his book, but she also went to his restaurant to have him sign them for us. Be still, my foodie heart!
This recipe, which is not super complicated, is where I started. But to make it Paleo? Most compliant recipes online either contain Paleo mayo, like Nom Nom Paleo's Krabby Patties, or were more the traditional Maryland style. What I was wanted would be something new, something special. Something, I hoped, would remind my husband and I of the summers spent with family on Alabama's Gulf Coast. … with a Paleo twist, of course.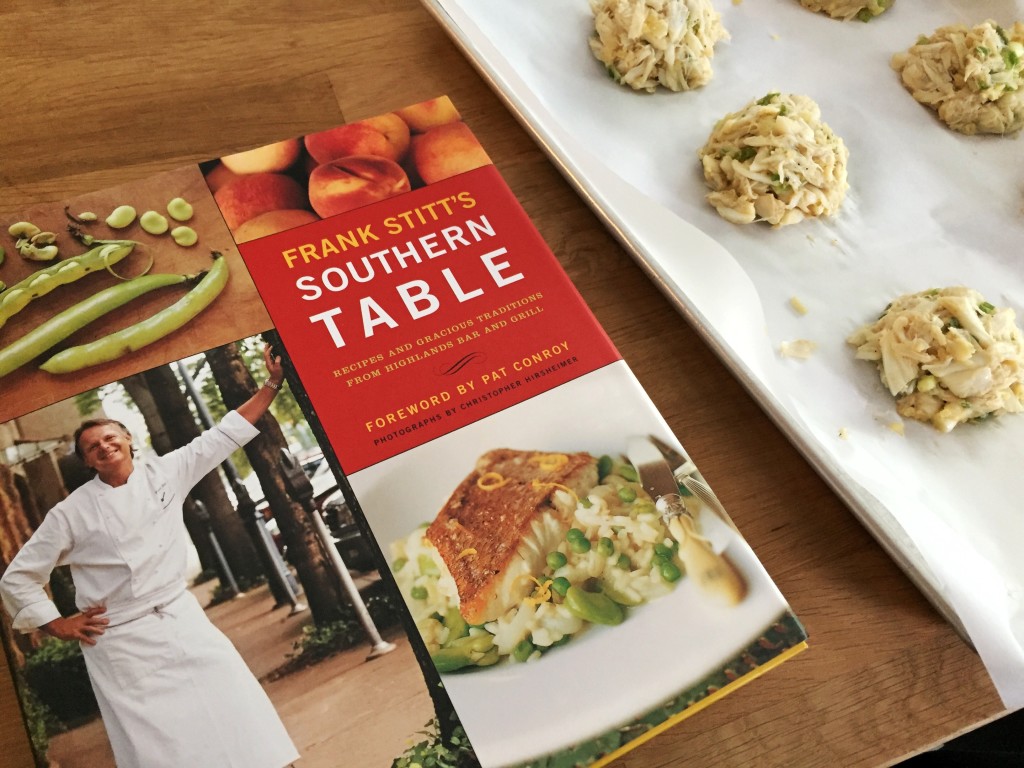 Last summer, when making a big batch of her version, Deirdre made a few with gluten-free bread crumbs for my husband, Jim, and their sister, Siobhan, both of whom are gluten intolerant. It's the closest Stitt's recipe has come to being Paleo-ized. But luckily, after some swift research, I came up with a few unique swaps.
For binding, I chose coconut flour over breadcrumbs, plus a little extra egg to hold things together. Nom Nom Paleo's recipe suggests chilling the cakes for about 30 minutes to help things keep it all together before cooking in coconut oil.
Then there's the butter, which I think is one of the "secrets" to how amazing these crab cakes are. Two swaps for butter in the paleo world are either coconut oil or ghee (clarified butter). Interestingly, Stitt's recipe calls for cooking the cakes in clarified butter, but I thought including it in the cake itself might mimic some of the richness butter provides.
Plus, ghee has a deep, earthy, almost nutty flavor. Limiting to five ingredients during our fifth month means leaving out some of the other flavoring, so that's a bonus. I chose to keep the scallions, dropping the shallots, parsley and lemon from the mixture. Since pantry seasonings are not counted (says the We The Eater's official rule book), the nutmeg, cayenne, salt and pepper were a go.
So … how did they turn out? Not too shabby! They were a little hard to keep together while cooking, falling apart a little when flipped. But the coconut flour created a really nice, crisp brown crust. If you're looking for a good Paleo crab cake base, look no further. Without the limit on ingredients, I'd suggest adding more fresh herbs, lemon, jalapeños or ginger.
Deirdre's cakes are still my favorite, but these were a nice little tip of the hat to her awesome skills in the kitchen.
Simple Paleo Crab Cakes
I started with Southern Table's crab cake recipe for inspiration, swapping coconut flour for breadcrumbs and ghee for the butter. Note, while adjustments were made to keep the cakes together, they still have a tendency to be fragile. Be careful when handling and cooking!

1 pound fresh jumbo lump crab meat
1 1/2 tablespoons coconut flour, plus 1/4 cup for coating
2 eggs, lightly beaten
3 tablespoons ghee melted and cooled, plus more for cooking
1 tablespoon chopped scallions
pinch of nutmeg
pinch of cayenne pepper
Kosher salt and freshly ground pepper, to taste

Mix crab, coconut flour, eggs, ghee, scallions and seasonings together in a bowl till well mixed. With your hands, form 1-inch cakes (about 6) and place on parchment-lined baking sheet. Refrigerate for 30 minutes.

Heat a skillet over medium-high heat. Add ghee to the pan and heat just to the point of smoking.

Place the rest of the coconut flour into a bowl or shallow container. Carefully dredge both sides of each cake in the flour and add to the skillet. Don't overcrowd the pan—I cooked three cakes at a time. If needed, add more ghee to between batches.