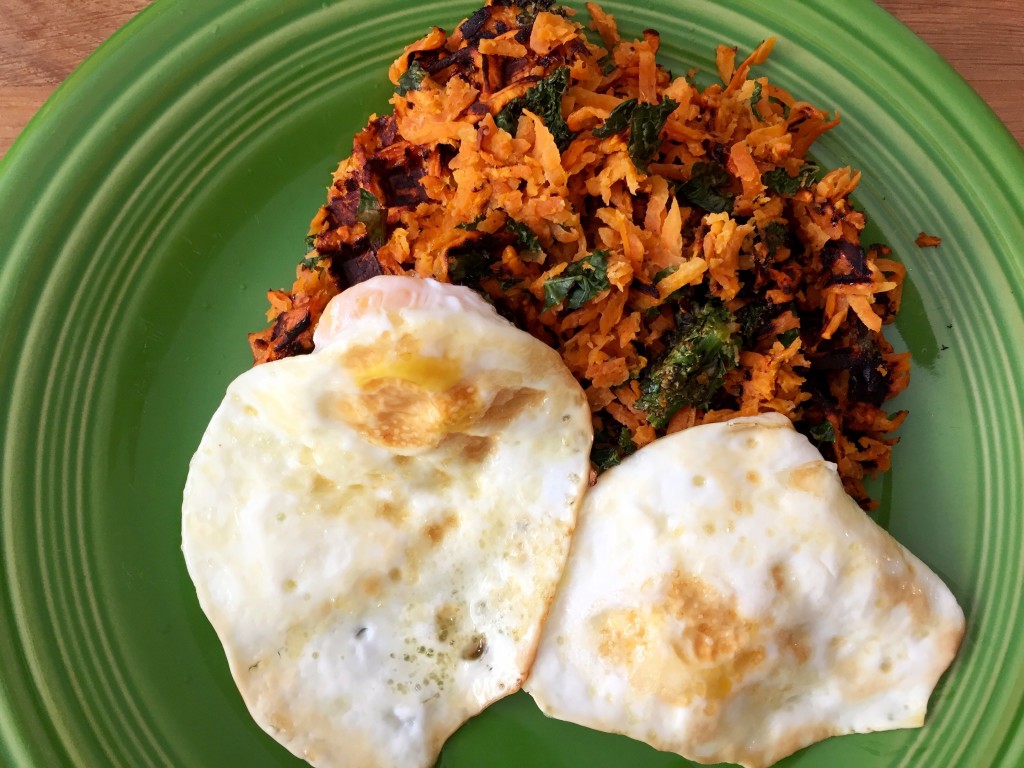 Brunch conjures up so many yummy tastes and images. Sipping on bubbly mimosas, spreading whipped butter on a stack of cinnamon dusted French toast, biting into an ooey gooey sticky bun.
But then you wake up from that amazing dream remembering you can't have any of that! You're a week into your month long Whole30 diet. This means no bubbly, no dairy, no bread and definitely no sugar … some of the most iconic brunch components.
At this point, your cravings are starting to relinquish their hold on you. You've tried a few new recipes, but while you really want to keep things simple, the same old meals are getting a little stale. That's where We The Eaters steps in! Both of us Founding Foodies have completed several Whole30's. This means we feel your pain and have some brunch ideas of our own to share.
So what can you eat for brunch? Eggs are always a good starting point. Vegetables and fruit are clear winners. Sugar-free bacon is also OK, but can be hard to find. White potatoes are now approved on the Whole30 diet, but sweet potatoes are my personal favorite. All good building blocks!
One key point to remember on this program is to steer clear of the "paleo-ification" of breads and sweets, like French toast, pancakes, biscuits and muffins — the stuff that makes you want that post-brunch nap. So don't look for ways to make those things using approved ingredients. It's called SWYPO (Sex With Your Pants On) and should be avoided! It means truly embracing those good building blocks, which will give you better energy to get you through your day without a post-brunch nap.
One of my favorite things, whether following the program or not, are sweet potatoes. And one of my favorite brunch dishes is hashed potatoes, fried really crispy on the outside. It's something I just don't make at home.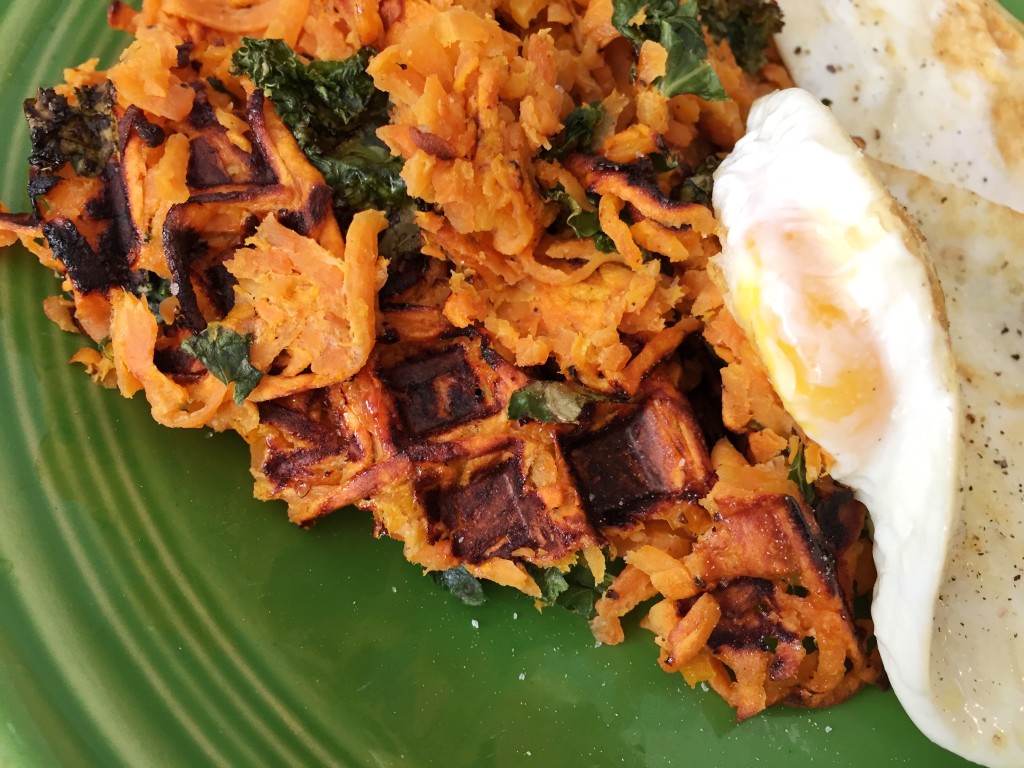 Researching recipes and methods, I came across this non-approved hash brown waffle recipe. It looked and sounded amazing! Of course, I couldn't use sour cream or butter, but it gave me some inspiration. The waffle iron might get a decidedly delicious crisp on the outside and give me the illusion of having a waffle. Topped with an over medium egg on top, I could imagine the gooey yolk running into the square crevices.
I decided to start with sweet potatoes instead of white. And based on the waffled hash recipes I found, it was recommended to get as much moisture out as possible by salting the shredded potatoes and wringing them out in a kitchen or paper towel. This was to get the crispiness just right.
I added kale for some green, a lightly whisked egg to keep it together, garlic for a little kick, as well as salt and pepper. With the waffle iron on high, I brushed some ghee on both top and bottom in place of the usual butter or cooking spray. Would this work? I crossed my fingers and piled the hash mixture on thick.
The taste and texture was really good! But … they didn't keep that beautiful waffle shape I had imagined. Rather than delicately lifting out a perfect little waffle hash, I mushed it out in bits. While still yummy, it wasn't quite what I was going for. It may have been the swap of sweet rather than white potatoes, or perhaps I should have used another binder … or maybe it was my iron itself.
I still think it's a good idea to hash your potatoes in the waffle iron, but maybe with a few tweaks. All in all, it wasn't a complete failure. The kale that was exposed to the iron got a really nice crisp to it and overall the edges were crispy. Topped with an egg it still made a pretty yummy brunch.
And additional success … no naps were required after the eating of the waffled hash browns.
Waffled Sweet Potato and Kale Hash Browns
If you have a food processor, do yourself a favor and pull it out for shredding the sweet potato! It's super easy, fast and gives you that traditional shredded potato used in hash browns.

1 large sweet potato, peeled and shredded
handful of kale, stems removed and roughly chopped
1 egg, lightly beaten
1 garlic clove, finely minced
salt and pepper, to taste
ghee or coconut oil, for the waffle iron

Turn your waffle iron to high heat.

Lay the shredded potato on a kitchen or paper towel. Liberally sprinkle salt all over the potato to bring out more moisture, let sit for a few minutes. Roll up the towel with the potato and wring out the moisture. Add potato to large mixing bowl.

In another towel, lay out the kale and roll up. Squeeze and wring the towel, getting any excess moisture out as well as performing the massaging to break down some of the bitterness. Add kale to the bowl.

Add the egg, garlic, salt and pepper to the hash mixture. Mix all ingredients well together, till the potato and kale are fully coated.

Brush ghee or coconut oil onto both top and bottom of iron. Spoon the hash mixture thickly onto the iron, covering. Put lid down and let cook for 3-4 minutes, watching closely. Towards the end, push the top of the iron down for a few seconds. Check the doneness of the hash, ensuring it's not burning but has a crisp edge.

When done, remove from iron and serve with fried or poached egg.