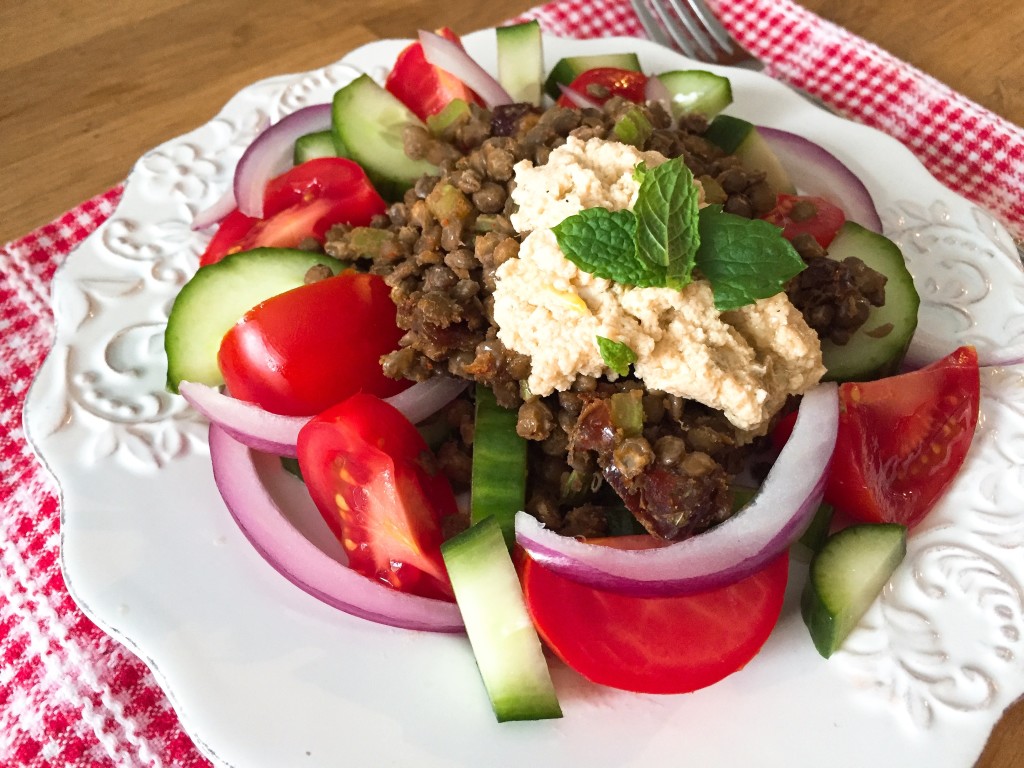 My lunch routine has begun to get a little stale lately. I've been making big batches of chili or roasted chicken thighs ahead of time in an attempt to have a quicker (and easier) exit strategy in the morning.
But something must be up, because last week I failed twice and ended up buying lunch at work. That's both expensive and not-so-yummy.
Long story short, my routine needs some new life injected into it.
I love bringing salads to work, which is something I've written about before. This lentil, date and tahini salad works perfectly. The lentil and date mixture can be served warm or cold, and it's hearty, almost meaty and thus super filling.  It's a great vegetarian meal that I promise will leave you satisfied.
Unfortunately, we don't cook with lentils very often — but I really should! They are the quickest legume to cook from their dry form as they are so much smaller than others, like black beans or limas. For this recipe, I made a big batch of lentils on the stovetop and stored them in the fridge until I needed them. They take 30 to 45 minutes to cook through, so doing this ahead of time will save you if you're in a rush.
Lentils are also packed with fiber and iron, two things we all need more of in our diet. Iron is crucial for women—whether pregnant, nursing or just during regular menstruation—when iron stores tend to be lower. Rather than eating more red meat to replenish those stores, which has higher calories and fat, eating lentils provides a great natural source. Plus, high fiber diets are excellent for slow burning energy, and you have less risk of sugar or carb crashing after lunch! It's the perfect thing to eat for a weekday lunch to power you through the rest of your day.
OK, so I got a new and exciting nutritional source—lentils—to up my lunch game, but what about flavor? To be honest, other than lentil soup, I'm just not familiar with cooking meals with lentils. The great thing about them, as I learned, is that they can take on a lot of different flavors, just like this month's featured tahini. Perfect!
I came across this Greek-inspired salad while scrolling through a list of salads that incorporate tahini. The addition of dates called to me! I just love their sweetness and meaty, sticky texture. They are one of my favorite little salad additions. They make me feel like I'm having something a little more polished as I shovel sustenance into my mouth while hunched over my keyboard at work.
It's the little things …
Lentil Date Tahini Salad
I made the lentils a day ahead, storing them in the refrigerator overnight. They will keep for three to five days in the fridge, or freeze up to six months. This recipe makes 4 servings.

1 tablespoon olive oil
2 cups cooked lentils
2 medium celery stalks, chopped
1 garlic clove, minced
5 dates, pitted and chopped
generous pinch of salt
pinches of black pepper, paprika, thyme and oregano
1 tablespoon extra virgin olive oil
1 garlic clove, minced
2 pickled jalapeño slices, minced
2 tablespoons tahini
1 tablespoon Greek yogurt
6 Campari tomatoes, or 10 large cherry tomatoes, cut into wedges
1 large English cucumber
1/4 thinly sliced red onion
fresh mint

Heat oil in large skillet over medium heat. Add celery, garlic and lentils, cooking for 3-4 minutes.

Add dates and seasoning to the lentils. Cook for another 3-4 minutes or until lentils start to get crispy and stick to the pan. Remove from heat and set aside.

Make the tahini dressing by whisking the oil, garlic and jalapeño together. Add the tahini and yogurt, mixing all together until smooth and creamy.

Arrange tomatoes, cucumbers and red onions in a circle on four separate plates. Spoon the lentils into the middle. Add a dollop of the tahini dressing on top, with a bit of fresh mint and a pinch of sea salt.