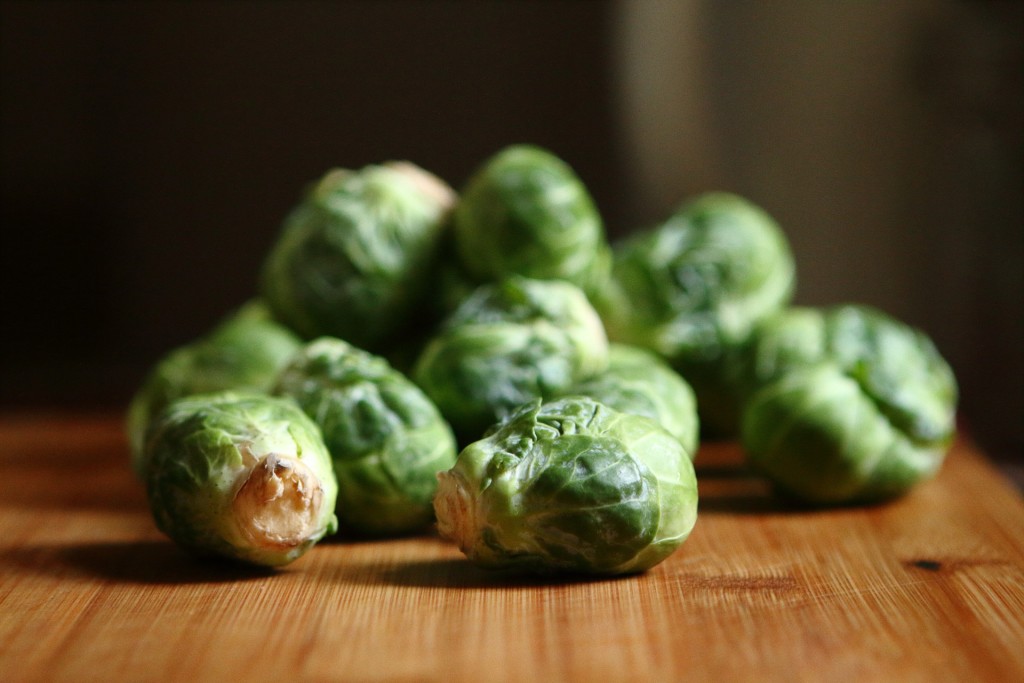 If the Brussels sprout could choose its pièce de résistance, it would 110% be this recipe. And frankly, since said recipe contains copious amounts of cheese and pork products, it was pretty much a shoe in for wrapping up our month-long adoration of that aforementioned delectable cabbage.
I was raised—like just about every other American kid—on the blue box. Since 1937, that weirdly-orange macaroni and cheese mix has been a staple to kids from sea to shining sea … and beyond. Our neighbors to the north call it "Kraft Dinner." Across the pond in the United Kingdom, it's "Cheesey Dinner." There's something magical about the stuff. And convenient. It isn't often you can get dinner on the table in less than 10 minutes after a long day, and if you're a mom, with a symphony of screaming kids in the background.
Even now, I still crave the stuff on occasion. But here's the thing: Regardless of the somewhat recent removal of food dye, this still isn't real food. 'Cause in case you hadn't noticed, real food doesn't come in a box.
And that's one of the things I love about La Quercia—what they produce is real food!  This Iowa-based company makes artisinal cured meats and salumi. I happened upon their product while shopping for a private dinner event for a cleint. The menu included a traditional Italian braciole, which called for high quality prosciutto.  I bought two packages of La Quercia. I had a small issue with one of them that most folks wouldn't have even noticed, as it had nothing to do with quality. It was a packaging problem, and I thought it best to let them know about it.
The person who answered my email (lightening fast, by the way) was the company's founding foodie, Kathy Eckhouse. She and husband, Herb Eckhouse, were inspired to  try their hand at creating this kind of quality product after living in Italy. Imagine indulging in all those wonderful delicacies in the land of yummy, only to return stateside to ho-hum.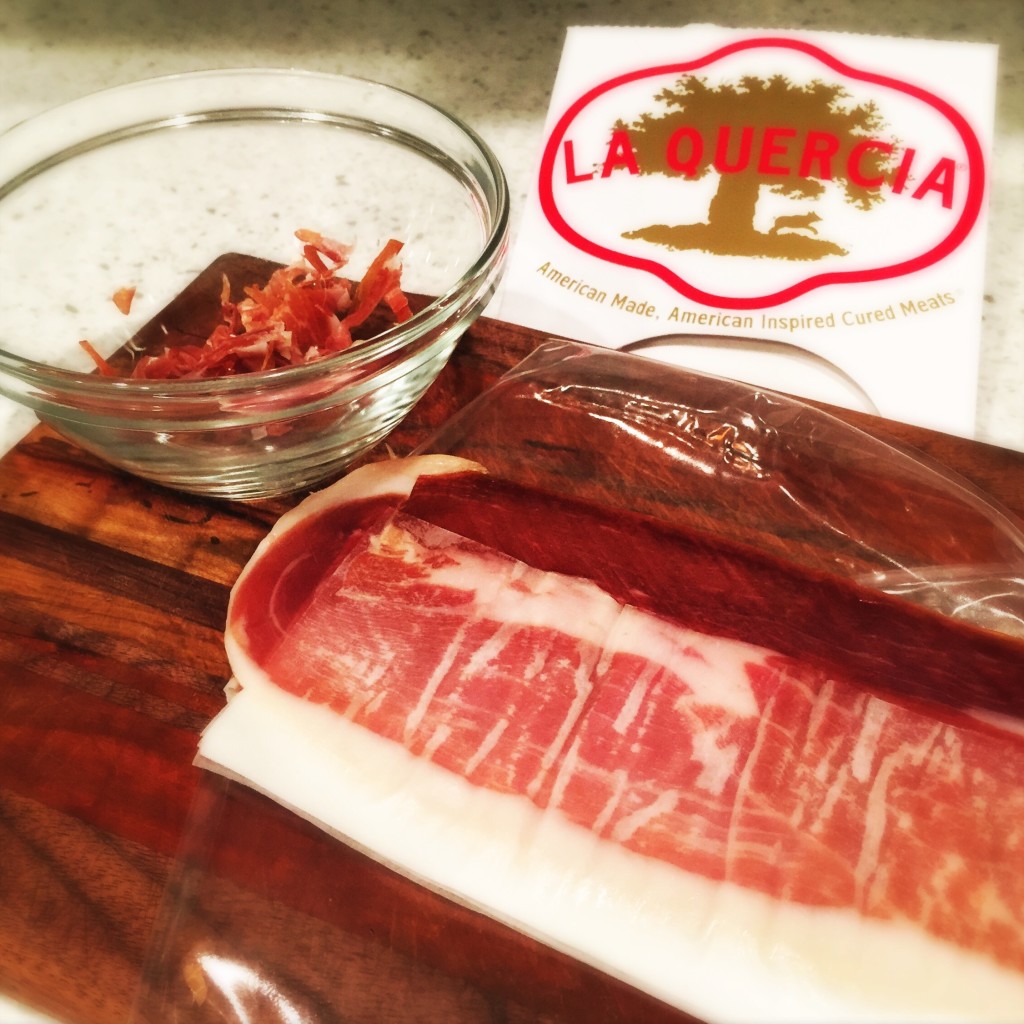 According to their website, both Herb and Kathy "work in all aspects of the business: selecting and buying pork, salting, trimming, and handling hams and leading the small group of dedicated staff who participate in our production. [They] work the full shift for first and second salting; [and have] developed [their] own spice blends for [their] pancetta, lonza, bacon, guanciale, coppa, lardo, and prosciutto piccante" products.
You know me: I love a good DIY, and these folks are the real deal.
Again … real food.
And really, really good customer service. Kathy cared about my issue and spent time trying to make sure she understood it fully. What I appreciated most was her time. How often do you call a company with a concern and get the owner listening to your gripe? Not often.
And how often do we hear about good customer service? Typically, it's the bad stuff. It's stories of salmonella from some tainted product … or worse.  So when we come across a great product backed by an even greater company, we think you should hear about it, too. That's why we've decided to give La Quercia free advertising space on our blog for the next month. They deserve something special. And maybe you'll see a little something special from them for a lucky Eater in our next newsletter!
Anyway … I digress. I decided to try out one of their products this month where all good porky products belong—right up nice and tight alongside its main squeeze: the Brussels sprout.
I bid you ado, tiny green friend, with this amazing dish (that my husband just had a big second helping of).
Brussels Sprouts & Butternut Squash Mac N' Cheese (With Proscuitto)

The recipe below is a modified version of this one from Half Baked Harvest.

Ingredients:

4 cups butternut squash, peeled and cubed
3 cups Brussels sprouts, shredded or sliced thin
2 tablespoons olive oil
2 teaspoons brown sugar
pinch of salt and pepper
1 pound of cavatappi or tortiglioni pasta (spiral, tubular pasta—try whole wheat if your clan will eat it!)
1 3-ounce package La Quercia prosciutto (I used Speck, which was divine, but you can also sub 6 slices of chopped, thick-cut bacon.)
1 1/2 cups crushed Ritz crackers (I used their new bacon flavor. Don't judge.)
2-4 tablespoons bacon fat (Yes, I do happen to just have this lying around my house. Again, don't judge. If you don't, use an equal amount of butter.)
1/4 cup flour
4 tablespoons butter
3 cups full fat milk, separated (Okay, fine—use skim. But what's the point?)
1/2 cup heavy cream
2 1/2 cups shredded sharp white cheddar cheese
1 1/2 cups shredded fontina cheese, shredded (add an extra 1/4 cup…if you want!)
4 ounces crumbled gorgonzola cheese (or add another cup of fontina)
1/2 teaspoon mustard powder
1/4 teaspoon cayenne pepper
1/4 teaspoon ground nutmeg
1/2 teaspoon salt
1/4 teaspoon white pepper

Preheat oven to 400 degrees.

Toss the butternut squash cubes with olive oil and a pinch of salt and pepper in a large bowl and transfer to a baking sheet. Place in oven for 25 to 30 minutes, turning once or twice during cooking.

Add Brussels sprouts, brown sugar and another pinch of salt and pepper to the bowl and toss to coat. Place on another baking sheet and add to the oven about 10 to 15 minutes in. They'll roast much quicker than the squash, and though you want them well browned (if not slightly charred on the edges), you don't want them burnt.

Reduce the oven temp to 350 degrees.

Set the Brussels sprout aside. Once cooled, place the roasted squash in a blender or food processor with a cup of the milk and blend until smooth. Like really smooth and creamy. I mean creamy.

Coat a large baking dish with butter and set aside.

Bring a large pot of water to a boil. Add salt. Add pasta and cook at least a minute shy of your pasta's cooking instructions. You want it aaaaallllddeeeennnntteeeee. (Sorry. You gotta say it like that.) The point is: It will finish cooking in the oven. Remove from heat, drain well—but do not rinse it! You'll just remove the layer of starch that makes the sauce stick. Toss with pureed butternut to prevent sticking and set aside.

Let's back it up a moment. While the pasta is boiling, you should be chopping your prosciutto … or speck … or bacon. If you chose the latter, add the bacon to a medium to large size pot. Fry until crisp, then remove and drain on paper towels.

Add crushed Ritz crackers to the hot bacon grease and toss to coat. Decided for option one or two? Use that bacon grease you've been saving in the fridge. Not a crazy person like me? Butter will work. Throw a few tablespoons into a pot and toast for 3-5 minutes. Stir frequently to avoid burning. Once toasted, transfer to bowl and set aside.

Warm the remaining two cups of milk in a small saucepan. Add four tablespoons of butter to the same pot and melt over medium-low heat. Whisk in the flour and let cook for one minute. It will get bubbly and thick. Add the milk and heavy cream and raise the heat to medium-high. Bring to a boil, whisking frequently until the sauce thickens (about 2-3 minutes). Remove from heat and stir in all cheese and stir. Let sit for a few minutes, then add mustard powder, cayenne, salt and white pepper and stir until smooth.

Add cheese mix to butternut squash and pasta mixture. Mix in speck/prosciutto/bacon and Brussels sprouts. Transfer to prepared baking dish and sprinkle evenly with cracker crumbs.

Bake for 20 minutes or until the crumbs are golden brown and the sauce is bubbling.