There's a lot to love about Sara Polan.
First off, the mastermind behind Soupergirl—a local soup company based in the D.M.V. (which is short for The District of Columbia, Maryland and Virginia)—makes just about the cutest cartoon superhero you ever did see (see picture at left).
Second, she's a foodie. Polan makes (and sells) 100 percent plant-based, fresh, homemade soup using ingredients from small local farms. She was inspired by another Pollan (note: this time with two "Ls", first name Michael). After reading his book, The Omnivore's Dilemma, Polan (Sara) decided to get involved in the local food movement. But how?
Soup … there it is. (I know I used this in another post recently, but really … it makes me giggle every time I see it!) Plus, as the Soupergirl website puts it, "She thought about being a farmer but she can't even keep her house plants alive."
Lastly, Polan is funny, which isn't surprising given her roots as a stand up comedienne. Even in this role Polan's inner superhero sought to make a difference.
"If you can get people to see a difficult situation through a comedic lens—especially in Washington D.C.—you can really help someone," she explained. "What I am doing now is completely different, but now, I think I can effect change on a much bigger level."
Now, the comedienne-turned-chef prepares arguably some of the best soups on the  planet (which, consequently, are actually good for said planet, too!). That's a big area that Polan sees needing change these days. She says the food system is broken, and part of the reason is because we've become really spoiled to expect to eat what we want, when we want it—regardless of whether it is in season or not.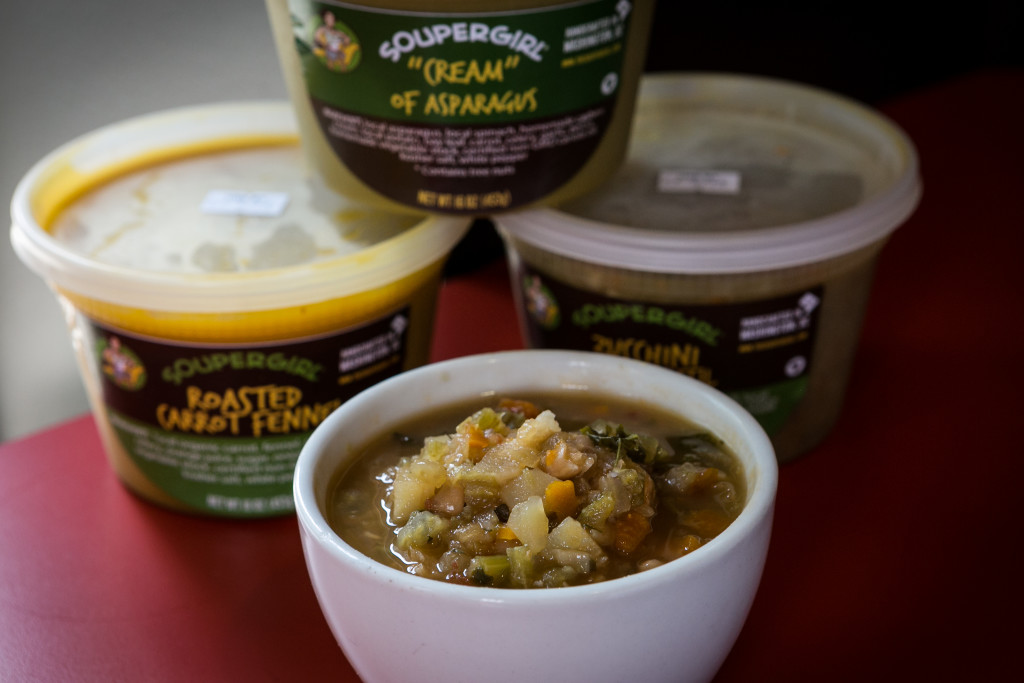 "We are not supposed to be eating tomatoes, cucumbers, peppers, peaches in the winter when our body craves starches and root vegetables." she said.  "Whatever we want is at our fingertips, and we don't want to think about how it got there."
To accommodate this demand, we're unconsciously turning from our local farming community to those on the other side of the country, continent, and sometimes, world, to get fresh [fill in the blank]. Instead, we need to readjust, and, as Polan puts it, "pay attention to our body's signals."
Eat seasonally. Eat locally. Eat soup.
"When you have a bite of a bowl of our soup, you're making the right choice on every level—from a personal level to a global one. People need to think more about that." Soupergirl sources produce from FreshFarm Markets, organic co-ops and directly from several local farms.
I asked Polan what inspires her in the kitchen. Her answer? What everyone else is overlooking: ugly fruits and vegetables.
"We're trained to just look for everything pretty, and that's not how we should be eating," she said.
Her mom and business partner, Marilyn Polan, is the recipe testing and development guru. She says her mom has always made incredible soup. And I know … this month is supposed to be about stew, so I asked Polan what she thought the difference was.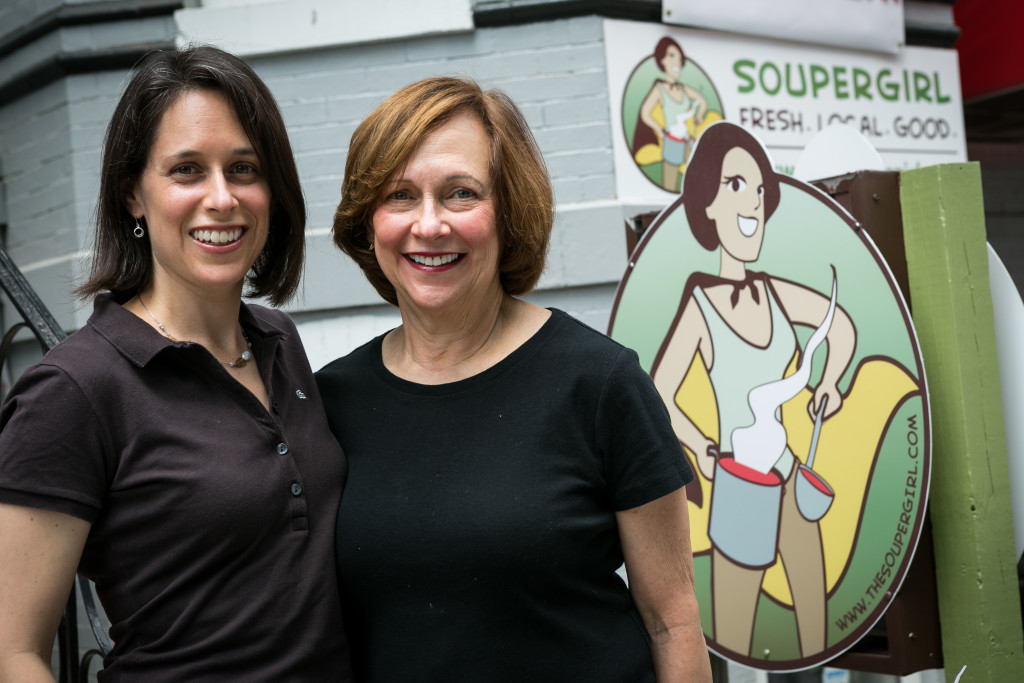 "What one person calls a thick soup, another person calls a stew."
You say po-tay-toh, I say po-tah-toh.
Call me a cynic, but I wondered how a soup business stays busy in the summertime—even with chilled soups on the menu. That's when my body is screaming for salads (but I'm eating more nefarious fare—like burgers … don't tell Polan!). I had to ask.
"Soup is a great vehicle to showcase seasonal vegetables year round," she explained, adding that chilled soups keep this Soupergirl plenty busy—sometimes even busier.
"We sometimes sell more chilled soups in certain summer months than we do warm soups in the winter time. Our gazpacho has like a cult following," Polan said, laughing.
Want to learn more? Although Michael Pollan's book changed her life, Polan says it isn't an easy read. She suggests watching Forks Over Knives (there's a cookbook, too!). She's also a big advocate of not only seasonal eating, but vegetable eating. Find out what's in season now, and do good by ordering a vegetable box from Hungry Harvest. They reduce food waste by reclaiming those "ugly" fruits and veggies from supermarkets who won't sell them. They deliver that produce—including an organic option—to your door, plus match each purchase with a donation of a meal to a family in need (think Toms, but for tomatoes). How do you like those apples?
Soupergirl is giving back, too … with a healthy discount for our Eaters. Just mention "We The Eaters" on your next visit for a 10 percent discount of your purchase. (Discount good until April 1, 2015.)
Basically, your first bite is on us. Um, I mean them. Anyway—enjoy!
We The Eaters would like to thank Sara Polan and Soupergirl for their time and sharing the photos above and the recipe below with us. No butternut squash were hurt (too badly) in the making of the soup I picked up at Center Point Healing (the only Soupergirl stocked location in Prince George's County!) and photographed below. It was delicious! As was the White Bean Mushroom Kale … and the Curried Sweet Potato Quinoa (one of Polan's faves) …
Soupergirl's Triple Ginger Butternut Squash Soup

INGREDIENTS

Yields 7 cups

1-2 tablespoon canola oil
2 butternut squash (about 1 1/3 pounds), peeled and cubed
1 cup onion, chopped
3 tablespoon crystallized ginger, chopped
1 teaspoon ground ginger
1 1-inch piece fresh ginger, peeled and grated
4 cups vegetable broth
salt
white pepper
Optional, for serving: sliced green onions, dry roasted peanuts, sour cream

DIRECTIONS

Heat the oil over medium heat until it shimmers. Once oil is hot, sauté the onion until translucent. Add all three types of ginger and cook for another 2-3 minutes, until fragrant. Add the butternut squash and broth, bring to a simmer and cover. Cook until the squash is tender (about 20 minutes.)

Remove from heat and puree in small batches in a blender or food processor.

Season to taste with salt and white pepper.