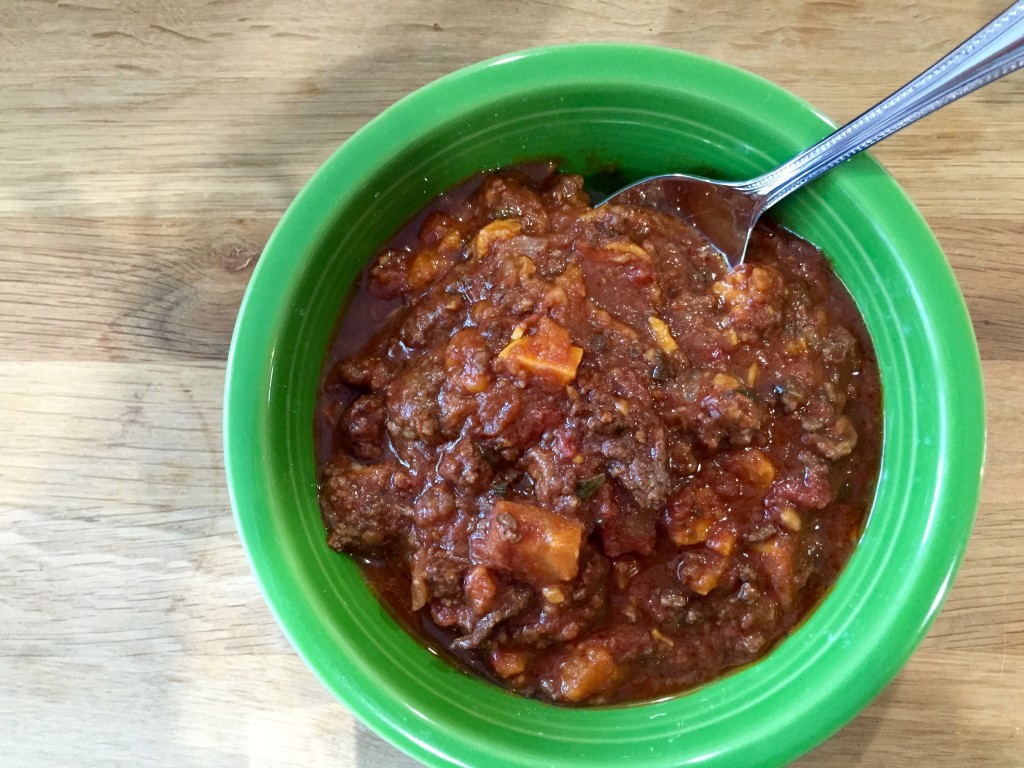 You know those couples that just don't make sense? You know the couple: The two that have nothing in common, or the one where he or she seems way out of the other's league. Then there's that couple that take mean jabs at each other from across the table, making dinner super awkward.
Sure, some of these couples wont make it past this holiday season, but what about the ones that end up buried next to one another? No, not because they kill each other in a fit of mad passion, but because they truly are good together.
Which brings me to sweet potatoes and chili. Think of this as one of those couples that make it through the long haul, even though they sound terrible together.

Much like Amy describes in her post last week, I found this sweet and spicy combination while doing my Whole30 this past January. Thanks to Amy I had some "pro" tips, one of them being eat sweet potatoes to stave off some of the crazy. The "kill all the things" kind of crazy. And since carbs are in short supply during this month, they're a perfect addition to any meal. Without carbs, you may feel a little hazy or foggy. But rather than a short spurt of awareness that bread or sugar may give you, the sweet potato has a good long burn.
Urge to kill and brain fog? I thought we were talking about romantic comedies, not zombies. Right … back to romance.
My husband and I have been married just over three years. While we're not buried next to each other just yet (many many years left, knock on wood), we have had a lot of challenges, especially over the last year. One of them, albeit quite minor in the scheme of things: sweet potatoes.
I've always loved them in virtually any form. Candied on Thanksgiving, whipped into a mash, hashed for breakfast, sweetened into a pie … even the simplest plain baked potato. Probably due to my sweet tooth (thanks Mom). My husband, on the other hand, has not. Sweet potatoes were neither on the real nor the figurative table.
We also have different ideas on the definition of "chili". He's a purist about Texas chili: no beans, spicy and lots of meat. I, however, was raised on the kidney bean chili. It was one of my mom's quick week night meals to feed us four kids on the cheap. Nothing spicy here.
So it makes sense that a sweet potato chili is one of our favorite meals … right?
After our month of Whole30, my husband developed a real taste for the sweeties (and their super powers to stave off the zombie living inside us). Also, there are no beans, so it still fit his chili requirements. Score! Perhaps we will be buried next to each other after all? But only after many many years of eating this chili.
Sweet Potato Chipotle Chili

The current cold, rainy weather is perfect for this comfort food staple. We love it so much we always make a huge batch, portioning it out for lunches and dinners. The recipe here is already doubled. I prep everything the night before and throw it all into the crockpot the next morning. Note, we have a larger crock pot, so if you're using a smaller one you may want to cut the recipe in half.

1 large sweet onion, diced
1 pound ground beef
1 pound sausage (we get the hot, spicy variety — dial it down if you're sensitive to heat)
2 large sweet potatoes, peeled and cut into 1-inch chunks
28 ounces diced tomatoes (1 large can or 2-15oz cans)
28 ounces tomato sauce (1 large can or 2-15oz cans)
water (1/2 to 1 can, depending)
1 large (or 2 smaller) dried chipotle peppers, whole
3 tablespoons cacao powder, pure
2 teaspoons fresh sage, minced
2 teaspoons fresh oregano, minced
6 garlic cloves, diced
1 teaspoon red pepper flakes
1 teaspoon cumin
1 teaspoon roasted cumin
salt, to taste

On medium high heat, brown the ground beef and sausage with the onion. Drain and add to a slow cooker. Add remaining ingredients. Stir all together until well mixed. Turn the crock pot on low heat for 8 hours.

When done, remove and discard the chipotle peppers. We love to serve with avocado slices and tortilla chips.