Fall brings with it so many hearty and satisfying dishes. As colder weather approaches, I feel the need to eat comforting foods and fatten up. Side note: I would love to hibernate all winter long. Side side note: I haven't waited till Fall to fatten up.
This is precisely what I had in mind when I began looking for recipes. But when looking for inspiration, most recipes I found were either desserts or the obvious pork roasts and chops. I wanted something different, something hearty and something that encompassed this season.
What about a baked stuffed apple? Ummm, yes, please!
Not only did this look adorable and dinner party worthy on the search results of my Pinterest app, but it sounded really yummy. It was a cold, rainy day and if it weren't for the pressure put on by our bellies rumbling, I could have simply lain under a blanket watching reality television all day. Triple side note: my latest guilty pleasure is Bravo's Ladies of London, my only criticism is that it could use a lot more corgis.
OK, no more side notes … I promise this post is mostly all about savory apples.
The concept seemed simple enough. Come up with a stuffing: we used ground country pork sausage, brown rice, apple, shallots, sage and rosemary. Hallow out some apples, mush the stuffing in and bake. And it really was that simple. The only hard part was the gutting of the apples. After cutting out the top with a knife to create a whole to start with, we used regular spoons. It gets wet and slippery, but once you get your groove, it's easy. As for the stuffing, you could use quinoa or another type of rice instead. Add in walnuts or pecans, play with the seasonings … even try using a spicier sausage to give that harvest flavor a kick in the pants.
We pulled a couple of tricks to make this dish particularly flavorful, thanks to Amy. That morning she had roasted a chicken and just happened to have fresh stock sitting in her fridge. We threw that into the rice maker with a little water and the brown rice. It smelled like heaven.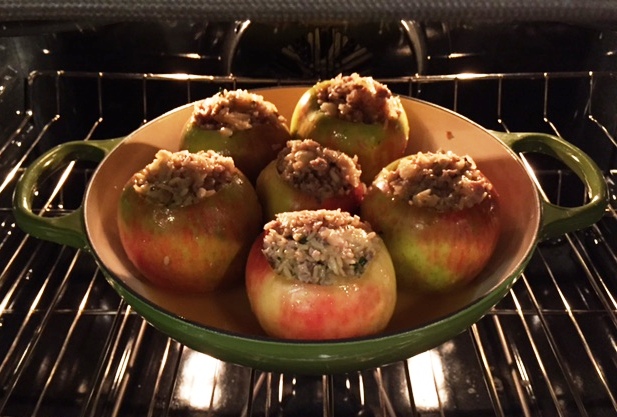 The next trick was to swap out the apple juice the recipe called for with apple cider. It seemed to add a heartier, more concentrated flavor to the dish.
The great thing about this recipe is its flexibility. You can tweak it so many ways to fit your tastes or your pantry's current state. Not to mention it looks pretty enough to serve for Thanksgiving, a dinner party or any holiday meal you're planning this season.
Just make sure you stick to a type of apple that works best for paring with savory flavors and holds up to baking. The recipe originally called for Brauburn, which is a rich tasting, crisp and firm variety. We were concerned with the size, thinking the ones we purchased were a little too small, and went to with a larger Honey Crisp. This choice turned out great, as they are also crisp and have a sweeter flavor, which seemed to balance the savory well.
Oh! One last side note …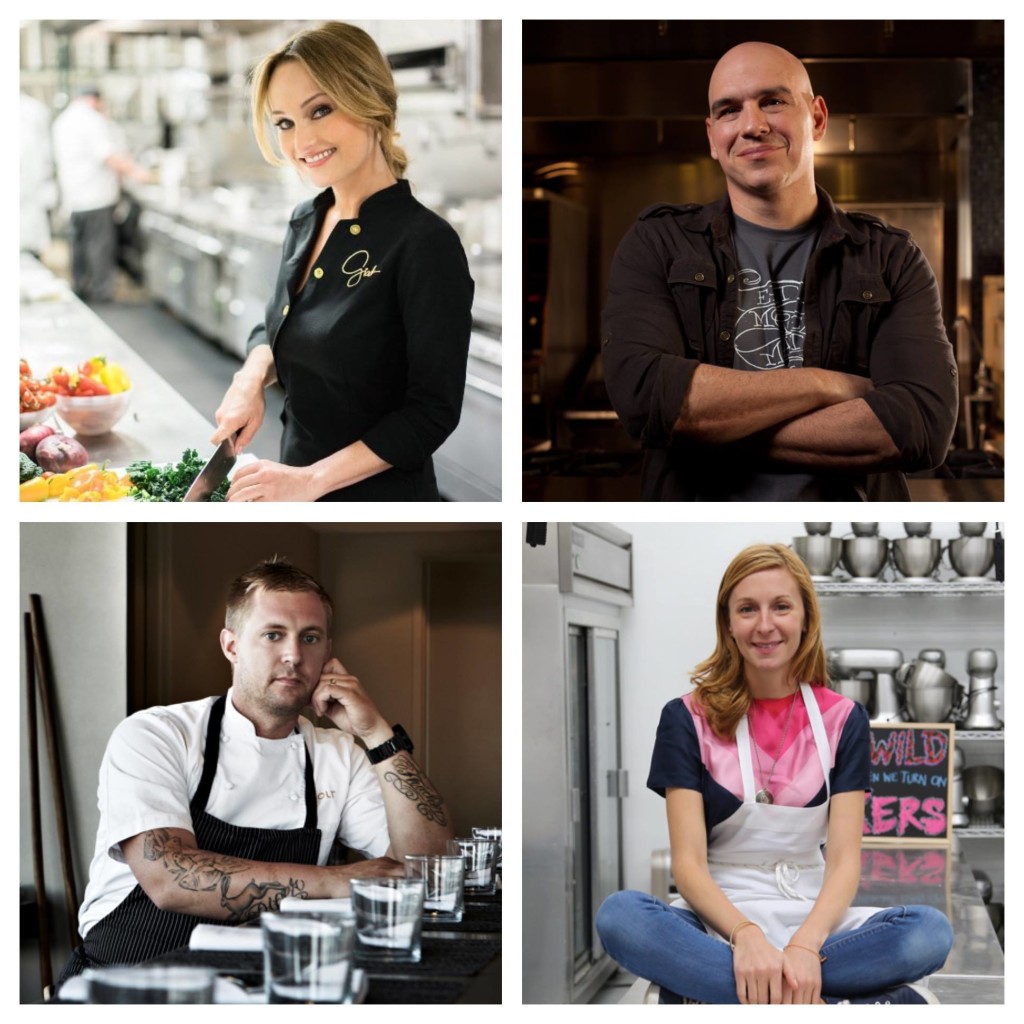 Did we mention that we'll be hanging out with Giada De Laurentiis, Michael D. Symon,  Bryan Voltaggio and Christina Tosi at the annual Metropolitan Cooking & Entertaining Show at the Walter E. Washington Convention Center in Washington, D.C. on October 24-25? Yes, in fact we are! We plan to shop, sip and sample our way through the weekend, watching chefs in the celebrity theater and checking out all of the specialty food vendors.
We're giving away a pair of tickets to the event, compliments of MetroCooking DC. These tickets are worth more than $150! All you have to do is sign up for our mailing list, The Peppercorn Press, by pressing the 'Join Us' button below to be entered into the drawing.

The winner will be notified by Friday, October 23, via email.
Entries will be open through midnight Thursday October 22 and the winner will be announced by noon Friday October 23.
Savory Baked Stuffed Apples

Our inspiration came from a pin we found of savory apples recipe.com. With a few minor adjustments … Braeburn apples swapped for Honeycrisp, onions for shallots, apple juice for cider and adding sage. We also thought adding pecans or walnuts next time would add an awesome crunchy.

1 cup brown rice
1 3/4 cup chicken stock
2 tablespoons olive oil
1 cup shallot, chopped
3 cloves garlic, minced
1 cup (8 ounces) pork sausage, mild or country style
1 tablespoon sage, minced
1/2 tablespoon thyme
6 Honeycrisp apples
1 cup apple, chopped (from coring and hallowing apples)
1 cup apple cider
Preheat the oven to 375 degrees.

Prepare the rice per instructions, replacing the water with chicken stock for a richer flavor. You can do a mix of stock and water, depending on how much stock you have on hand and how thick it is.

Remove the cores from the apples and hallow out using a large spoon. Make sure the hole at the top is big enough to add stuffing. You want enough apple removed, but also enough apple remaining to slice into when cooked.

Heat a large skillet on medium-high heat, adding the olive oil when heated. Cook the shallots first, pulling them off once they are translucent and browned. They will burn quickly if you leave them on too long!

Add the garlic and sausage to the pan. Cook the sausage till browned, but don't over do it – it will also cook in the oven later. Towards the end, throw in the chopped apple, sage and thyme and cook for another few minutes.

When done, remove from heat and stir in the cooked rice. Stuff the apples with the sausage-rice mixture and arrange in a shallow baking dish. Pour the apple cider over the apples.

Bake for 30-45 minutes, until the stuffing is browned on top and the apples are tender.