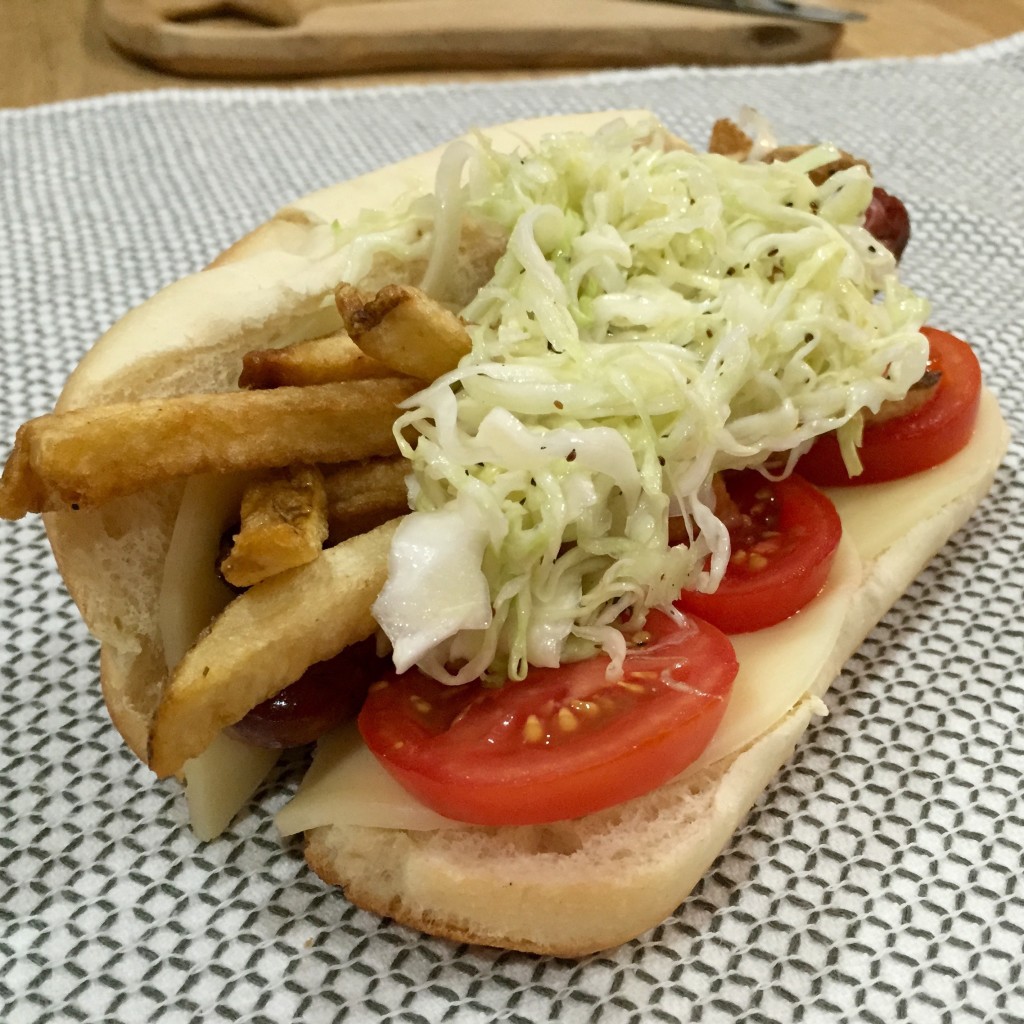 It's as American as baseball and one of the most iconic foods of summer.  Found in the ballpark or on the grill in the backyard, hot dogs are never in short supply as the days get hotter and longer. Yes, they may be pretty basic … and yes, I often ask myself "What's in these things anyway?", but they can be elevated.
With baseball season in full swing, each year major league ballparks around the country serve up crazy and extreme takes on this summer classic. From dogs wrapped in bacon or brats (a la turduckens in a bun) to toppings of mac 'n cheese or poutine, the possibilities are limitless. These concoctions may seem more than a little ridiculous, but at least it beats the boring ketchup-mustard combos of our youth.
Each park's "signature dog" reflects its city or region. Baltimore adds the Chesapeake area's crab atop theirs, while Cincinnati opts for the city's cinnamon spiced Skyline Chili coney. Of course, there are the cities who already have signature wieners. Chicago-style looks as though the dog has been dragged through a garden with tomato, pickle spears, onions and pickled peppers. Originating in New York and making a lasting impact in the heart of Michigan, there's the Greek coney island, topped with a savory meat sauce, fresh chopped onion and mustard. In Washington, D.C, where We The Eaters calls home, Ben's Chili Bowl half smokes are an institution. So, if you go to a Detroit Tiger's or a Washington National's game, you're sure to find their city's dogs at the concession stands.
And it's not just the style of how you dress your dog that makes the city. The actual wiener itself can be just as representative of the region. New York parks carry the region's famed Nathan's brand, the same that sponsors the yearly eating contest. Then there are the stadiums for both the Houston Astros and the Texas Rangers who serve up hall of fame pitcher Nolan Ryan's all-beef dogs … yes, apparently his passion is cattle ranching!  Fenway Park's dogs are from local Massachusetts favorite Kayem.
Whether a baseball fan or not, you're bound to have someone in your life who will drag you to a park. This is the time of year when the post season and wild card races start shaping up. But that's coming from a life long fan (let's go Bucs!). These signature hot dogs – whether they're regional, innovative or just plain monstrous – make the game interesting for sure.
Not ready to venture out? Take these lessons to your backyard barbecue. Have a favorite comfort food or take out dish? Try interpreting it on top of your dog … think of the Baltimore Oriole's mac 'n cheese dogs. Make a killer slaw? Throw that on! Raid your garden or farmer's markets for fresh, in-season toppings. Just start with a good quality wiener and a sturdy bun. The rest is up to you. Be brave!
Being a Pittsburgh Pirate's fan, I had to try my hand at a Primanti Brother's inspired hot dog. These "sammiches" are by definition crazy … overloaded with cole slaw, tomatoes and french fries. It takes a brave person to eat one for sure.
Pittsburgher-style Hot Dog
While I had the components down pat, I'd never made them from scratch. And watching my dad make it for a Super Bowl one year doesn't count! I started with a basic recipe from epicurious.  

Cole Slaw
1 pound finely shredded green or savoy cabbage (about 6 cups)
1/2 cup sugar (less to taste)
1-2 teaspoons Kosher salt
1/4 teaspoon celery seed
1/4 oil
1/4 apple cider vinegar
freshly ground black pepper

Fries
3-4 Russet potatoes
vegetable oil

sliced tomatos
several slices Provolone cheese
hot dogs
thick hot dog buns or crusty Italian bread

Combine the shredded cabbage, sugar, salt and celery seed in a colander set over the sink or a bowl. Let it sit for about an hour. The cabbage will release liquid as it sits. Discard the drained liquid, then add the oil and vinegar. Toss it all together, coating the cabbage. Season with pepper and refrigerate till ready to assemble.

Cut unpeeled potatoes into sticks about 1/4 to 1/2 inch thick. Heat 1 inch of vegetable oil in a deep skillet over medium heat. The oil is ready when the tip of a potato really sizzles on contact. Carefully slide the potatoes into the oil to fry over moderate heat, turning occasionally with tongs, until crisp, golden brown, and cooked through, about 8 to 10 minutes. Don't let the fries brown too quickly! (They might remain raw on the inside and burned on the outside if they are cooked too fast.) Drain on paper towels, and season with salt.

Cut the potatoes to about 1/4 to 1/2 inch thick fries, leave the skins on! Heat about 1 inch of oil in a skillet over medium heat. Add the potatoes to the oil and fry, turning with tongs so they cook crisp, golden brown and all the way through … about 8 to 10 minutes. Using tongs, remove and drain on paper towels, season with salt.

Grill the hot dogs using your preferred method, just make sure they get a good color on them.

Assemble everything – open a bun, place the dog, add small cheese and tomato slices, top with fries and last, but not least, cole slaw. Eat … and try not to spill!