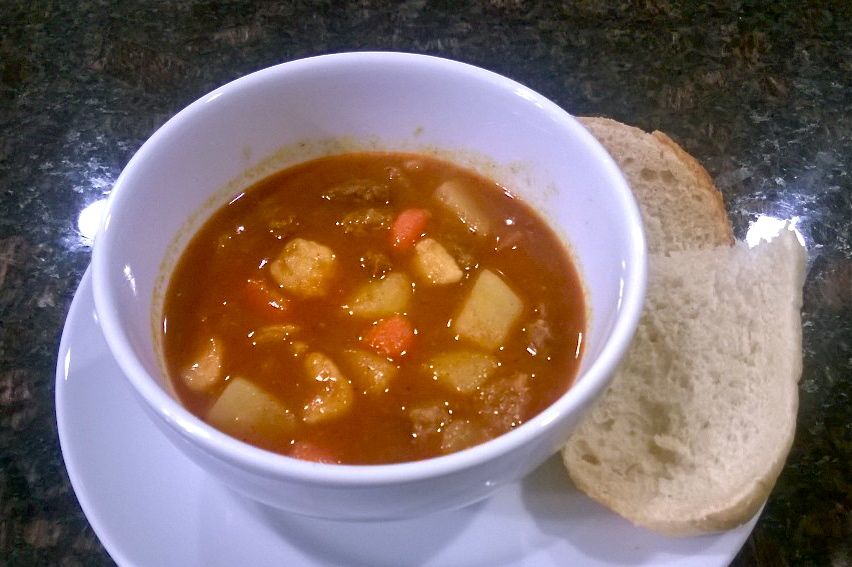 When you think of Hungarian food, the first thing that probably comes to mind is goulash. Long considered Hungary's national dish, goulash (correctly spelled gulyás and pronounced goo-yash) is a hearty paprika-seasoned beef and vegetable soup that is a meal in itself. The name is based on its peasant origins, as it was once a dish cooked by herdsmen in a cauldron over an open fire on the Great Hungarian Plain.
Gulya = a herd of cattle
Gulyás = herdsman
The earliest version of the dish was known as gulyáshús, or herdsman's meat, which was later shortened to gulyás. The original is made with beef, but variations made with chicken, pork, lamb, venison and even dried beans have developed over time. It is a popular dish throughout almost all of the former Austro-Hungarian Empire, including Austria, the Czech Republic, Slovakia, the Ukraine, Serbia, Croatia and part of Italy. It's also very popular in Germany, where it's called gulasch, and Poland, where it's called gulasz.
But a funny thing happened to gulyás when it migrated from Hungary: it turned into a thick beef stew, served over boiled or mashed potatoes, dumplings, polenta, or as a stand-alone dish with bread. And when it came to America in the early 20th century, it evolved into something resembling Stouffer's Macaroni and Beef, and then ended up on cafeteria steam tables and in casserole dishes at church potlucks. Blasphemy!
This "American goulash" – which some call "American chop suey" – is what my Texas-born husband grew up eating. His paternal grandmother in Fort Worth used to make it for him, and it's featured in a cookbook that was compiled for a family reunion by his mom's relatives in Nebraska and Kansas.
Being a good Hungarian girl (read more about me in my chicken paprikash post from June 2014), I am compelled to set the record straight. The recipe below is my version of the gulyás I grew up eating at home, at the annual Hungarian festival in New Brunswick, New Jersey, and in Hungary. I learned to make this and other Hungarian dishes by watching my mom cook, but I've also incorporated what I've learned from Hungarian cookbooks and food writers, including George Lang and Carolyn Bánfalvi.
You won't find any ground beef, butter, flour, beef broth, vinegar, red wine, canned tomatoes, tomato paste, or elbow macaroni here. Gulyás is a perfect example of how a few simple, fresh, high-quality ingredients can come together to make a wonderful dish. In Hungary, gulyás is eaten all year long, but I find it best suited to fall and winter.  Leftovers are even better the next day, so I recommend making it a day in advance!
Gulyás

4 tablespoons sunflower or canola oil (or use lard, which is traditional)
2 yellow onions, chopped
4 tablespoons fresh, sweet Hungarian paprika (see my chicken paprikash post for tips on paprika)
1 1/2 pounds stewing beef, cut into 1/2 inch cubes (chuck is fine, or use shoulder or shin beef if you can get it. Don't trim off all the fat – leaving some on will make the gulyás richer and more flavorful.)
Coarse salt and freshly ground black pepper, to taste
2 cloves garlic, finely chopped
1 red, ripe tomato, peeled, cored and chopped
1 pepper, chopped (Use sweet Hungarian white peppers if you can find them. If you can't, pale green Italian frying peppers or Cubanelles make a fine substitute.)
Pinch of caraway seeds (omit these if you must, but they give a characteristic flavor to gulyás)
2 medium carrots, cut into 1/2 inch cubes
2 Italian parsley roots, cut into 1/2 inch cubes (you may substitute parsnips, but they'll be sweeter)
5 cups lukewarm water
1 1/2 pounds Yukon Gold potatoes, peeled and cut into ½ inch cubes
Csipetke (see recipe below)

Heat the oil or lard in a large, heavy pot with a tight-fitting lid. Add the chopped onions, stir well, cover, and cook slowly over low to medium heat until soft and translucent – about 10 minutes. Stir occasionally so the onions don't brown. You want them to become so soft that their presence won't be discernible in the finished gulyás.

Remove the pot from the heat, add paprika and stir well. Return the pot to the stove and increase the heat to medium high. Add beef and season to taste with salt and pepper. Sear the beef, uncovered, until the meat is lightly browned, about 5 or 6 minutes. Stir only once or twice.

When the meat is browned, add garlic, tomato, pepper, and caraway seeds. Cook until fragrant, about 2 minutes. Add carrots, parsley root, and 5 cups water. Bring to a boil, then reduce heat to medium-low. Cover and simmer until the beef is nearly tender – about 40 minutes. Remove cover, add potatoes and cook until tender, about 25 minutes. Add csipetke to the pot and simmer for about 5 minutes. Add additional salt and pepper, as desired, and serve with crusty bread.

Csipetke

These little noodles, pronounced chee-pet-keh, are a classic addition to gulyás. The name is derived from the Hungarian verb csípni, meaning "to pinch." That's exactly how you make csipetke – "little pinched things." If you want some noodles in your gulyás but don't feel like making the csipetke, go ahead and cook some small shell-shaped pasta, orecchiette, or even elbow macaroni, and add it to the gulyás a few minutes before serving – I won't tell anyone.

1/2 cup flour
Pinch of salt
1 egg

In a bowl, combine the flour, salt and egg, kneading for about 5 minutes until a firm, smooth dough forms. Allow the dough to relax for about 15 minutes covered with a dishtowel. Turn the dough out onto a lightly floured board and roll it into a long cylinder. Dust your fingers with a little flour and start pinching off dime-sized bits of the dough with your thumb and index finger. Place the bits on a floured baking sheet as you go. When you've used up all the dough, drop the csipetke into the simmering gulyás and cook for about 5 minutes.  They'll float to the top when they're done.