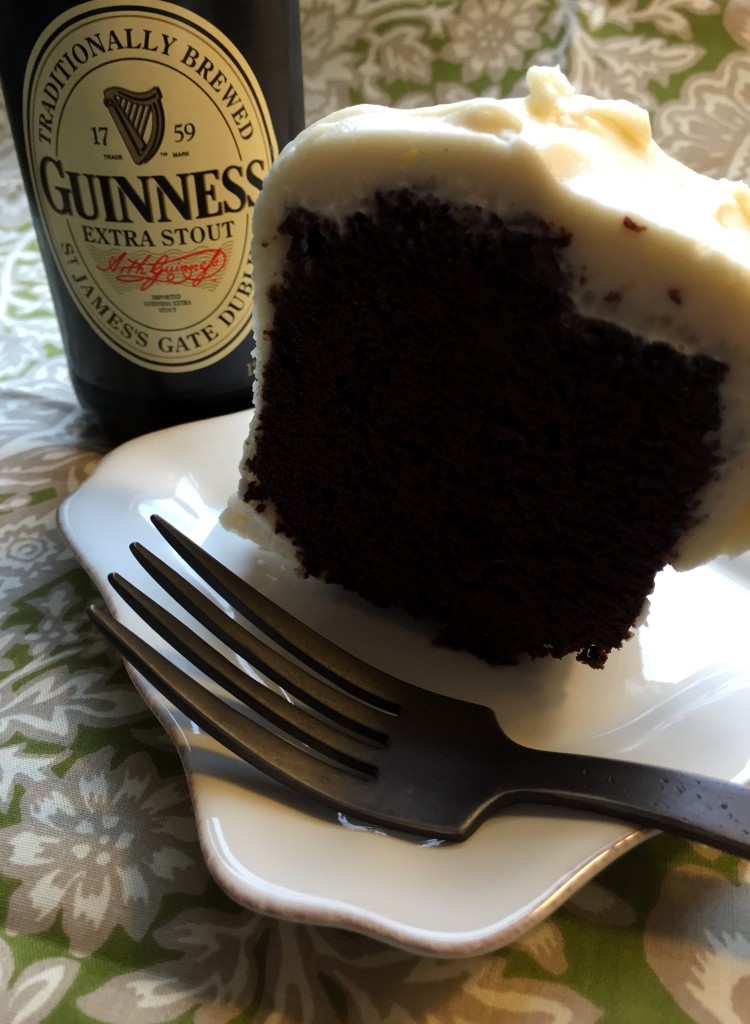 By no stretch of the imagination do I consider myself a "baker".  A burgeoning cook, sure, but baking from scratch seems like a completely different animal. Sadly, there's no way you can throw down in a food fight – especially with a founding foodie like April – expecting Toll House cookies or Betty Crocker cake mix to bail you out.
But what I can rely on to carry me to victory in this food fight is my Irish heritage. And what better for inspiration than my recent trip to Ireland?
One of our first stops in the motherland was the Guinness Storehouse in Dublin. Seven floors dedicated to all things related to the delicious stout , complete with an atrium in the middle of the building running top to bottom in the form of a frothy pint. As you pass from floor to floor, you learn about the history and ingredients of the brew. The penthouse level is The Gravity Bar (good luck finding a seat!) with glass walls that reveal a nearly 360 degree view of the city below.
While there, you have the opportunity to master the perfect Guinness pour … though visitors be warned: the Guinness served there is surprisingly cold as opposed to the expected room temperature. Regardless, that wonderful experience made this Irishman excited to come up with new ways to include Ireland's hallmark brew in his food.
My friend, Jon,  shared the recipe for this cake with me and I break it out frequently. In every incarnation, it's a dense dessert: Always tasty, but definitely heavy like it's namesake beer. For this food fight, I experimented with adding extra sour cream. In my head, I imagined this ingredient would make it lighter. In reality — not so much. That provided a great deal of amusement for my more kitchen-savvy wife! I also added cinnamon, which turned out to be a brilliant addition. It added depth and wonderful flavor to the predominant chocolate taste. I also wanted to imbue more of the stout taste, so I used a whole Guinness – not just a cup. I put some of the beer in the frosting too. Not a ton, but enough to add a hint of the stout flavor to the topping.
I've made this for office parties before, and people always love it.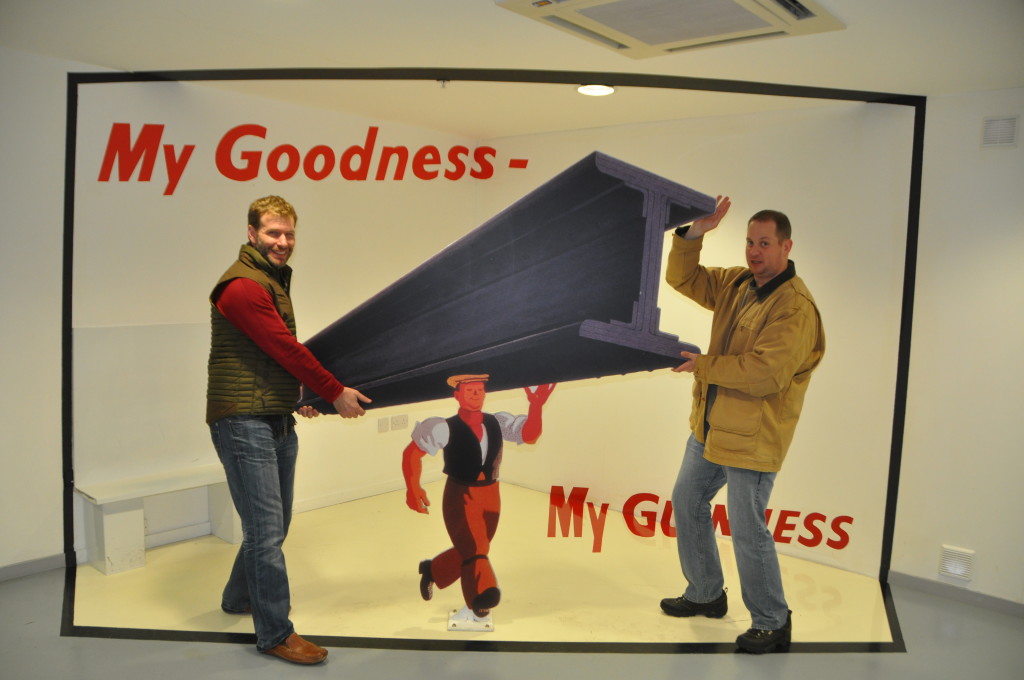 Despite it being a heavy dessert, there's never a crumb left. This was the first time, however, that I've made it for my founding foodie wife. She suggested adding some spice – like chili powder – to kick the flavor profile up a notch. And, as she believes that cake's main function is to serve as a vehicle for frosting, suggested that a chocolate ganache frosting would work better. She said in this case, she actually liked the cake better than the frosting … but added that it was hands-down about the best cake she'd ever had. This from a pie person. That said, I'd argue that the intent of the frosting was to make the cake appear like a frothy topped pint of stout, which would be lost with a different frosting. Our agreed compromise would be a white chocolate ganache to maintain the right look.
Even though baking from scratch is not my forte, this recipe is a consistent winner for me. And having the chance to include Guinness in baking or cooking is always fun. And, most importantly, don't forget: you can't bake with it without enjoying one. Always buy extra beer — which I think is a tip April and I can both agree on!
Guinness Cake

Adapted from a recipe found in the cooking section of NYTimes.com.

The Cake:
1 bottle of Guinness stout
10 tablespoons (1 stick plus 2 tablespoons) unsalted butter
¾ cup unsweetened cocoa
2 cups superfine sugar
1 cup sour cream
2 large eggs
1 tablespoon vanilla extract
1 teaspoon cinnamon
2 cups all-purpose flour
2 ½ teaspoons baking soda

The Frosting:
1 ¼ cups confectioners' sugar
8 ounces cream cheese at room temperature
½ cup heavy cream
2 tablespoons Guinness

Heat your oven to 350. Butter a 9 inch spring form pan (and add a little flower). You can optionally line it with parchment paper. For this food fight, I used a bunt-cake insert, but I normally just make a round cake.

When I prep for this cake, I portion out the cocoa and sugar in a bowl. The cream, eggs and vanilla in another bowl and the flower and baking soda into a third. By doling the ingredients out like this ahead of time, it helps me keep the steps simple and quick as I add elements in.

Combine a whole Guinness and the butter in a large saucepan and place it over low heat until the butter melts. Remove it from the heat and blend in the cocoa and superfine sugar with a whisk.

Next, mix the sour cream, eggs and vanilla in well. Then add in the flour and baking soda and whisk until smooth. Pour the mixture (after dipping in a finger and tasting it!) into the pan and bake until it's risen and firm. It normally takes 45 minutes to an hour. Test it by sticking in a tooth pick and seeing if it comes out clean or covered batter. Once done cooking, let it cool in the pan and then remove it.

For the frosting, I mixed it by hand, but you can certainly use a food processor. Mix the confectioners' sugar making sure there aren't any lumps. Add in the cream cheese and blend it until smooth. Add in the heavy cream and Guinness and mix that until it is smooth and spreadable. If the cake is still warm, the frosting will melt and drizzle down the sides, like froth on a tasty stout beer.

You can make this dessert more party accessible by switching to cupcakes and reducing the cooking time.