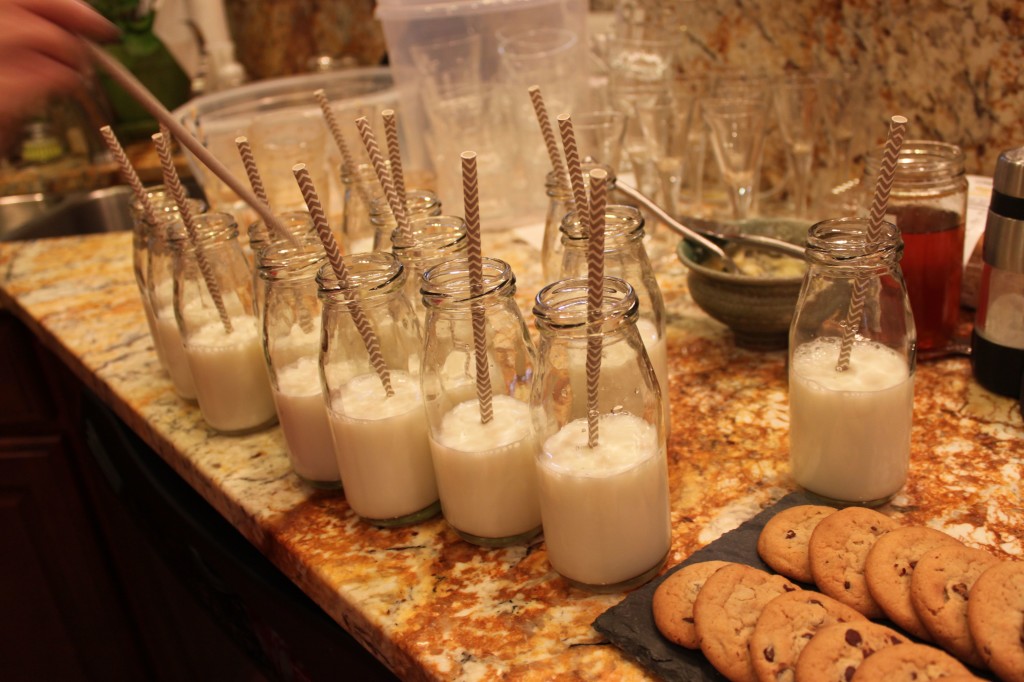 The perfect ending to a perfect tea party. But if we're being completely honest here, with ten courses to fill, we served two desserts! The other was a tiny cheesecake bite made by Amy's mother-in-law, Elena. And, since no tea party would be complete without tea, we paired the cheesecakes with herbal goodness served in vintage tea cups that guests took home as part of their gift.
Coming up with the "sweet" part of this party was by far the easiest. Tiny desserts have been popular for quite some time. You name it, it's been miniaturized: cupcakes, tarts, brownies and ice cream sandwiches. There are even special kitchen appliances, tins, pans and tools designed to make and decorate these little bites.
As I considered all the options, I kept coming back to an image I found of milk and cookies … in mini form. The tiny milk bottles served with bite sized chocolate chip cookies were totally adorable. Plus, cookies are super easy to make bite-sized. Simply pick your poison -– shortbread, gingerbread, chocolate chip, Macadamia nut, oatmeal –- and put smaller chunks of dough on the baking sheets. Of course, the cooking time will decrease significantly, so check them often while baking.
The hardest part was finding the tiny milk bottles! Now the question is what to do with them post-shower, which was anyone's guess. I have them boxed up in my basement with visions of future birthday parties and events … perhaps with tiny hands holding them. Someday!
Chocolate Chippers

There are a couple of secrets to these cookies that, which I picked up from the NY Times article, "Perfection? Hint: It's Warm and Has a Secret." First, chill your cookie dough for at least 24 hours. This ensures the egg is absorbed into the rest of the ingredients. Second, sprinkle with salt! Nothing beats that sweet and salty combo on the tongue.

2 cups minus 2 tablespoons cake flour
1 2/3 cups bread flour
1 1/4 teaspoons baking soda
1 1/2 teaspoons baking powder
1 1/2 teaspoons coarse salt
1 1/4 cups unsalted butter
1 1/4 cups light brown sugar
1 cup plus 2 tablespoons granulated sugar
2 large eggs
2 teaspoons natural vanilla extract
1 1/4 pounds bittersweet chocolate chips, at least 60% cacao content
sea salt (I use pink Himalayan)

Combine the flours, baking soda, baking powder and salt in a large bowl with a whisk, fork, or, for a fine consistency, a sifter.

Using a stand mixer with the paddle attachment, cream the butter and sugars together (regular beaters or manual labor work, too!), about five minutes. Add eggs one at a time and mix until well combined. Add in the vanilla.

Drop the speed to low and add the dry ingredients, mixing only until just combined. Careful! The dry ingredients tend to fly out of the mixer. I put a kitchen towel around the opening for a few seconds as it mixes. Cover and chill the dough for 24-72 hours.

When ready to bake, preheat the oven to 350 degrees. Line a baking sheet with parchment paper. Scoop out little balls of dough, sprinkle with the sea salt and bake for about 10 minutes. Watch the cookies — depending on the size, you may need less or more time. Bake to your liking: If you want them on the raw, gooey side: less time. Crispy and darker? More time.