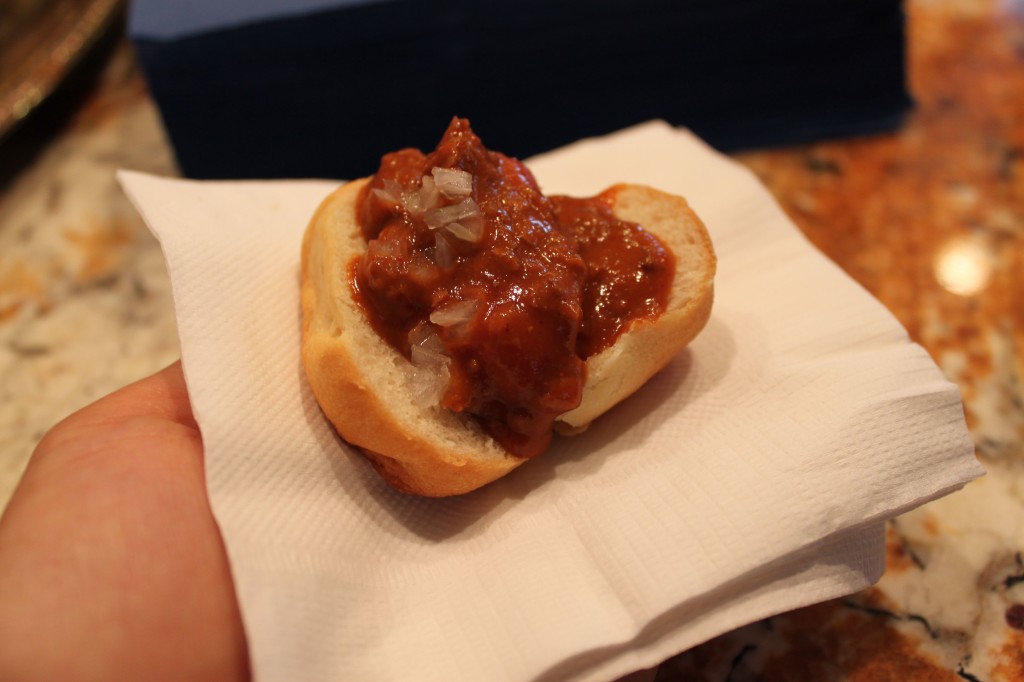 Amy's story began in the far reaches of the Great Lakes, in that blustery cold state of Michigan. Although she's been in DC for a decade, it still feels like home to her. As a nod to her roots, we chose to make tiny Detroit-style Coney Dogs served alongside root beer floats. Serious cute and yum factor galore!
While this was one of the least challenging foods to make in miniature, I had a lot of questions. Just what are Coneys? How are they from Michigan and not Coney Island in New York? I had heard of chili dogs, of course. And, growing up, a visit with my mom's family in south western New York was never complete without a few Johnny's hots. But neither is quite like a Michigan Coney, the secret hiding somewhere in its meaty sauce.
As I researched this, I found that there are several varieties of Coneys from Michigan. It seems that Detroit and Flint have competing sauces sold at local restaurants. Then there's the Jackson variety, which is now only sold in cans. They all have common ingredients: ground beef and a tomato-based sauce with seasonings, topped with chopped onions and a drizzle of yellow mustard.
Then, of course, there's the hot dog. To be authentic, the dogs should have natural casing and originate in Michigan. The Flint style must use Koegel Meats' "Coneys". But, as I discovered, these aren't sold in mini form.
After conferencing with Amy, in between planning a huge DIY wedding, she agreed we should keep it as simple as possible. If you really want to get technical, the cocktail wieners I served were not true Coneys. Cringe.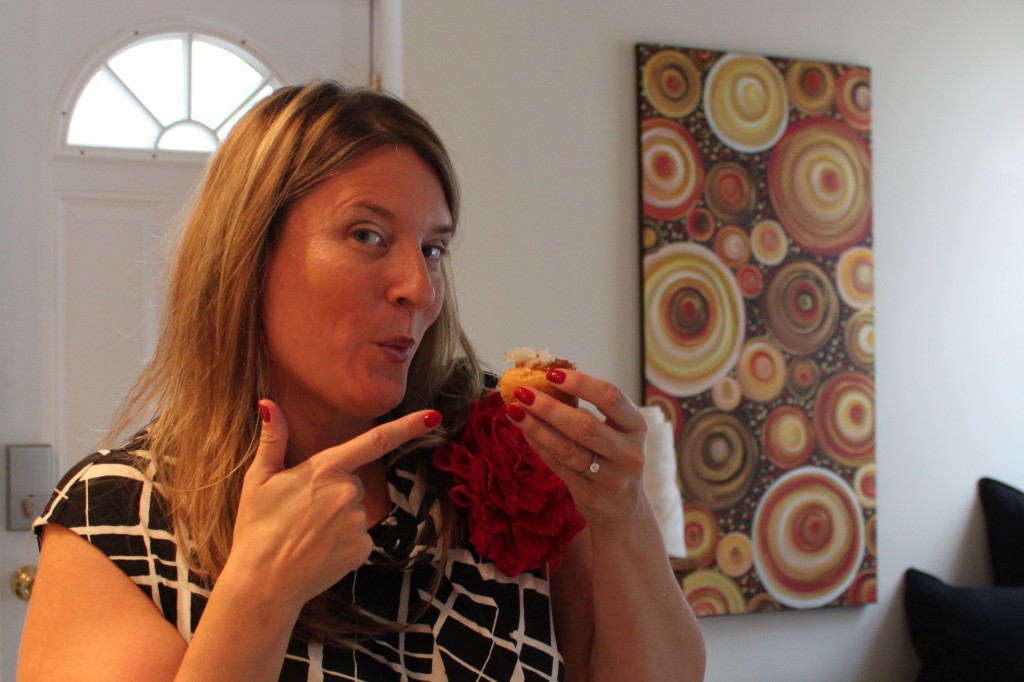 Remember, when you're making things in miniature, and especially if you're taking on ten courses, you may have to bend the rules and rely on shortcuts! Not saying this couldn't be done old school. You could make your own mini hot dogs from scratch with a grinder and casings. Or you could ask your butcher if he or she could make smaller versions as well.
Or you could spend that extra time trying to figure out what to do about bite-sized buns. Arguably the cutest part of this whole endeavor, if you can't find them, you may need to make them from scratch. One quick shortcut here is to follow my lead and buy pre-made frozen dough to shape into small bun-shaped loaves. Once baked, simply slice into the top enough to fit the little wieners inside.
And don't forget the diced onion and yellow mustard! These are absolute musts.
All in all, this was easy. But if you're planning a shower for a Michigan bride who's dead set on the real deal … good luck. That has the potential to be pretty intense and time consuming. Better pour yourself a tall, cold Founders.
Simple Coney Island Style Mini Dogs with Root Beer Floats

This is the simpler version of Coney Dogs. I used several short cuts, including cocktail wieners and pre-mixed bread dough. The sauce isn't truly authentic, but it's close! A quick Google search on Detroit or Flint will draw a bunch of variations on the recipes found at local restaurants. And, if you're really in a pinch, pick up some canned sauce (wink!).

Detroit-style Coney Dogs:
1 large white onion, chopped (mince about 1/3 for topping)
2 cloves garlic, minced
1 pound ground beef
1 14-ounce can tomato sauce
1/2 tablespoon chili powder
1 teaspoon salt
1/2 teaspoon cumin
1 pinch cayenne pepper
2 pinches celery salt
2 packages of cocktail wieners
1 package pre-made, frozen bread dough
yellow mustard

Root beer floats:
1 quart vanilla ice cream
1 liter root beer

Thaw and prepare the bread dough as per the instructions on the package. When ready to bake, roll or shape the dough into small oval-shaped loaves. It should just fit the cocktail wieners. You may want to bake a test batch to determine the best shape and size, as well as cooking times. Bake according the package's instructions, though it will take far less time for these smaller "loaves". Remove from oven when done and transfer to a cooling rack.

Add about 2/3 of the chopped onion to a medium sized pot with about a tablespoon of olive oil. Cook until soft. Add the garlic and cook for another minute. Add the ground beef, breaking it up to ensure it's in very small pieces – you don't want the sauce to be too chunky! Stir occasionally until fully cooked. Stir in the chili powder, salt, cumin, cayenne pepper and celery salt. Add the tomato sauce, stir and simmer for 15 to 20 minutes.

Heat the wieners up in a pan on the stovetop. Cut the tops of the buns and assemble the Coney Dogs: dog in bun, sauce on top, minced onions and mustard drizzle.

For the floats, use a small spoon or melon baller to scoop a tiny amount of ice cream into small glasses. We used larger sized shot glasses bought at Ikea, almost like ones you'd see used for beer tastings. Pour root beer to top and add small straws (we just cut down full-sized paper party straws).