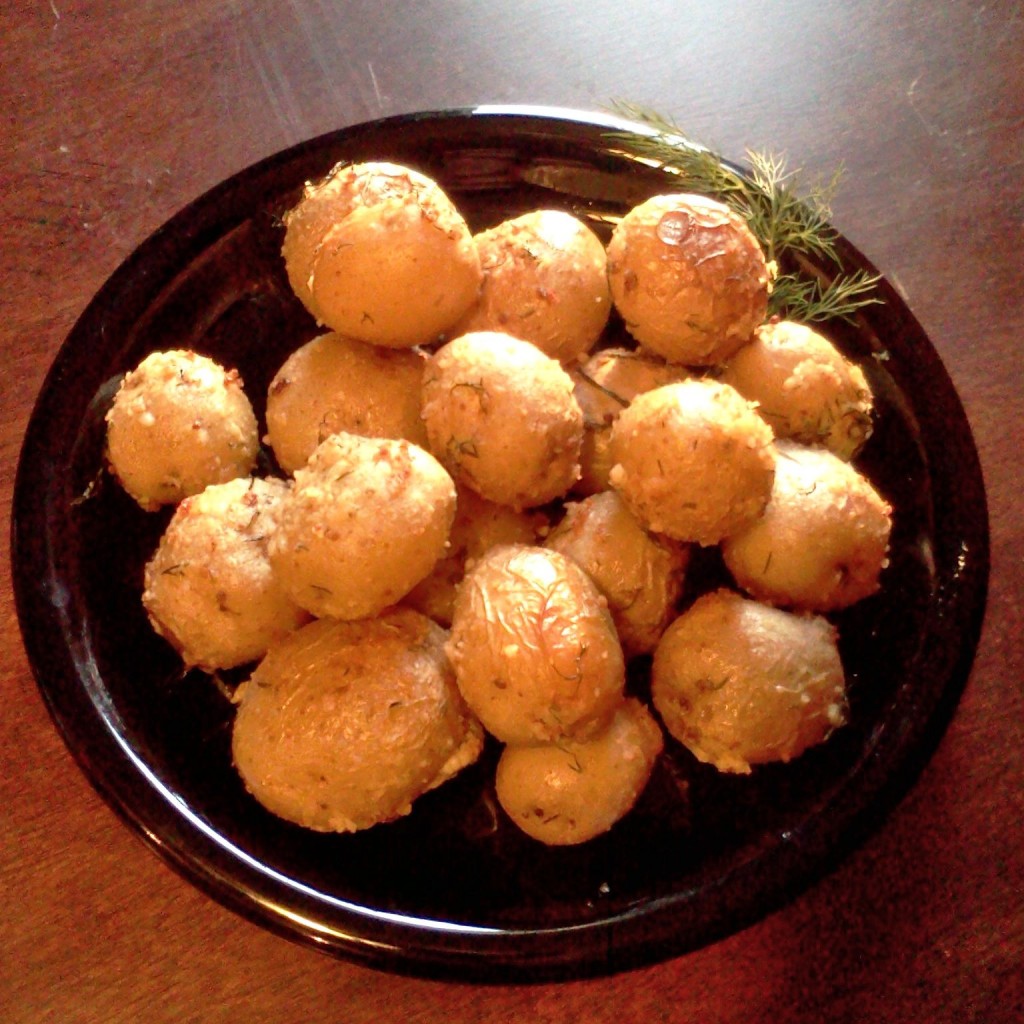 I love potatoes. French fried, baked, mashed, scalloped, hash browned, turned into tots… you name it! They're so versatile, they can be served with just about anything, or even stand on their own as the star of a meal.
Probably like many of you, I grew up eating many a dinner featuring potatoes in some form. One of my favorites was fried potatoes — the bite-sized chunks cooked in a skillet with oil, salt, pepper and onions. But once I was living on my own and cooking for myself, I realized what a hard-to-clean mess fried potatoes really were. 

So I took a cue from my new style of cooking bacon: I decided to cook the potato pieces in the oven. After experimenting with different ingredients and seasonings, I came up with my favorite combination: garlic, dill and Parmesan cheese.
This recipe is extremely forgiving and easy to adjust for a stronger or milder flavor. It couldn't be much simpler. You can even prepare it while holding a five-month-old baby. Almost any type of potato can be used, though I love baby reds and fingerlings best, since they don't need to be cut. Fresh dill makes the best presentation, but I usually use the dried dill from a jar and it tastes just as yummy. Olive oil can be used in place of the butter to make this dish dairy-free and vegan — just reduce the amount or your potatoes will be swimming! 

Bake in a conventional oven, toaster oven, or wrap these potatoes in foil and throw them on the grill with the rest of your dinner.
Garlic Dill Potatoes

3 pounds of potatoes
1/2 to 3/4 cup of butter
2 tablespoons minced garlic (about 6 cloves)
1/2 to 3/4 cup grated Parmesan cheese
2 tablespoons fresh or 2 teaspoons dried dill

Preheat oven to 400 F. Scrub potatoes and cut into bite-sized pieces, if needed. Place in 8×8 or 9×9 casserole dish.

Melt butter, add in garlic, dill and most of the Parmesan. Pour over potatoes and mix to coat. Sprinkle remaining Parmesan over top.

Bake 45 minutes to an hour, stirring occasionally to get the browning butter mixture evenly distributed. Remove from oven when potatoes are tender.