Here are four reasons why buying an ice cream maker is a bad idea:
Ice cream is a pain to make.
You'll never make ice cream.
You can't make much else in an ice cream machine.
It takes up a lot of space when you're not using it.
When I was contemplating buying an ice cream maker, my roommate insisted I would never use it. My neighbor Deanne even told me I could have hers on permanent loan because she never used it.
I bought it anyway.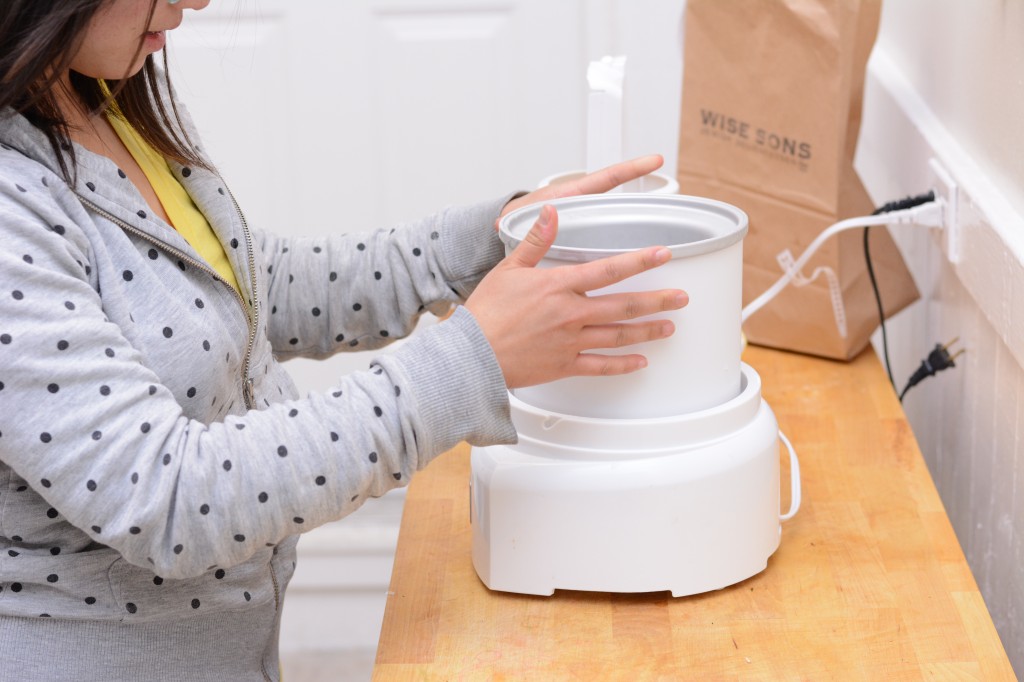 Partly it was to be defiant, but mostly it was because I missed Jeni's Ice Cream, the pride of my hometown, Columbus, Ohio. Ice cream people are powerfully loyal to whatever tastes like home. All of those people who try to tell me that Bi-Rite/Toscanini's/whatever is the best ice cream in the country are obviously wrong and clearly biased — objectively speaking, of course — because nothing can compare to Jeni's. That includes the Jeni's pints you find in grocery stores across the country. Somehow the ice cream gets really mealy in the shipping process.
The point is, the choice to purchase was obvious, even if all the warning signs were there.
Needless to say, the Cuisinart ICE-21 has been gathering dust on my counter for nearly a year. Ice cream making is for planners, not for people who cook with whatever is about to go bad in the fridge. The problem is, the wrong mix of ingredients could leave you with ice cream that remains perpetually slushy, freezes into a solid block, or becomes a minefield of ice crystals. And even before you flip the machine's "on" switch, you have to remember to freeze the canister for several hours and give your custard enough time to chill completely. After a few tries at making my own with mixed results, I concluded that the high cost of premium ice cream (anywhere between $5 to $10 in San Francisco) wasn't so pricey after all.
What is a lazy, frozen treat-loving cook to do? A friend suggested I try making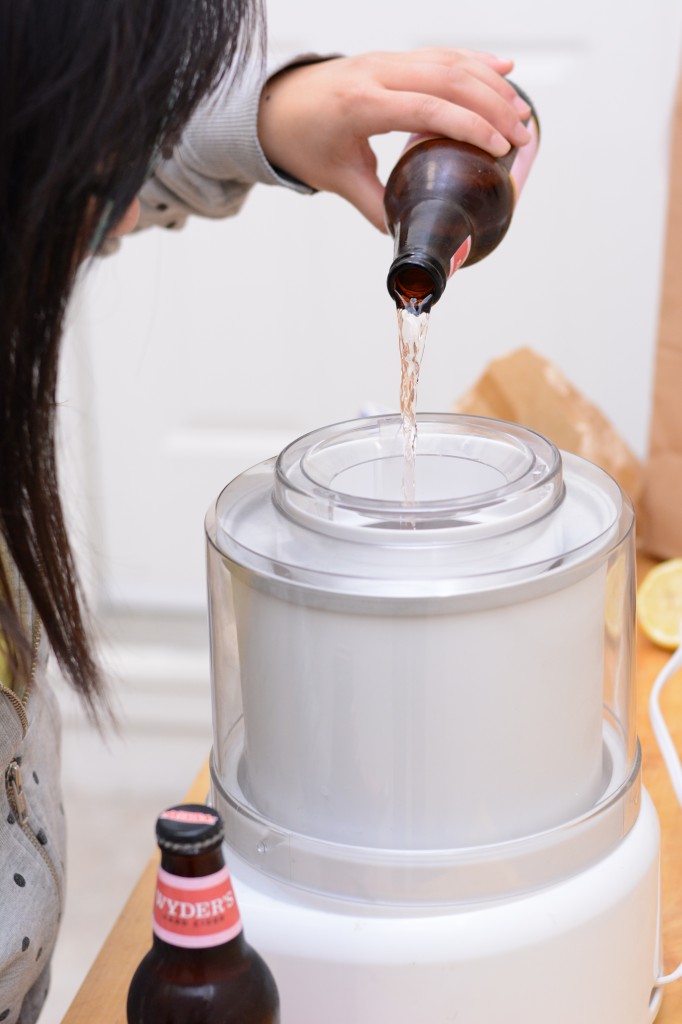 slushy frozen cocktails. It seemed to work on the internet.* But cocktails are way too much work, I thought. Let's do something easier. So I planned ahead: I put the canister in the freezer, picked up a 6-pack of cold, raspberry cider from the corner store with my groceries, made dinner, and watched a few episodes of House of Cards.
After a few hours, I set the frosty appliance on churn and poured two bottles of Wyder's Raspberry Cider in while it spun. In my previous ice cream-making experience, I'd found myself wondering if I hadn't fully chilled the machine, when suddenly, after about 20 minutes of churning, the custard spins itself into a tornado and freezes into something delicious. I tried to keep this in mind as I watched the pale pink liquid swirl around in the canister.
A thin layer of ice floated at the top but didn't seem to expand. My boyfriend convinced me to drop in a few chunks of ice to help the liquid cool. We watched another episode of House of Cards and returned to find the ice chunks twirling around in a pink whirlpool, which hadn't changed state at all. We turned off the machine and poured the cider into glasses. It was delicious and very, very cold.
In anticipation of the cider experiment failing, I'd also picked up ingredients for a lemony whiskey sour slushy recipe I found on seriouseats.com. Holding a half-drunk glass of cider in one hand, I started preparing for an earnest attempt at making another frozen cocktail.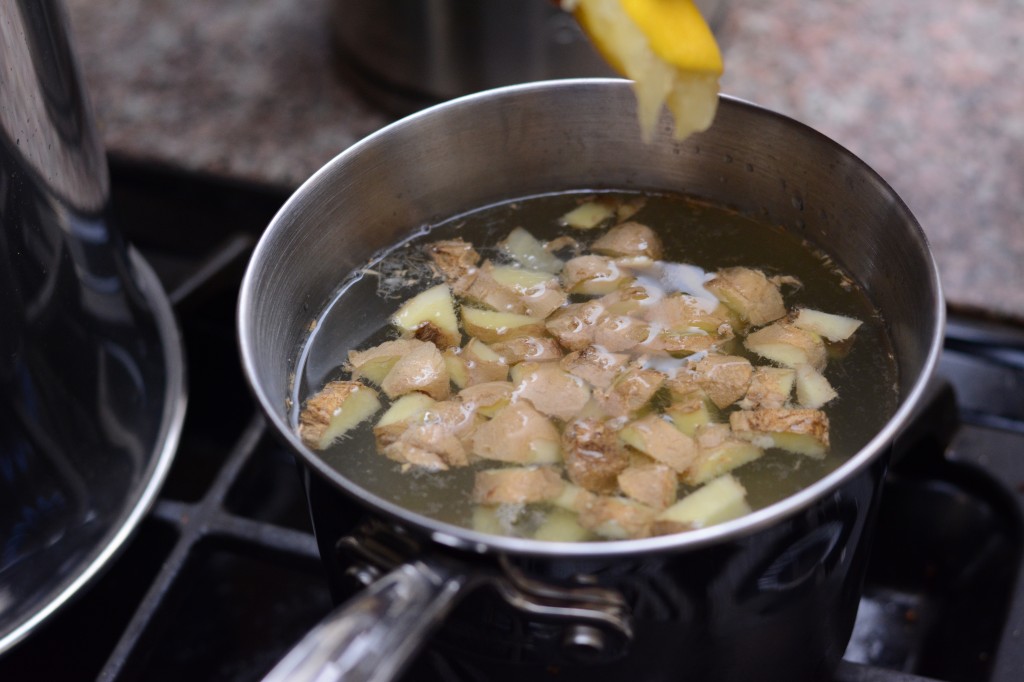 I put the canister in the freezer to cool overnight. I boiled ginger in water and let it cool overnight, hoping to add a little zip to the concoction. The following day, I whisked together the ingredients and let it sit in the fridge while I went on a day hike. I moved the lemon mix to the freezer while I made dinner so it would be very cold. I later poured the yellow liquid into the machine and watched it swirl around … and keep swirling.
No tornado. No ice crystals.
Just the same lemon juice mixture I poured in 30 minutes previously, but chillier. The experiment again had failed. Perhaps cocktails contain too much alcohol for the drink to freeze? Or maybe I just made it all wrong. Or maybe the ice cream maker only works with the Frozen Coco Loco recipe from the CHOW video.*
Whatever the reason, I still had a quart of cold, whiskey-lemon juice sitting in my ice cream machine that I needed to use. I pulled out my blender and dumped the lemon juice over three trays of ice and hit blend. Within seconds, the blender chewed up the ice, leaving a perfectly frozen, frosty drink.
If I were to be perfectly honest, reasonable and rational with myself, I'd put the ice cream maker in the Goodwill pile; however, a vacating roommate moved away, opening up some extra cabinet space for my Cuisinart ICE-21. Ice cream making is like gambling — there's always a chance that it will work out, and I can't bring myself to quit making ice cream cold-turkey. Now that the ice cream maker has been tucked away out of sight, we've toyed with the idea of keeping our blender on the counter.
Whiskey Sour Slushy

Adapted from Serious Eats.

1 1/2 cup lemon juice (about 8 to 10 lemons), plus juice from 1/2 a lemon
1/2 cup plain water, plus 3 cups for boiling
3 to 4 inch piece of ginger
1 cup corn syrup
7 tablespoons bourbon or rye
Grated lemon zest from 2 medium-sized lemons
3/4 teaspoon kosher salt
3 trays of ice cubes

Chop the ginger into 1/4 inch pieces and add it to a saucepot containing 3 cups of water plus the zest and juice from half a lemon. Bring water to rolling boil for 5 to 10 minutes. Allow ginger water to cool, preferably overnight.

Whisk together lemon juice, 1 cup of ginger water, 1/2 cup of water, remaining lemon zest and all other ingredients in a bowl. Once liquid is mixed, put in fridge to cool — at least 2 1/2 hours. Can't wait? You can also put the liquid in the freezer for 1 1/2 hours.

Once the liquid is chilled,** pour liquid into a blender with ice cubes and blend until smooth. Pour into five glasses and enjoy!

*I'm not a fan of coconut drinks so this recipe was automatically ruled out.

**Optional step: churn chilled liquid in a cold ice cream maker to make yourself feel better about owning a large, single-function machine.