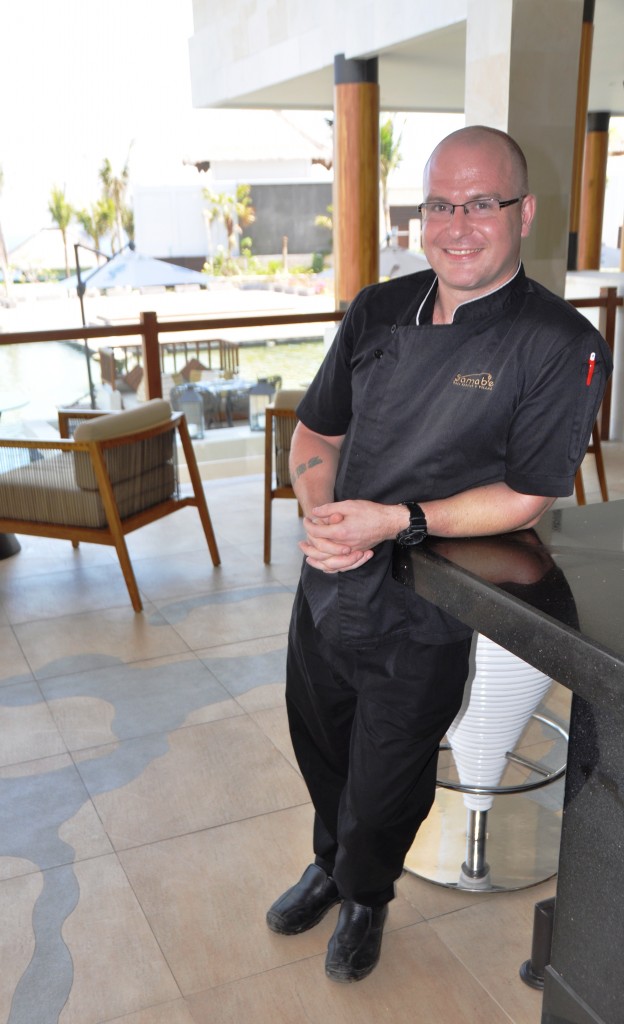 The weather is fabulous. The beach? Gorgeous. There's fresh coconut water at the bar … or this dreamy thing called a Bailey's Comet, if one is so inclined. The Balinese are friendly, super accommodating and always seem to be smiling, especially at Samabe – the luxury beachfront resort where we were pampered nonstop for 10 days during our honeymoon. I can't think of anything that would have made that vacation more awesome.
Except for good food.
Thankfully, there is no shortage of that coming out of Chef Peter Jozef's kitchen. When we spoke, Samabe's executive chef had only been in Bali about a year, having traded the gastropubs of London for this 5-star resort on the cliffs of Southern Nusa Dua.
If you believe in fate, it would be hard to argue it didn't come into play in how he landed here. After waking up one morning, Peter, 31, decided he was bored with the lifestyle and expense of living in the United Kingdom. Or maybe it was the hangover. He quit his job and, two months later, found himself interviewing for this gig on what was then a construction site.
The funny thing is … he didn't get the job.
The resort wanted someone with more experience to manage their restaurants, bars and enviable in-room dining menu. Like several of the young chefs we've interviewed, Peter didn't go to culinary school. He began working in kitchens at 15. So the resort passed him by for someone with a more formal background.
But Samabe's first choice didn't work out. In my book, that's because Adam was destined to be eating Peter's banana tempura for breakfast. And it is at this resort in Bali where I learned to love runny eggs.
As we settle in at the property's Te.Ja.Co Lounge & Bar, the chef orders us coconut water in Indonesian. He didn't speak the language before arriving here, and he describes that barrier as one of the biggest obstacles he must overcome. But he's learning, and can understand and can speak it well enough to get things done.
Language isn't the biggest challenge, though. There's culture, and being able to handle how people react to his position. He's a foreigner, after all, and the Scottish-born chef had to prove himself through the diplomacy of delicious. Peter says he just kept making really good food, and eventually, his critics became allies.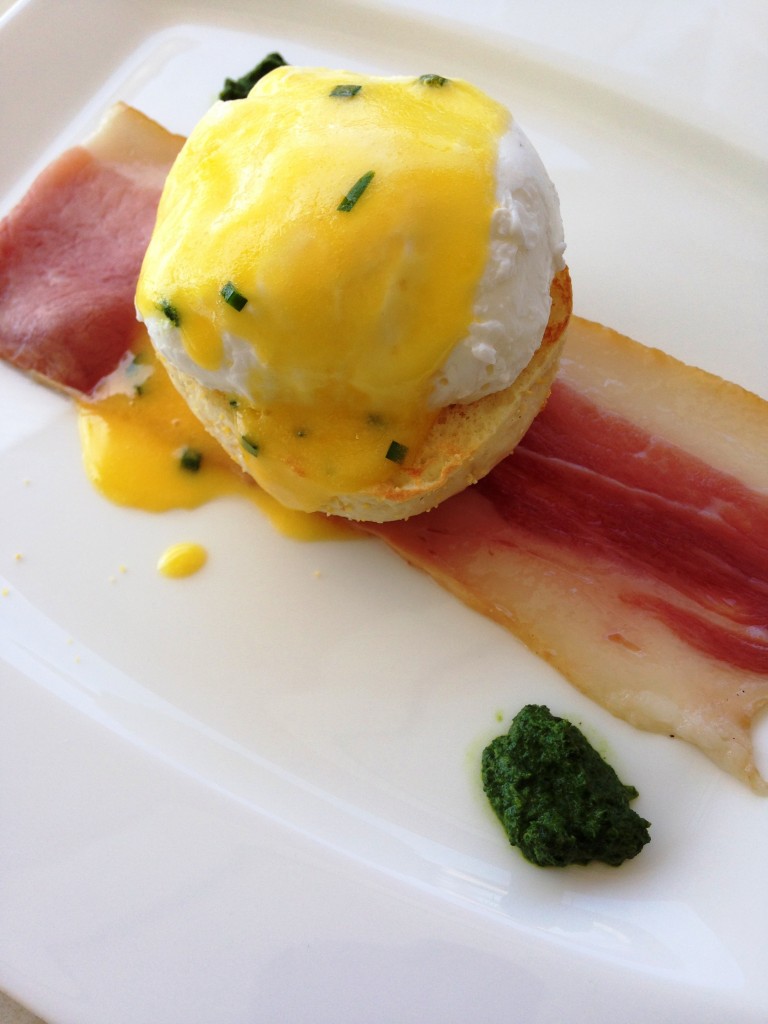 And there were other foreign concepts – like dealing with vendors. In London, he ordered his own food. In Bali, he creates his menus and then relies on the purchasing manager to source supplies. The thought of that creeps me out — almost as much as grocery delivery services. I just can't imagine someone else picking out my kale or avocados. I have to see it … to touch it.
He stopped having fruits and vegetables imported when he arrived, opting for fresh, organic and local produce. That means plenty of luscious mangosteens, but the absence of asparagus, which has to be shipped in.
Balinese cuisine is similar to Thai, only there's more turmeric, ginger, shallots and birds eye chilies. Add a little sweet soy sauce and garlic, and you've got all the ingredients to make a paste that's the basis for most Indonesian dishes (we'll share two recipes next month during our islands series!). Peter says he was shocked by how much of these items the restaurant goes through.
The menu for the resort's main restaurant, Rempah-Rempah, was in place before he came on board, but he was allowed to create the menu for their seaside spot – Crystal Blue Ocean Grill. Peter says that was a learning process, too. He didn't account for the windy environment until he watched salad blow off guests' plates.
That didn't faze him much, though. The sheer logistics of Chef Jozef's plan to change the menu every three months are daunting. First, he has to write the menu. He then sends it to the printing company, wherethey make corrections – using their version of English – and then he has to correct their corrections. Then there's 30 staff members who take two weeks to train. Peter creates two manuals for the dishes, one with exact ingredients and instructions on how to make each dish, and the other with a basic list of ingredients and a photo of the plated item. He's never been that structured before, but says he'll use this method for any other restaurant he ever works in.
Combine this with the responsibility for keeping track of a mountain (about 40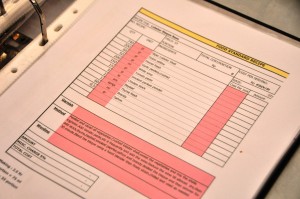 pages a week!) of paperwork, and you can see why he finds himself working until 2 a.m.
Yeah – he's pretty much a rock star.
I asked him, when he does get time off, where he wants to be eating. He mentions Sarong in Ubud, a place he says has a great reputation for Asian fine dining. Like Peter, the head chef is also originally from Edinburgh. We followed up on this suggestion during our visit to Bali, and admit that we still have dreams about the crispy pork belly with baby mandarin, ginger chili and black vinegar caramel. There's also Petitenget in Semenyak, he says, and the restaurants of the St. Regis Resort, crowned best in Bali.
Balinese cuisine has become Peter's comfort food, and he admits he's started craving babi guling. That said, he still misses the tastes of home. Like wine, which we discovered quickly ourselves how difficult it is to get (note to self: BYOW!) … and fresh cheese. And pasta — his is handmade. We got to sample that at a special dinner the chef prepared for Adam's birthday: Macaroni and cheese with fat, slightly chewy noodles, a decadent sauce made with three different kinds of cheese, snappy garden peas, salty pancetta and a crunchy parmesan crust. I have dreams about that dish, too.
Peter says Bali is the perfect spot for hungry (you can take that literally and figuratively), young, up-and-coming chefs. It's far easier to get a job here than with the glut of competition in London. He has no plans to leave any time soon.
I'm just sad we had to.