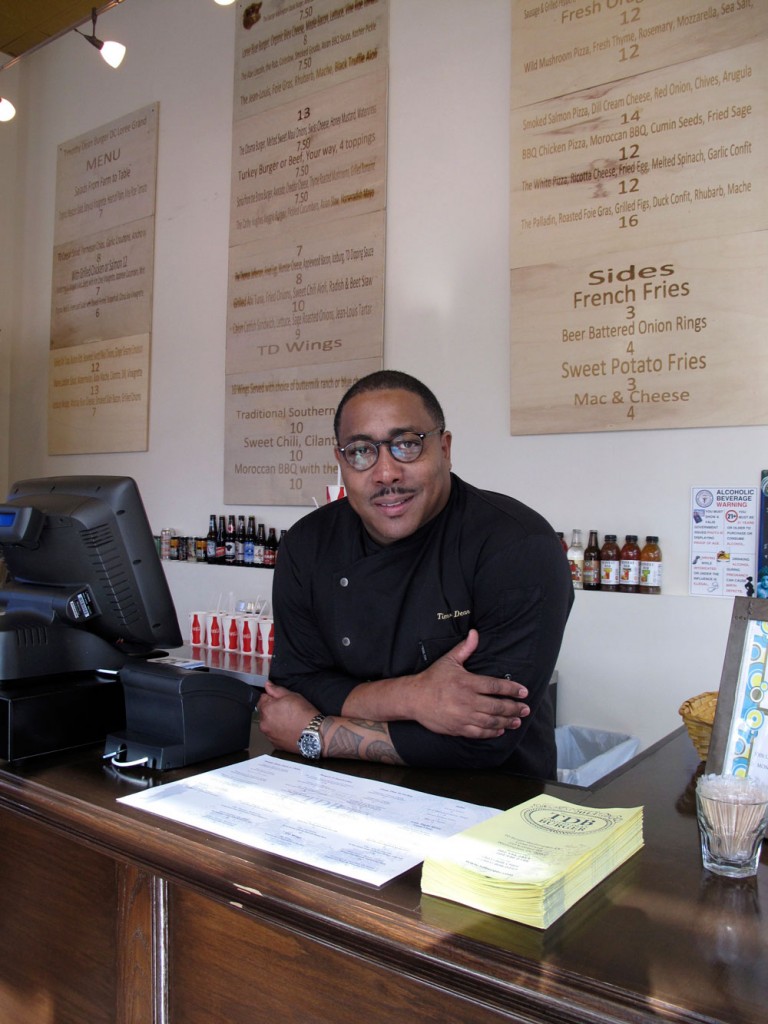 The end of summer was drawing near when the beef first hit the grill at TD Burger in NoMa last year.
It was a soft launch, dinner-only at first, says Chef Timothy Dean (in case it's not clear, he's the TD in TD Burger). It was a chance to "work kinks out" before adding lunch and throwing the doors wide to the hungry hamburger-eaters of Washington, D.C., on Aug. 23.
But before we get to the meat of this tale, let's take care of our side work.
Flour, Eggs And Water
It's 1984 and the movie Breakin' is in the theater. Everybody and their brother want to spin around on a piece of cardboard to the beats blasting from a boombox like Turbo and Ozone. Teen-age Timothy Dean is in a breakdancing group and he needs some cool sneakers.
"I wanted a pair of Air Jordans and my dad took me to the mall to purchase the Air Jordans…they were over like $120 and my dad was like, 'Son, I can't spend that kind of money on a pair of shoes. You can get you a pair of Chuck Taylors.' "
But only Air Jordans would do, so Timothy starts washing dishes after school in his neighbors' Italian restaurant in Clinton, Md., to earn the money for those sneakers. A few weeks later, he bought them, but while Timothy was washing dishes, he watched what was going on in the kitchen.
"I had never seen homemade spaghetti, homemade pasta. It was in the box when we cooked it at home," he says. "So when I found out flour, eggs, water and salt could make homemade pasta, I was blown away."
He was intrigued so he hung around to learn more.
Top Chef Or Top Gun?
A couple of years later, the teen was at a crossroads.
"I had watched Top Gun with Tom Cruise and said, 'You know what, I want to be an Air Force pilot,' " Chef Dean says. But, what he loved more was watching people when they tasted his food and reacted to it.
"So at 16, I decided to make this a career," he says. "This is before Food Network, this is before Top Chef, this is before Iron Chef, this is before the phenomenon that we have going on now. This is when it wasn't that glorious."
He spent the next 20-plus years working with famous chefs, including his mentor French chef Jean-Louis Palladin, opening restaurants in various cities and learning about different cuisines. He appeared on Top Chef and perfected the burger that is the star of his current restaurant venture. Chef Dean also enrolled in college, dropped out, but later re-enrolled and earned a business degree from Howard University.
"I wanted to get the culinary side down, then I came back and got the business side," Chef Dean says. "But I had to learn how to cook first."
As for his Top Gun dream? "I think I would have been a helluva pilot," the chef says, humbly.
Love Tastes Good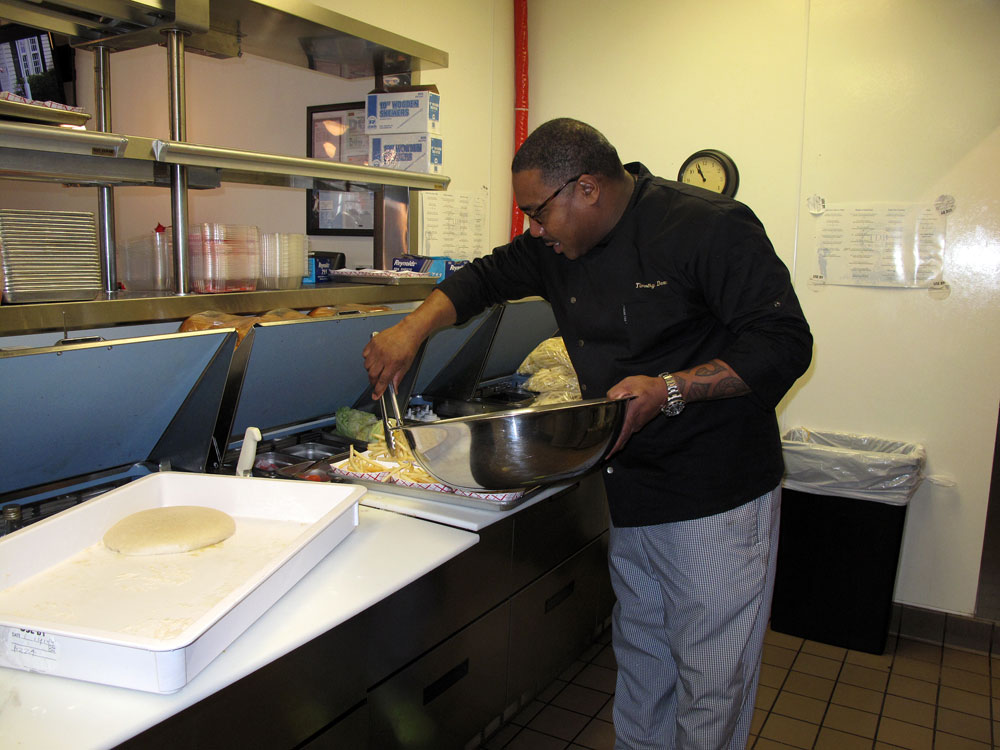 It's Monday morning and the 43-year-old is rapidly giving orders to employees at his newest restaurant at 5th and K streets NE. They are preparing for a class of students from the neighboring J.O. Wilson Elementary School coming in soon for lunch.
"They'll get pizza and fries," he tells one employee, who turns and heads into the kitchen to start rolling out pizza dough.
Clearly burgers aren't all you can get at TD Burger – wings, salads, 14-inch pizzas, sandwiches and craft beers are also on the menu – but it IS the main attraction. Chef Dean claims it's the best burger in the area.
"I learned long ago that if you have a superior product, you don't have to do a lot to it," he says. "And I know that our burgers are a superior product because they're grass-fed, they're all natural and then they're cooked with love. And then we have a fresh brioche bun that is Jean-Louis' recipe that dates back a couple of hundred years.
"People get their product and then they want to throw this on it, throw that on it, swing it all upside down, throw it up in the air – you don't have to do that, just treat it with respect, and it will do the rest."
TD Burger(s)
One thing Chef Dean says he's learned over the years is that a good chef has to know how to do everything in their restaurant – run the register, pour the drinks, cook and serve the food.
But he doesn't plan to always be as involved with the restaurants.
"The beauty of this concept is I don't need a lot of people to open this up," he explains. "I've got my steward who's cleaning, who's going to jump back there and turn into a food runner, one cashier, one bartender and then two cooks today, plus me. We're equipped to where we can do 200-250 covers with ease."
The long-term goal, he says, is to open up three more locations, and then let things simmer, while he franchises them. Chef Dean will then retire and split his time between France and the Caribbean.
"Maybe open up a little fish taco place, buy me a boat, settle down and get up and catch my fresh catch and take it to the restaurant and just open a few days a week," he says longingly.