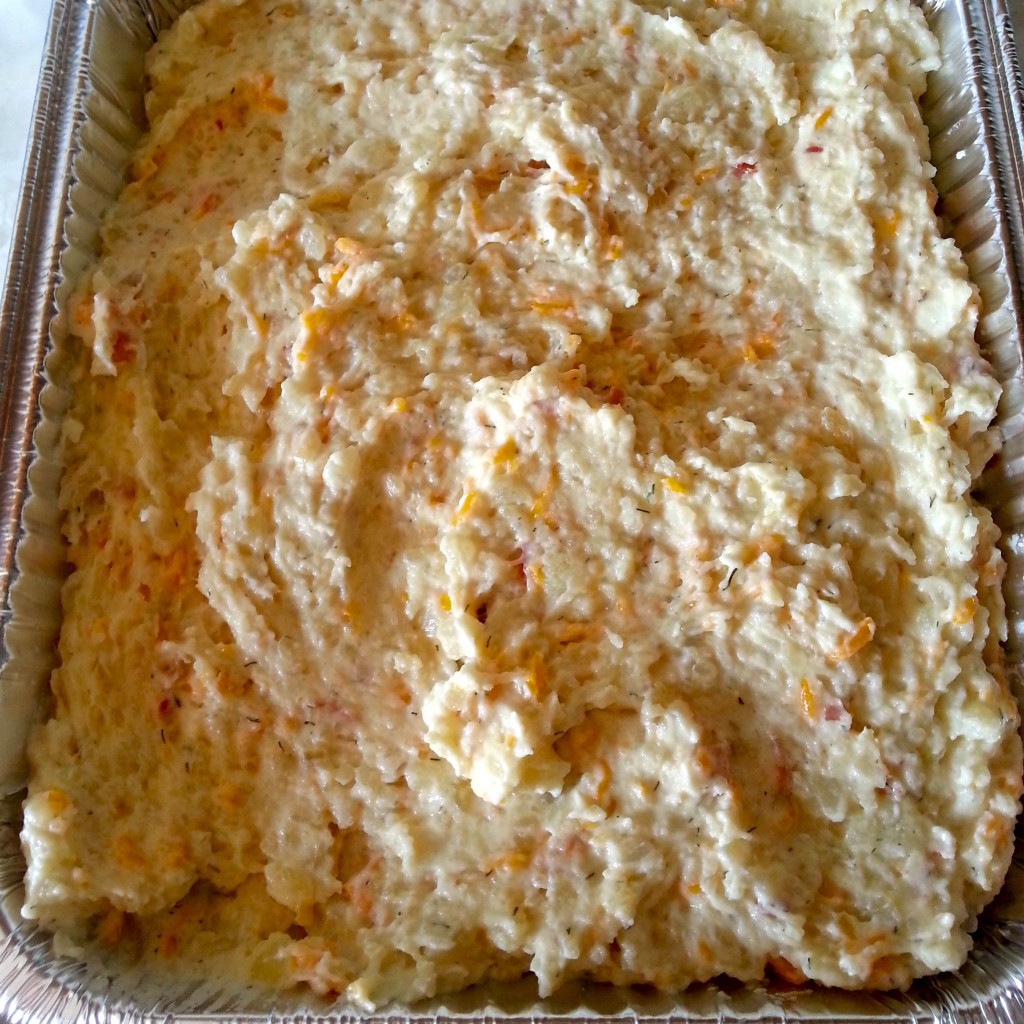 Thanksgiving's almost here, Thanksgiving's almost here!  My favorite holiday, my Super Bowl, my summer vacation, my Christmas morning and the end of my holiday season — one that begins with St. Patty's Day.
Let me explain. Holiday seasons should be joyful. They should be a celebration of everything right in the world, everything natural.  St. Patrick's Day is the (read, my) first day of spring and the celebration that says, "We made it through another cold, miserable winter." Thanksgiving is the culmination of the season of my favorite things.
One reason is because Thanksgiving means spending good times with framily. No, that's not a typo. Framily is that wonderful blend of people that you're born into, raised with or turn to.  They don't have to be blood; they just have to be there, and I've been blessed with a great one.
Over the course of many Thanksgivings, I've learned some tips that make the big day easy as that pumpkin pie you'll be slicing into after dinner. I don't wake up at3 a.m. and I don't stress all day or all week — and you shouldn't either.  It's kind of like that old quote: "How do you eat an elephant? One bite at a time."
First, if you plan on cooking, start small and build. I incorporate family recipes that are tried and true. Most of them don't even have actual recipes anymore — they're just part of the lore and tradition of my family.
When I do add something new, it's only one thing and it's a side dish. That way, if I muck it up something terrible, it fades into the background. And if it's great, you can always say, "It's just a little something I thought I'd try out for all of my favorite people."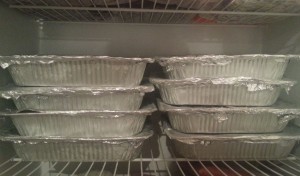 At this point, your guests will be happy to be a part of it and it will most likely start a conversation of past Thanksgiving winners and losers. Everyone — and I do mean everyone — has Thanksgiving Fail stories. I once had to grill my bird because the heating element in the oven decided to die at the worst time possible. FAIL.
I start cooking about a month ahead of time. In fact, I started last week, so right on schedule. There's this amazing thing called a freezer and that baby is my best friend.  And don't worry! You can freeze almost anything and it still tastes great.
I also utilize throwaway tins. These are the tins you can find in bulk at Costco, Sam's or GFS. They come in a variety of sizes, freeze great, and make clean-up super easy.   If you are still unsure ask an associate at any of the above retailers for "throwaway baking tins" or chaffing dish inserts.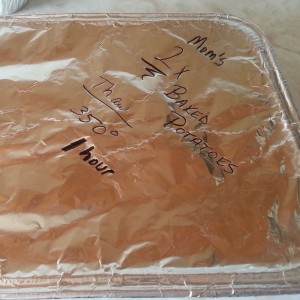 And if you're worried about how the tins will look, you can always transfer the finished product to a beautiful serving dish for the table. Honestly though, the less you have to do at dinner time the better. None of my guests have ever complained about the serving containers when the food is amazing.
Here are recipes for two potato side dishes that freeze wonderfully. You can make them up to a month ahead of time. If you have a stand-alone freezer and a little extra room, you can even make double batches like I do, and pull the second one out for Christmas.
One of the recipes, directly from my mom, is for twice-baked potatoes. They're famous in our part of the world. The only thing I've messed with is making it in a casserole tin instead of re-stuffing the potato skins. The second is a sweet potato casserole that could be substituted for dessert, it's so good.
I should warn you now, neither of these recipes are low-cal. They are rich and wonderful, salty, creamy, crispy and sweet. Relax, have a glass of wine and enjoy. Holiday seasons should be joyful, after all.
Twice Baked Potato Casserole

Thanksgiving should be about celebrating the good things in life with the people that make them good.  Try not to stress.  If you do encounter a Thanksgiving FAIL just remember, it will make all the future Thanksgivings that much better over laughs with loved ones and a great glass of wine.

15 large baking potatoes   baked and cooled
1 pound bacon  cooked, drained, and chopped
1/2 cup milk
2 sticks butter divided evenly
5 shallots, finely chopped
1 teaspoon chicken bullion
8 ounces cream cheese softened
8 ounces French onion dip
8 ounces shredded sharp cheddar
3 tablespoons fresh chives

While waiting for potatoes to cool, melt one stick of butter on low heat then add bullion.  Mix in shallots and cook until clear. Set aside. Cut tops of baked, cooled potatoes. Scoop potatoes into a large pot on low heat. Mix in 1 stick of butter and milk and mash.  (Because the potatoes are baked it will be harder to mash and the consistency will be thicker and stickier). Mix in French onion dip, softened cream cheese, shredded cheese and chopped bacon. Spoon mixture evenly into two 9×13 throwaway tins and top with chives. Wrap tightly in tinfoil, label and freeze. Pull frozen casserole the Wednesday before Thanksgiving and thaw in refrigerator.  Bake at 350* covered for 1 hour.

Sweet Potato Casserole with Crumb Topping

15 large sweet potatoes baked, cooled, peeled and mashed
1 stick butter
2 cups packed light brown sugar
2 Tbsp molasses
1/2 cup bourbon
1 bag small marshmallows
1 teaspoon cinnamon
1/4 teaspoon cloves
1/4 teaspoon nutmeg

Crumb Topping

1/2 stick cold butter
1 cup packed brown sugar
1 cup flour
1/2 cup oats
1/4 cup chopped pecans

For crumb topping: Mix sugar and flour. Thinly slice butter and cut into sugar mixture.  Add (optional) oats and pecans and set aside.

For sweet potato casserole:  In a sauce pan, melt butter over low heat, (do not burn or brown) quickly add brown sugar and molasses (mixture will be very thick). Immediately add bourbon and mix. Stir in marshmallows slowly and mix in spices. Stir until marshmallows are almost all melted. Add sugar-marshmallow mixture to mashed sweet potatoes and divide mixture between two 9×13 baking tins. Top casseroles with crumb topping, wrap in foil and freeze. Pull frozen casserole out the Wednesday before Thanksgiving and thaw in refrigerator. Bake at 350* uncovered for 1 hour.

Note:  If you divided these recipes in half, the tins should be a little over half-full. The temp (350*) and  baking time ( 1 hour ) figures that your casseroles will be mostly thawed and the oven will be full of two to four casseroles while you wait for your Turkey to rest.