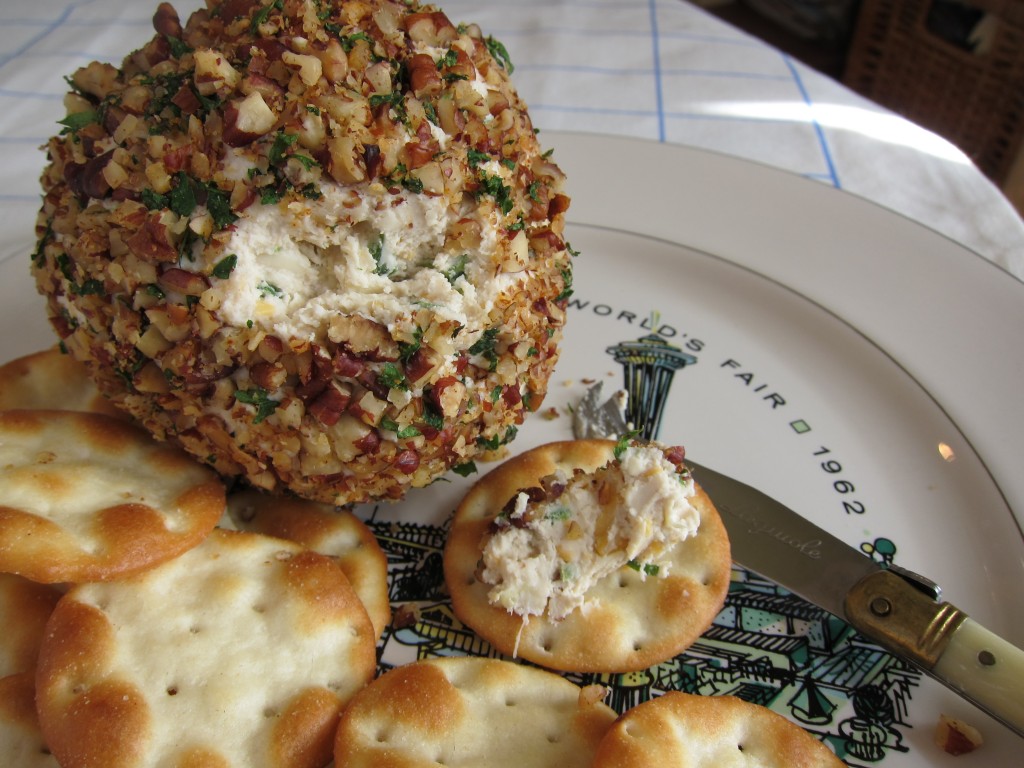 I was very wee when my grandmother passed away, so I have only the spottiest memories of holiday gatherings at her house. But my mom has held tight to Grandma's recipe for cheese ball, which has been the opening snack for every family holiday in memory. And while cheese ball recipes abound on the Internet — some very similar to ours — I'm certain that none taste quite like my mom's (and thus, my grandmother's) version.
And did I mention that it's delicious? The first time my friend Seth came by and got a nibble of this concoction, he nearly had palpitations. (He loved it so much, in fact, that my mom made a mini-cheese ball the next year, just for him.) And I won't name names, but at a party last weekend, a friend noted that it put his family's cheese ball to shame.
Unlike some recipes out there on the Internet, there's no soup-mix envelopes or fake lemon juice here, kids. Just fresh ingredients and good-quality cheese. It's even better if you use extra-sharp, as my mom often does. And when we say sharp at my house, we mean it — we're talking the crumbly, in-your-face kind of sharp — although milder versions are plenty tasty, too.
We've always enjoyed this on good old butter crackers, and if you're going for true mid-century flair, that's probably your best bet. But if you'd like to jazz it up a bit, you can go all 2013 and try it on gluten-free crackers, rice crackers or even with carrots. Groovy.

Holiday Cheese Ball

Makes one very large (approx. 8 inches across) cheese ball or two smaller ones.

8 ounces cream cheese, softened
8 to 12 ounces sharp or extra-sharp cheddar cheese, grated
1/4 cup green pepper, finely chopped
1/4 cup finely chopped green onion
1 teaspoon Tabasco (optional)
1 tablespoon Worcestershire sauce
1 tablespoon lemon juice
1/4 roasted and chopped nuts (my mom uses Walnuts, I used pecans)

Several tablespoons chopped parsley

A few dashes paprika

Combine cream cheese through the lemon juice in a large bowl and mix well. A stand mixer is handy here, but not necessary — we never had one.

Refrigerate the mixture overnight. The next day, stir together nuts, parsley and paprika in a large bowl. Shape the cheese mixture into one large ball or two smaller ones, then roll in the nut blend to coat.

Serve at room temperature with crackers.