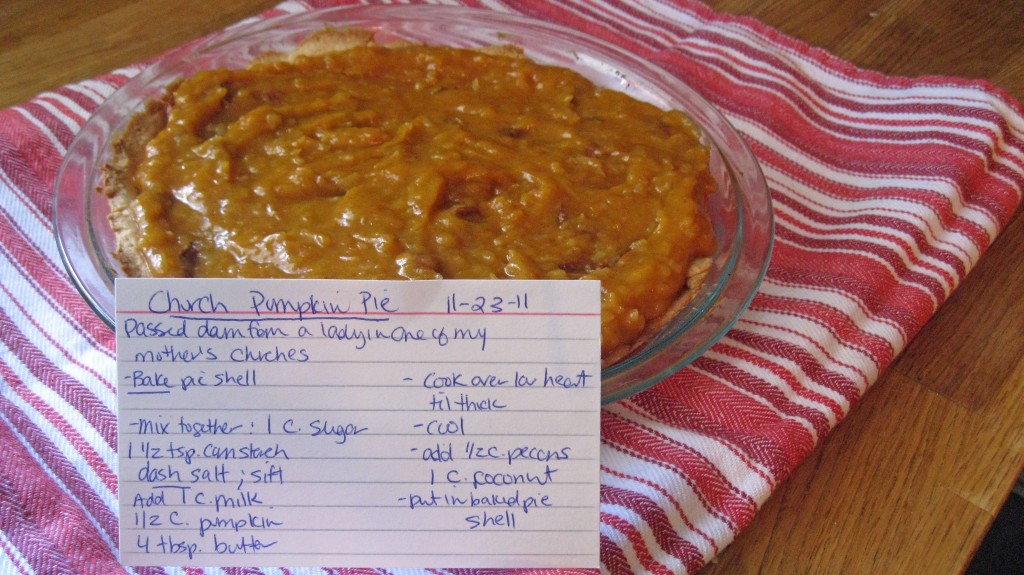 It's confession time: Yours truly is a "PK."
Aren't familiar with the term? Well, bless your heart. I'm a Preacher's Kid, folks — raised up in the Methodist tradition by my late father, whose father was a minister, too. And my grandfather on my mom's side was also a minister — Baptist.
So is it any wonder that the crowning glory of our family's annual Thanksgiving dinner is a holy spectacle? It's a wickedly delicious pumpkin pie recipe from a beloved member of my father's former church in Lenoir, N.C.
My mother makes this pie every year. Usually it's flawless, but there was that one time she set the pie out to cool on the front porch the day before Thanksgiving. She then forgot it in all the holiday hurrying, and we woke the next morning to discover crumbs and pie filling smeared all over the front steps. Apparently it this pie is irresistible not just to us, but to a devilish critter or two, too.
The traditional Thanksgiving pie, of course, is a simple but well-respected dessert — no frills, just pure and prudent pumpkin. But this recipe reaches for the heavens with the addition of pecan and coconut. It's a pie that compels every person at the table to utter an "Amen" at first bite.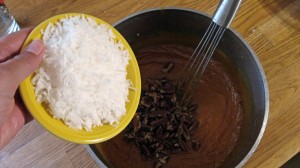 And let's just acknowledge the obvious: Pie without whipped cream is a sin. Whether it's from a spray can or freshly beaten, you must adorn your pie — otherwise, you're not following the 10 Commandments of Holiday Desserts.
Don't tell the church ladies, but I add a splash of bourbon — usually a teaspoon or two — to 1 cup of whipping cream. But be careful not to over-imbibe while operating heavy machinery; electric mixers can be hazardous and no one will be grateful if you interrupt the meal with a trip to the ER.
And if you're feeling pious, leave out the bourbon. But I'd recommend just a swig – and then, say a prayer.
Church Lady Pumpkin Pie with Scandalized Bourbon Cream
1 pie shell, homemade or purchased
1 cup sugar
1 1/2 teaspoon cornstarch
Dash salt
1 cup milk
½ cup canned pumpkin
4 tablespoons butter
1/2 cup pecans
1 cup shredded coconut
1 cup whipping cream, beaten with small splash of bourbon
Sugar to taste

Mix together and sift 1 cup sugar, 1 1/2 teaspoons cornstarch and a dash of salt.

Add 1 cup milk, 1/2 cup canned pumpkin and 4 tablespoons butter to the dry ingredients. Stir and cook in saucepan over low heat until thickened (about 25 minutes) and cool the mixture.

Stir 1/2 cup pecans and 1 cup shredded coconut into the cooled mixture and pour into baked pie shell. Let sit overnight.

Mix a tipple of bourbon into whipped cream, add sugar to taste and top each pie slice with the cream.