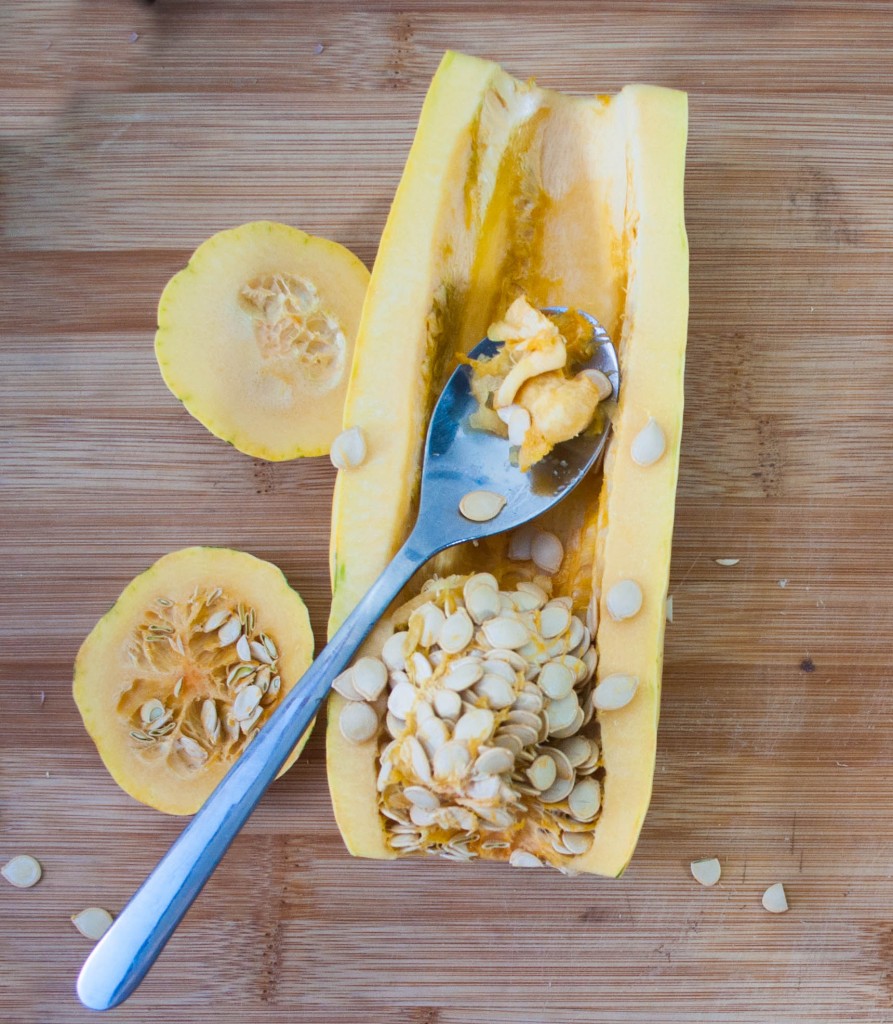 Cucurbits. Let's say that one more time: cucurbits. What a great word, right? Kind of curls up your tongue and sounds a little funny. Like most great words, it's not English; this one's Latin for squash. That's right, squash.
OK, if you guessed cucumbers, you're right. Cucurbits refers to any member of the cucurbitaceae family, which includes squash, melons and cucumbers. But it's October, guys. Sadly, that means we are past melon and cucumber season and it's time to talk about squash.
I'm a fan of squash in its many varieties – butternut, kabocha, pumpkin, that weird lemon soda British people drink – but what I am not a fan of is all the prep that goes into it. Unless it's a weekend, I'm just not willing to peel, halve, de-seed, chop, and cook squash; it just needs too much time. So if there's going be squash for dinner on a weeknight, it has to be delicata squash.
Delicata is a readily available but not very well-known squash, especially compared with the big players like butternut, acorn and pumpkin. It's not as popular as other squashes, or at least I don't see it as often on menus or in recipes, perhaps because it's less sweet and creamy than other popular varieties (I'm looking at you, butternut).
But it's easy to work with. It's softer that most squash, so you don't feel like the knife will go flying when you try to cut it in half. You can slice it up for stir fry and it will cook in a reasonable amount of time. It has the ease of a zucchini with the flavor of a winter squash. It's fairly thin-skinned, and as a result it is easy to cut through — and you can eat the skin. That means no peeling and less time spent on prepping the squash.
Visually, it's like an oddly colored and enormous cucumber. You can prepare it for cooking in a similar way:  Cut it in half (this is best accomplished by cutting off one end and standing it up so you can put the knife in without the squash rolling around), then scoop out the seeds with a spoon and slice it up however you want.
I admit that I didn't fall in love with delicata because it looked so appealing at the store or a because a fancy meal opened my eyes to it. It showed up in my CSA box several years ago, unannounced and a little unwelcome, and I was left wondering what to do with it. The bumpy exterior made peeling it raw a non-starter. My first thought was to stuff it like acorn squash and, yes, that is a great option. Split in half, seeded and stuffed with cheese, vegetables, ground meat or a mixture of all three, delicata squash makes a lovely dinner that is easy to slice after cooking — unlike the acorn that rolls around if you try to serve less than half of it. Even so, it can be relatively difficult to find recipes for delicata.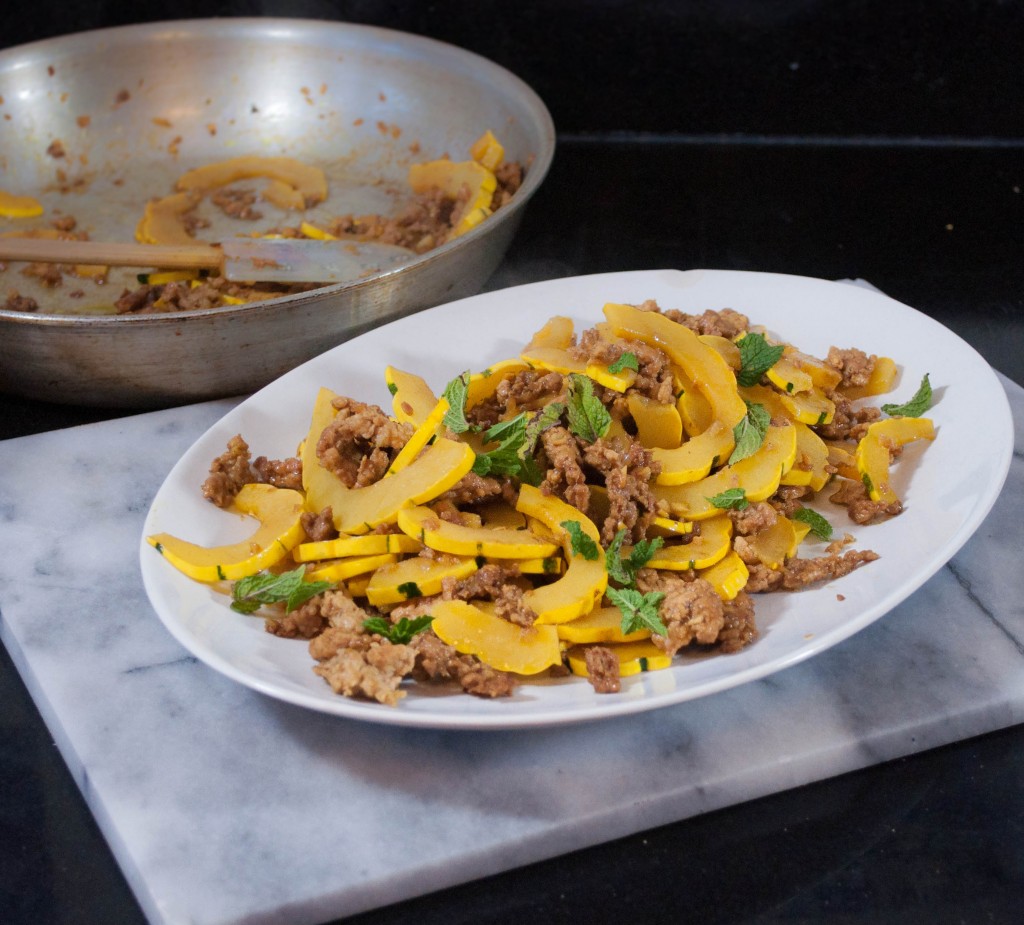 The dish I did find came from a book of Burmese cooking and reminded me of an amazing curry pork and squash curry that I'd had at a restaurant a few weeks earlier. The recipe called for kabocha squash, but unless I have several hours to simmer it, I find kabocha ends up a little dry. Delicata was the obvious alternative for a weeknight meal and can be done pretty easily in under an hour. No peeling or struggling to control your knife while hacking at a large squash – take that, butternut! For those who like a little more sweetness from their squash, a few teaspoons of honey would do the trick , but I prefer it less sweet in this instance.
The end result wasn't quite like the restaurant version and it's certainly a departure from the cookbook. It has the flavors of Burma, which are somewhere between India and Thailand: fresh and bright with some fishy umami notes. It's an unmistakable fall dish, although the tamarind adds liveliness to the earthy squash. I could see making this even toward the end of winter, when I'm sick to death of root vegetables. And it's so good that we ate it twice in two weeks. Bring on the chilly air, the crunchy leaves and the curcubits. We're ready.
Burmese Pork and Squash Curry

A few tablespoons of oil
1/2 teaspoon turmeric
1 small shallot, minced
1 tablespoon fresh ginger (about an inch-long segment), peeled and grated
2 cloves garlic, minced
2 to 3 anchovies
1 pound ground pork
1 tablespoon fish sauce
1 pound delicata squash (this should be about 1 large squash), cut in half, seeds removed and sliced into 1/4 inch half moons
2 teaspoons tamarind paste*
1/2 cup water or chicken broth plus 1/4 cup extra, if needed
1/4 teaspoon cayenne pepper (or more to taste)
Salt
Finely chopped cilantro or mint, to serve

Using a large saute pan, add the oil and turmeric to the pan and set it over medium heat. Stir to mix the two together and then add the shallot and ginger. Cook for a few minutes until the shallot is softened slightly and then add the garlic and anchovies. Using a spatula or wooden spoon, gently mash the anchovies into the hot pan to make them break up. Keep mashing and pressing until they melt fully into the oil. Then add the pork along with 1/2 tsp of salt (or 1 tsp if you're using kosher. It's less dense so you need more).

Cook the pork over medium heat for about 15 minutes, stirring often, until it's no longer pink anywhere and it's a little brown in spots. While it's cooking, break up any large pieces with a spatula or wooden spoon so that the grounds are small. Once the pork is cooked, add the fish sauce, squash, tamarind, broth and an additional 1/2 tsp of salt (or 1 tsp of kosher salt). If you're using tamarind pulp then omit the broth in place of the dissolving liquid. Let it continue to cook on medium for about 10 minutes, stirring often so all the squash gets a chance to cook. As it cooks, the delicata will take on a slightly darker color. Test it for doneness by trying to cut a piece in two with your spatula or wooden spoon. If it gives easily, it's done. This may take as long as 20 minutes depending on your stove's power and you may need to add a little more water and/or broth, up to 1/4 cup. You can speed up the process by covering the pan with a lid but you won't get as nicely browned if you do.

Once the squash is cooked, add the cayenne and taste the dish to see if it needs anything – more salt, more spice, or more tang (add a little more tamarind if it needs to be brightened up). Serve it hot, maybe over rice, with some cilantro and mint sprinkled over the top. This also reheats well and will keep in fridge for at least a few days.

*Tamarind paste doesn't have any seeds or fibers in it, so you can use it as-is. An alternative that may be easier to find is tamarind pulp, which needs to be dissolved in 1/2 cup water and then strained if you choose to use it.