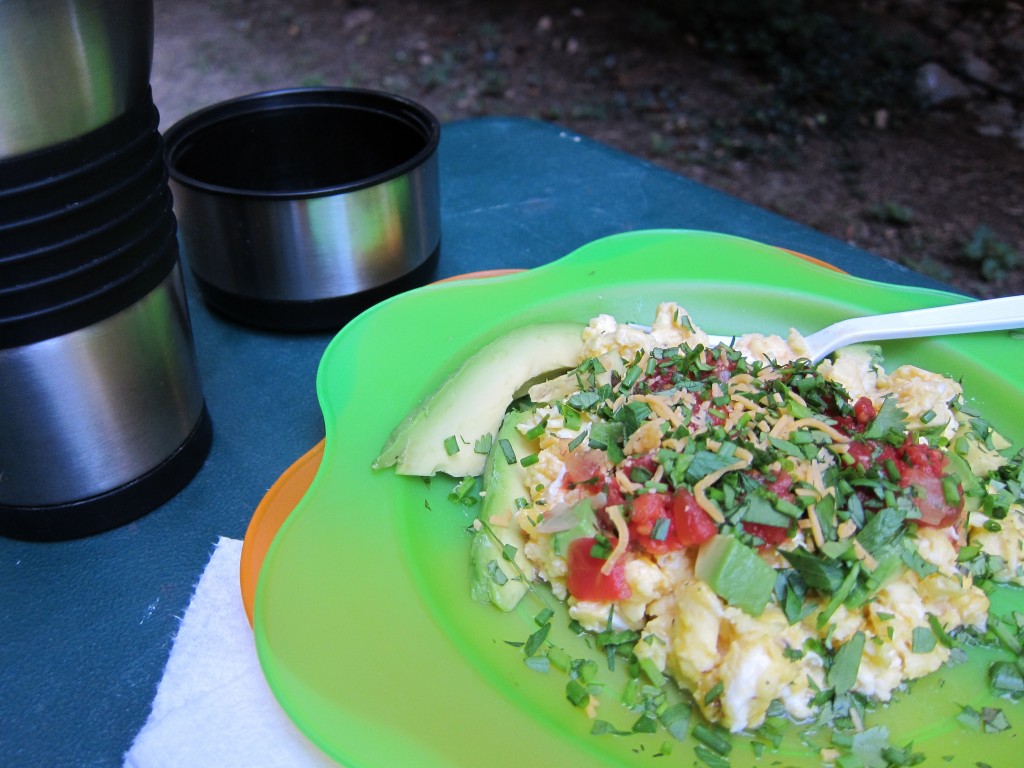 Like every good Northwesterner, I enjoy camping. Clean air, hiking, the time and space to think, smores!
Yet, somehow, I rarely end up actually doing it. In large part that's because, frankly, I hate trying to sleep in the cold and damp (much less a downpour). And unfortunately, being from Seattle, my formative camping experiences all involved — yup, you guessed it — trying to sleep in the cold and damp … often in a downpour.
Sadly, I'm not much better with humidity. In my book, being hot and damp is only marginally preferable to being cold and damp. And now that I'm an East-Coaster, camping all too often involves — yes, that's right — being hot and damp.
So, it's not that I dislike sleeping in the great outdoors — I'm just … picky. Not too hot, not too cold, not too wet and I'm golden. Let's call it the Goldilocks theory of camping.
Naturally, Murphy's Law ensured that my most recent camping adventure involved a sticky summer weekend, a deluge of Biblical proportions, a leaky (shall I say, porous?) tent and a fast-growing puddle that transformed the tent floor into a waterbed.
But hey, we had a blast. We had Taboo. We had beverages. And the rain stopped well before bedtime, giving us a chance to move the tent to higher ground and, thankfully, get a good night's sleep. (Well, except for the 3 a.m. air-raid siren. True story.)
Despite the frightening wee-hour interruption (never satisfactorily explained, mind you), all was well by breakfast. And that's why you're here, after all — to talk food! When you're car camping with a portable two-burner gas stove, as we were, there's little you can't make tentside. (Backpacking, with all your gear in your pack, rather than your trunk, is a whole other level of intensity that I'll leave to the experts — these sites are full of great ideas.)
Most folks fall into one of two camps on camp food: foodies who recreate gourmet meals (this is where Amy would end up!), and purists who believe camping is for hot dogs, baked beans and instant oatmeal.
Goldilocks April is right in the middle on this one. While I love cooking fancy meals, I just can't square the notion of lamb and couscous with a weekend spent a bit grimy. That said, there's no reason to forego fresh, nutritious foods just because you're outdoors. For me, when you're camp cooking, tasty but healthy practicality is the name of the game: I go for simple dishes made with wholesome foods that cook up fairly quickly and require no preservative-laden ingredients. (And if you do prefer the fancy approach, never fear! Here are some great resources to get you started.)
Since I was in charge of breakfast, scrambled eggs were a no-brainer. But there's no need to stick to plain eggs — fresh extras that hold up well in a cooler are what make camp eggs worth eating. I brought along shredded sharp cheddar cheese, salsa (fresh is best, but I used Herdez, which contains nothing but tomatoes, onions, serranos, salt and cilantro), all topped off with chives, green onions and cilantro (chopped up at home, wrapped in a damp paper towel and stowed in a ziplock). If you've remembered to bring a skillet, some oil and a bit of milk, and you're in business.
And word to the wise: it's best to bring the eggs in a plastic, rather than a cardboard carton. By morning there's little ice left in an ice cooler, and a waterlogged, disintegrated carton may leave you trawling for eggs. Then again, after fishing your tent out of a puddle-lake, perhaps that's only fitting.
Dressed-Up Scrambled Eggs

Serves 6-8

Oil for pan
18 eggs
1/4 cup milk
Salt and pepper to taste
1/2 cup shredded cheese

For garnishing:
Several tablespoons each chopped cilantro and chives
3 chopped green onions
More shredded cheese for sprinkling
Avocado slices
Salsa
Hot sauce, if someone remembered to bring it

Heat oil in a large skillet, preferably non-stick, over a medium-low flame.

While the oil's heating, whisk eggs, milk, salt and pepper together. When the pan is hot, add eggs and allow to just begin to set on the bottom. Gently muddle them by scraping the bottom of the pan, and allow to just set again. Add the shredded cheese and continue the muddling and setting, muddling and setting, until the eggs are as wet or dry as you prefer. This actually took quite a while on our camp stove, but take care not to turn the flame up too high or you will scorch the eggs on the bottom. In other words, you have to be patient!

Serve up the eggs and let people help themselves to the garnishes. Easy. Delicious.