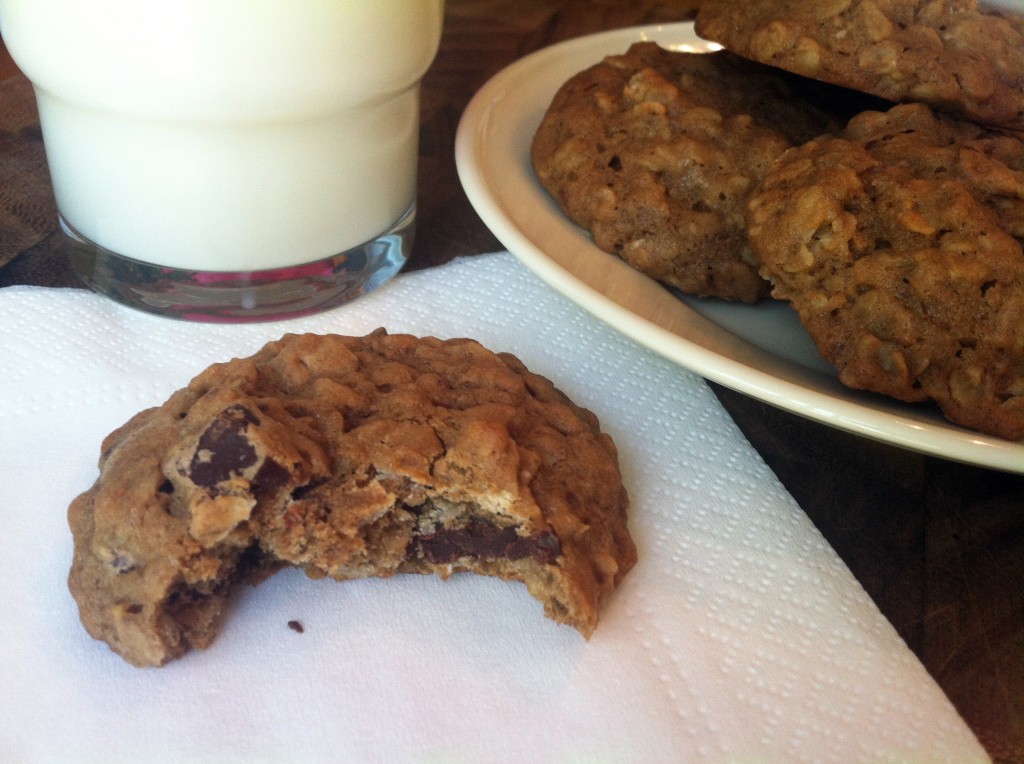 I'm about 9 months pregnant, it's the end of a long week at work, and my feet look like I transplanted them off the Stay Puft Marshmallow Man. And what am I doing instead of putting my feet up for the night? I'm stretching an apron around my jelly-bean body and whipping up the "lactation cookies" I learned about in a recent infant-care class. It's part of my final preparations for Baby's arrival, and I'm on a mission – to put my best breast forward, so to speak. I confess, I didn't eat well earlier in this pregnancy, and I feel like I've got some making up to do!
Here is a disappointing truth about early pregnancy: Just when you're determined to eat the most healthful stuff ever — for the noble cause of sustaining a tiny new being, no less — your stomach may utterly betray you by tolerating only what many would consider junk. Frosted toaster pastries (artificially flavored strawberry only). American processed "cheese food" (but get that real cheese away from me, thanks). Canned pasta in tomato-like sauce (fresh vegetables? Ha!). You may be so nauseated, you can't even look at most of the fresh, whole foods you'd planned to eat.
Some women have no trouble with nausea or food intake while they're pregnant; others, like me, find themselves curled up on the couch, sucking on soda crackers and sipping warm water while trying to avoid our favorite shows on Food Network. The hormonal changes that come with a normal, healthy pregnancy are simply more disruptive for some women than for others. And "morning sickness" can turn out to be a cute little misnomer for "24/7 misery."
If you're like me, you may feel like a failure for not being able to "feed" your growing baby better. But don't worry. Your doctors will tell you just to eat whatever you can during the hurly-burly first trimester — yes, even if it's beefy pasta-roni, tearfully consumed straight from the can; to take your prenatal vitamins (if you can't keep a capsule down, try the gummy variety); and to stay hydrated (my doctor recommended 2 to 3 liters of fluids a day minimum).
Do all that, they'll reassure you, and you and Baby will be all right. And after the first trimester, you will start to feel better — though some of your former staples will still repel you. (I compensated for my new meat aversion with vegetarian meals like baked tofu with peanut sauce, and quinoa-black bean enchiladas, and snuck in some of those undesirable fresh vegetables via smoothies like the Sailor Man.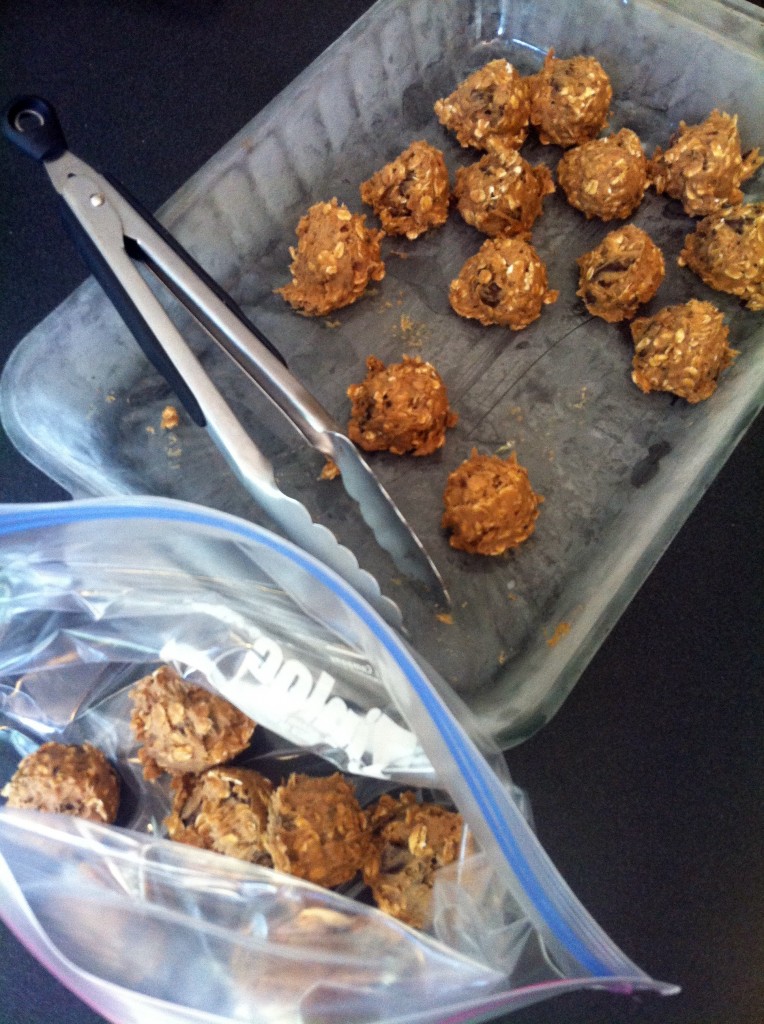 But maybe, like me, you'll still feel like you need to "make up" for those simple-carb-stuffed early days — after your dear one arrives. That's how I ended up pinballing around my kitchen one night, my due date fast approaching and my mind set on breast-feeding.
The nurse leading my hospital-sponsored class said she'd heard from plenty of new moms that these "lactation cookies" helped them. The ingredients said to help "maintain your milk supply" are flaxseed meal, brewers yeast and rolled oats. I don't know whether that's true, but I have read that breast-feeding moms need around 500 extra calories daily (2,000 to 2,500 total), so I figure these can't hurt as part of a well-balanced postpartum diet. Hey, they're better than a Pop-Tart!
And they are delicious – there's a bit of savory to balance the sweet, the oats impart some chew, and the flax adds to their sturdiness (need I mention the chocolate?). And husbands like these cookies, too – though you may have to reiterate the nurse's assurances that they won't make dads lactate.
Most of all, though, testing these treats (and freezing dough for later) felt like a tiny little positive bit of nesting accomplished during these long, last days of pregnancy. And perhaps, hopefully, a little nudge toward salvaging "the healthiest start" for our baby. The American Academy of Pediatrics and other experts recommend breast-feeding for the first six months, citing all sorts of benefits. Of course, breast-feeding can be a challenge and it's not an option for some women. And, no, I'm not counting on cookies for success! But there are books, websites, classes and consultants — tons of resources for parents. We're taking advantage of all of these and giving it a try.
And, hey, if it doesn't work out, I'm sure the doctors will tell us again that we're doing just fine. But I'll probably still be looking for ways to assuage this thing called "mom guilt" — maybe by trying my hand at homemade solid foods (stay tuned to We The Eaters all month for that!).
Recipe: Best Breast Forward (aka Lactation) Cookies

You can find lots of different variations for these cookies online. I adapted recipes from the "Milkin' Mamas" and BellyBelly.com websites. The key ingredients were easy to find at natural foods and/or supplement stores.

The various recipes call for amounts of brewer's yeast ranging from 2 to 4 tablespoons. I like the flavor of yeast, so I went all-in; you might start with less if you're not sure.

2 tablespoons flaxseed meal
4 tablespoons water
1 cup butter (room temperature)
1 1/2 cups packed brown sugar
2 large eggs (room temperature)
1 teaspoon vanilla extract
2 cups all-purpose flour
1 teaspoon baking soda
1 teaspoon salt
1 teaspoon cinnamon
4 tablespoons brewers yeast
1 1/2 cups chocolate chunks
3 cups old-fashioned rolled oats

Preheat the oven to 350 degrees.

Mix together the flaxseed meal and water, and let sit through the next step. Using a mixer, cream together the butter and sugar, then add the eggs one at a time and beat until incorporated. Add the flaxseed/water and vanilla. Beat until blended.

Mix or sift together the flour, baking soda, salt, cinnamon and brewers yeast. Add the flour mixture to the wet ingredients in the mixer and blend well. Stir in the oats and chocolate.

Line a baking sheet with parchment paper and drop tablespoonfuls of cookie dough at least an inch apart. Bake for 12 minutes or until desired doneness.

I ended up with about 4-dozen cookies (29 baked fresh, and 20 scoops in the freezer).