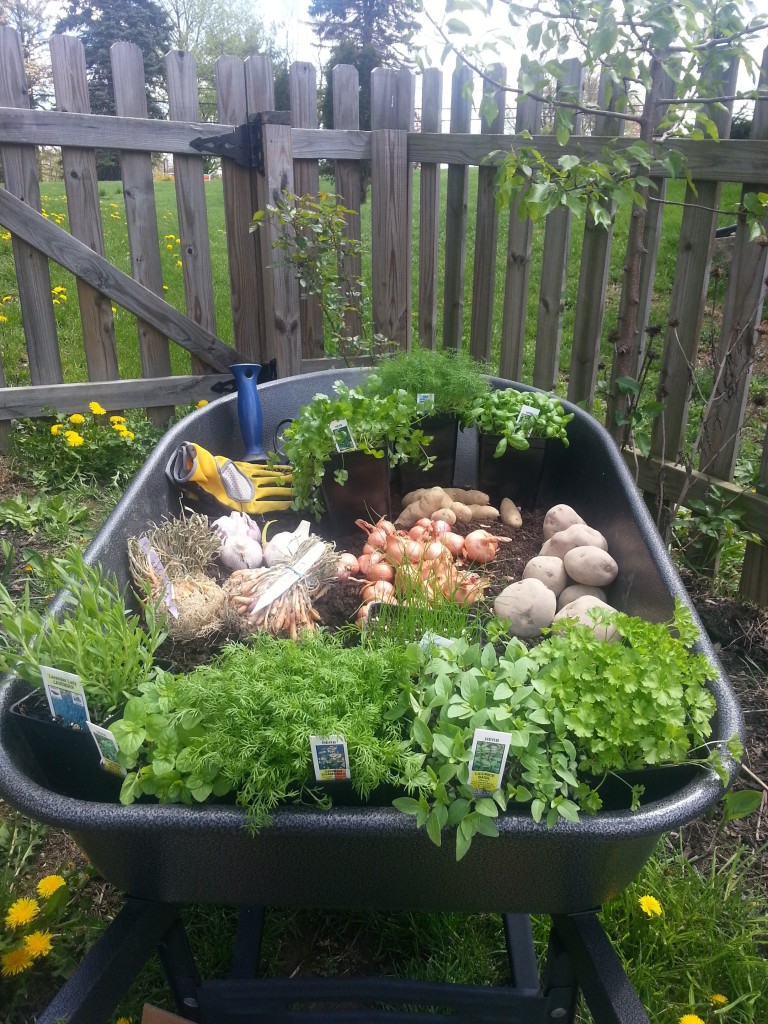 My name is Greta and I am the farthest thing from a Martha Stewart-type person you will ever meet. My house is always in a state of flux, which mostly means it either smells like food, dogs, kids, sweaty sports socks or mud — or a blend of all of them. On a good day, it smells like one or many of the above with the added bonus of Lysol or Febreeze.
Many people ask me why I'm so confessional when I write.  My answer is simple:  I don't want anyone to think that there's some perfect life out there or that I might have it all figured out.  We all take mad stabs in the dark trying to make sense of everyday life.  I never got an instruction booklet and I'm fairly certain you didn't either.  Hopefully putting it all out there can encourage you to try, and possibly fail, at new recipes and styles of cooking. I fail all the time — just ask any one of my friends or family members who've to sit down to a "misfire" of mine.
I also don't want anyone thinking that the Slow Food concept takes hours or a master chef to achieve great results.  Slow Food should be about the entire experience of food.  Growing, prepping, eating, but most of all, slowing down to enjoy the food we have with the people we care about is what's really important.
So, when I got the invitation to write about Slow Food I jumped on it. "I can make time," I said. "It will all work out." Then, I got a second job, started a business and decided now was the right time to work on the non-profit I've always wanted to start.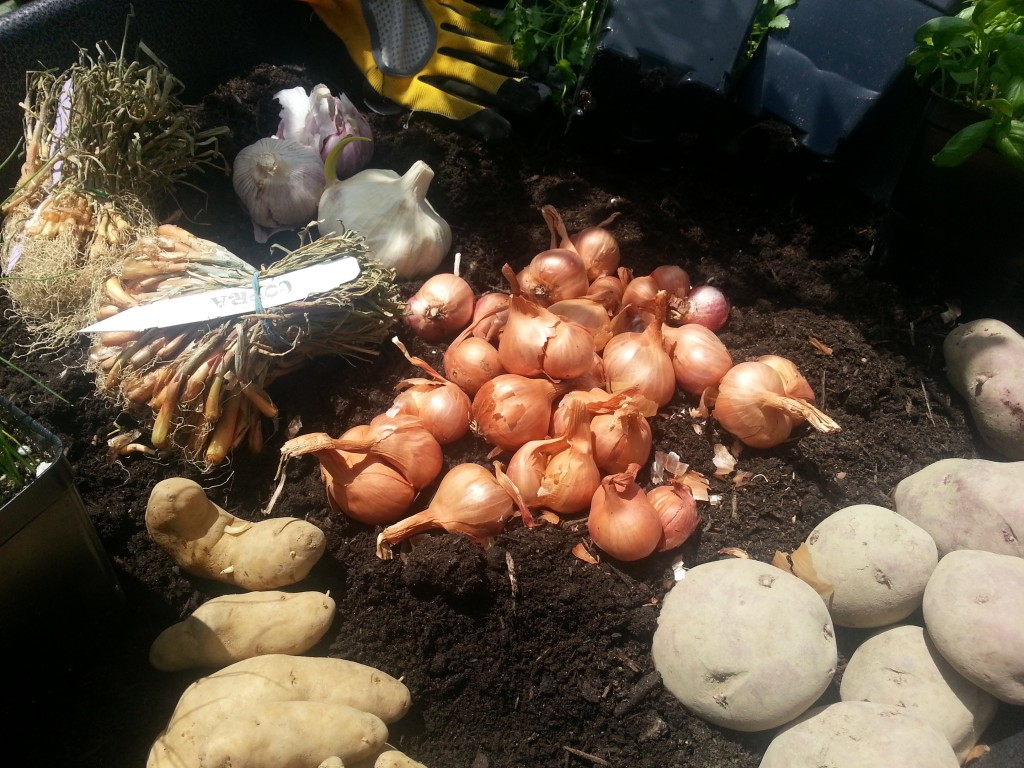 Yep …
So, here I am, writing about Slow Food between loads of laundry, softball practices, work madness and putting the kids to bed. Perfectly normal day in my world.
You may be wondering what Slow Food is; I did when I first heard the term nearly five years ago.  So, I did what everyone does and Googled it.  Then I Wiki'd it.  Then I did an even more ordinary thing and forgot all about it for three years.
But it eventually came back to me — and here's the quick and the dirty:   Carlo Petrini started the Slow Food movement in Rome in response to fast food, specifically McDonald's, moving into his home town and possibly collapsing an entire way of life (slightly dramatic). The goal is to promote sustainable, local agriculture and small business. I'm not going to bore you with all of the intricate details of what it means in the broader sense, or to Carlo Petrini. You can read all you want (and soon forget most of it) here. I'm really not a detail kind of girl.
What Slow Food means to me is a tiny bit divergent.  As a 90s kid with divorced and busy parents, I was shuffled here and there and everywhere in between. I was raised by aunts, Puerto Rican neighbors and my awesome grandparents. Each one of them had unique styles of living and raising me.
They all shared something similar in the food they prepared, however: Each of them loved cooking and all of the joys and pains that came with it. It didn't matter if it was Nana's roast with mashed potatoes and gravy, Pio's Arrozo con Gandules, Aunt GeorgeAnn's Eggs and Dogs or Gramma Margie's homemade old-fashioned slaw. Each dish was created with kids running through the house and people kibitzing at the table.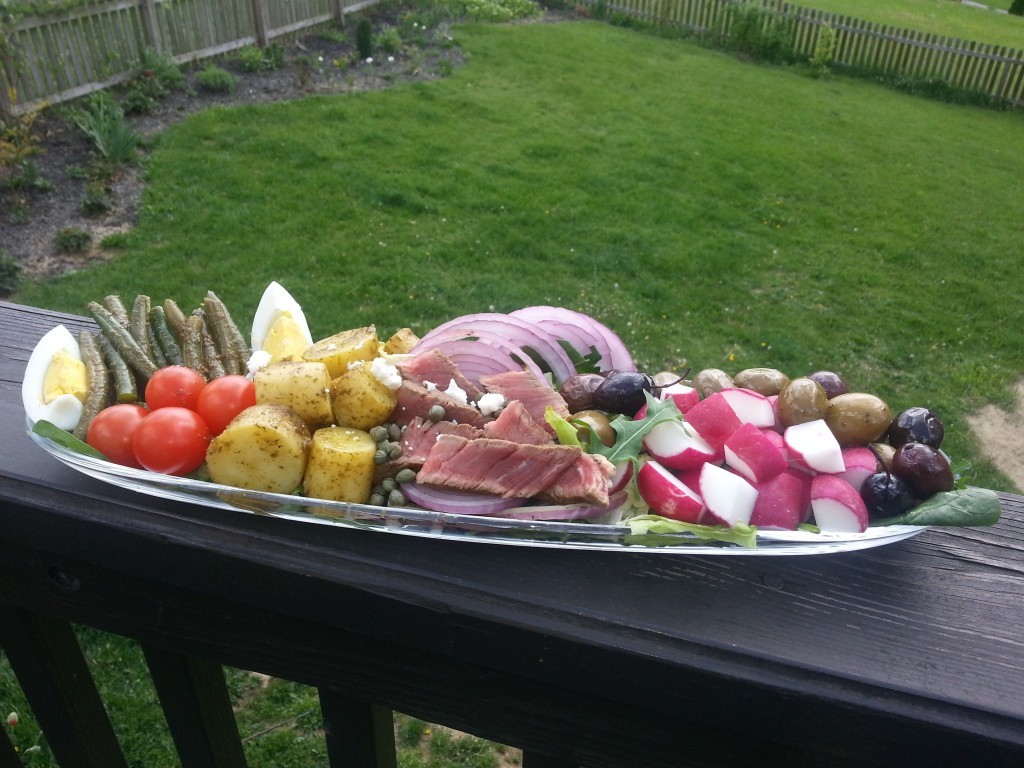 Slow Food shouldn't be pretentious. In fact, when I told my now 96-year-old grandmother that I was writing about Slow Food, she stated that every generation has to go and rename things that have been the same for a lot longer than they've been alive. To Nana, Slow Food is simply cooking with love for your family.
Here's one of my favorite recipes, a spin on a Nicoise Salad. I'm not using tuna, canned or otherwise, because tuna isn't native to Western Pennsylvania in the least. Also, I'm not sticking to any recipe.  I use what I have in the garden or, in this case, what I've sourced from the local farmer's market  (my garden is drastically behind schedule, as usual).
You can marinate the protein a day ahead of time or the morning of. The longer you marinate it, the stronger the flavor. This recipe represents portions for a small dinner party of up to six guests and a random child or two.  Cut the recipe in half for a nice summer meal for the family.  This is actually a versatile meal and good for the budget if you can source most things from your garden.
Most of the time I let the kids cut the veggies or the arrange the platters, depending on their ages. Send your significant other out for some white Bordeaux (Louis Jadot Pouilly-Fuisse 2004 is a favorite of mine), a reliable Pino Gris or a Founder's All Day IPA.
Then, sit back with framily (a friends-family mix) and enjoy the food and great conversation. Sometimes, there's nothing better in our fast-paced lives than slowing down and realizing how amazing things really are.
Steak Nicoise Salad

A few tips on ingredients: I use whatever lettuce I have in the garden and mix it up. Spinach, butter crisp, romaine, and iceberg work nicely. Get creative — it's lettuce. The recipe also calls for (optional) tequila. I recommend avoiding silver tequila, as it doesn't have the smokey complexity that the gold does. As for the potatoes, the smaller the better for this dish. If you haven't worked with fingerling potatoes, try them. 

4 New York strips or filets (substitute any steak for budget purposes), 8oz per person

Marinade
1 cup extra virgin olive oil
1 cup balsamic vinegar
3 shallots, very finely chopped
1 bunch fresh dill, finely chopped
1 bunch fresh cilantro, finely chopped
1 large bunch fresh parsley, you guessed it, finely chopped
Juice of 2 limes
Juice of 2 lemons 4 cloves fresh garlic, minced
3-ish tablespoons of Dijon mustard
Pinch of salt
Dash of pepper
Reposado Tequila (optional – add a shot, drink a shot – up to your discretion)Don't use silver tequila, it doesn't have the smokey complexity that the gold does.

For the Salad
For the Salad
6 large eggs (hardboiled)
1 pound French fingerling or new red potatoes, lightly boiled or grilled until just tender
1 pound haricots verts (green beans)
1/2 pound cherry or grape tomatoes, whole
1/2 pound chunked radishes
1/2 pound nicoise or kalamata olives (or black ones if you're not adventurous)
1 container of anchovies (somewhat optional; they add a wonderful flavor)
1 handful of large capers or caper berries
1 bunch of fresh chives, snipped in half
Your choice of fresh lettuce

To prepare marinade:
Mix marinade ingredients in blender or food processor (or good, old fashioned mason jar).

Reserve 1/3 of the marinade for the veggies. With the other 2/3 marinade, marinate thawed steaks in fridge 4 to 24 hours.

While your steaks are marinating you should be prepping your other ingredients (see below).

Grill your marinated steaks to the desired (MR) temp. Cut in strips to serve.

To prepare the salad:

Lightly boil or grill potatoes until just tender. Lightly steam the green beans (you want them almost raw). After they're cooked, marinate the veggies with some of the reserved marinade in a separate freezer bag after steaming (the flavor will set in nicely if you bag, marinate and refrigerate right cooking. )

Toss the lettuce together and arrange a bed on a large, family-style serving dish. Add the lightly cooked potatoes, beans and eggs. Add your steaks. Add all other ingredients and top with capers and chives. This isn't a tossed salad — arrange it in clumps. Get creative, make it beautiful. Presentation is always half the battle.
In the spirit of supporting small businesses, I wanted to share where I get some of my hard to find garden supplies:
You can reach me with comments or questions on Twitter @gretharper or in Facebook land at facebook.com/gjgharper.