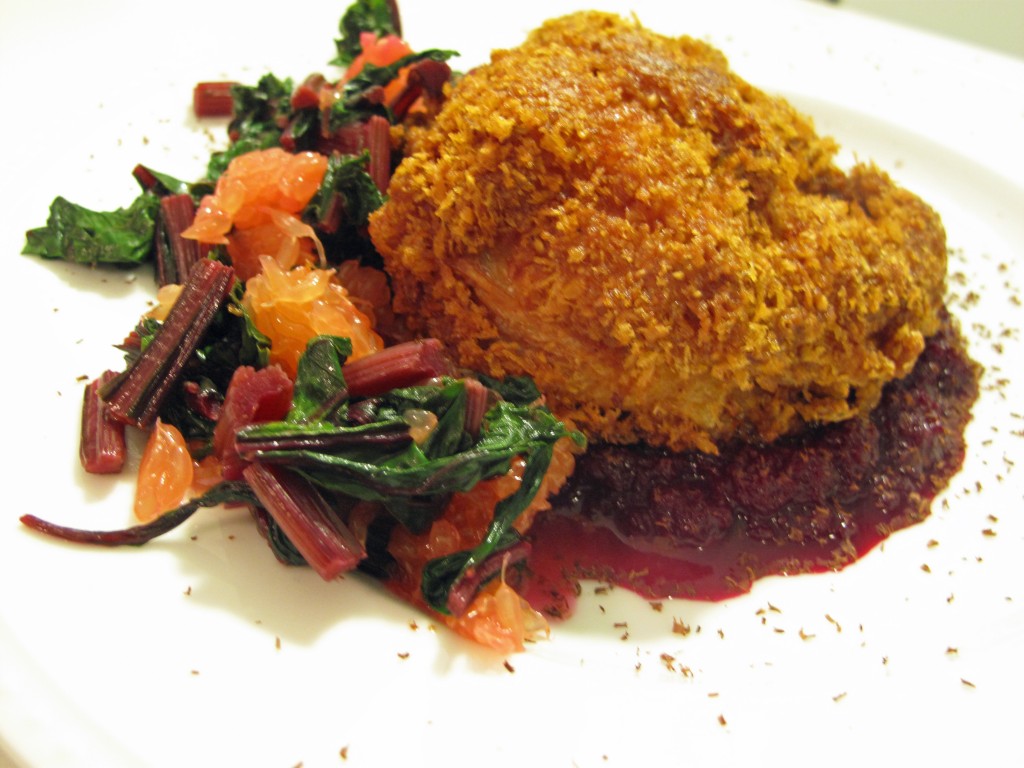 We were pretty excited about our list of ingredients: chicken, beets and grapefruit, topped off with almond flour, sauvignon blanc and chocolate. We toyed with a couple different strategies — I had an idea for baking bread with unsweetened chocolate shavings, then using it to make sandwiches with chicken and grapefruit aioli — but baking bread really falls outside the Chopped parameters. And we didn't have a go-to bread recipe we were confident about. So we set about turning this Chopped-inspired "basket" of odd ingredients into an edible — at bare minimum — Sunday dinner.
Ben's been dying to fry some chicken (I always veto it, saying there's a place for fried food and that place is dining out), so we started there, planning to brine the chicken in sauvignon blanc and maybe some grapefruit juice, then bread the chicken in almond flour. We thought about a grapefruit, beet and arugula salad with a grapefruit vinaigrette and shaved chocolate, but that didn't seem like enough of a dish, so we weren't sold.
Friday night we had reservations to sit at Society Fair's demo kitchen for dinner. Society Fair is a little gourmet market in Old Town Alexandria, Va., from Food and Wine Best New Chef Cathal Armstrong of Restaurant Eve and The Majestic. So when Chef Alissa Jeffery had finished and was chatting with us, we asked her what she'd do. Her eyes lit up: "A beet gastrique!"
We had a passing familiarity with gastriques — something to do with vinegar — but wanted to know more. When Alissa explained what she had in mind — a gastrique is a sort of a warm, sweet and sour vinaigrette sauce — we liked what we heard. Chicken, a beet gastrique, the salad … Things were starting to come together.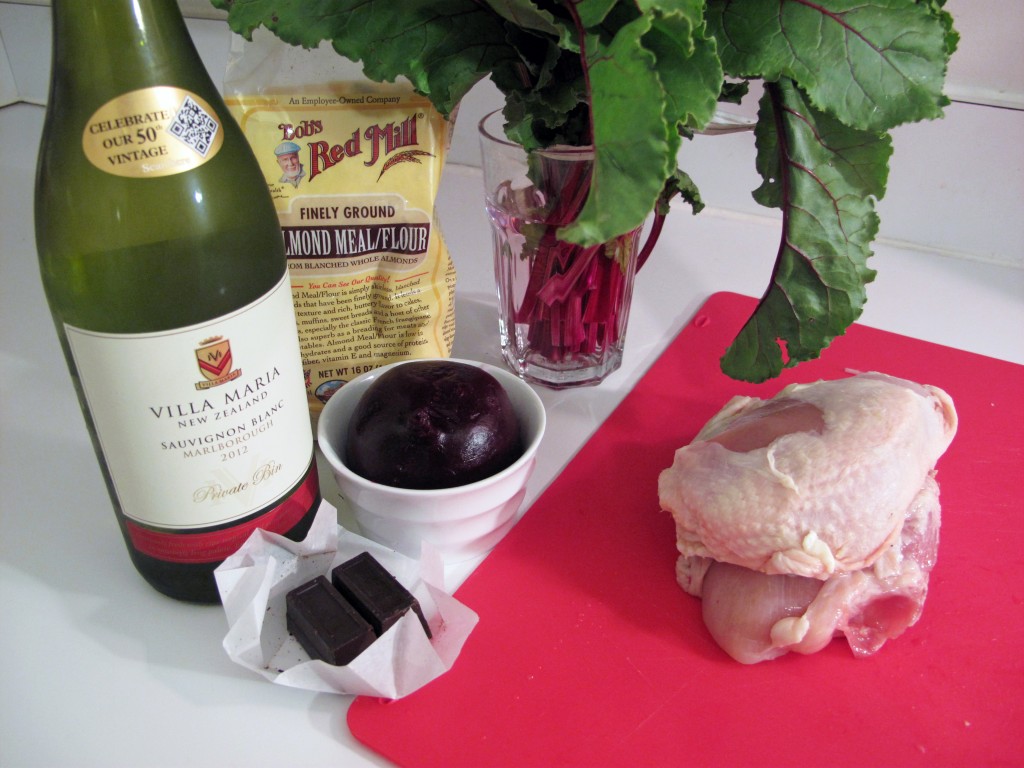 Back at home, we consulted some favorite sources, reading in on gastriques and the best way to fry chicken. But then Ben did the shopping Sunday, and brought home the most beautiful bunch of beets with the most luscious bunch of greens you could hope for, and the plan changed a bit more. When we first saw beets on our ingredients list, we of course thought of those gorgeous red (or yellow) roots, but the greens presented an additional opportunity.
Chicken, fried in almond flour … A gastrique-inspired beet puree, dusted in finely grated, unsweetened chocolate … And sauteed beet greens and stems with chunks of juicy grapefruit. Now that sounded like a meal.
Let's cut to the chase: it was fantastic. Even still, given the "quickfire" nature of the challenge, it wasn't perfect. If we had it to do over again, we'd change a few things. We'd remember to brine the chicken (in salt, water, sugar and grapefruit zest — a brine makes the meat more juicy, and more flavorful); we'd caramelize the grapefruit sections, sprinkling them with brown sugar and searing them in a hot pan, probably right after taking the sauteed greens out; we'd use a heavier hand with the grated chocolate and we'd use a little fish sauce on the greens, to add some umami to the mix. But still, the recipe as written below is a keeper.
Fried Chicken, Beet Puree and Beet Greens with Grapefruit

1 large beet, roasted (this method works reliably) plus a bunch of beet greens and stems
Olive oil and butter for sauteeing
Butter
Several grapefruit sections, peeled till they're naked (no membrane or pith), plus 1/3 to 1/2 cup of the juice
1/3 to 1/2 cup white wine vinegar
1 1/2 teaspoons brown sugar
Sauvignon blanc
2 skin-on, bone-in chicken breasts
2 eggs
1/2 cup almond flour
3/4 cup panko
1/2 tsp smoked paprika
3/4 tsp salt
1/2 tsp pepper
canola or peanut oil

First, pour yourself some wine, and some for your fellow chef. Then…

For the puree:

Roughly chop the roasted beet, then add it to a skillet with 1/2 cup sauvignon blanc, the grapefruit juice and an equal amount of white vinegar. Cook over medium low heat until the mixture is dark with beet juice, then stir in  brown sugar. Simmer to reduce, 5 to 10 minutes. Transfer to a tall cup (trust us — beet juice is highly aerodynamic) and immersion blend till the consistency is fairly even.

For the chicken:

In a dutch oven or deep skillet, heat three inches of canola or peanut oil to 320 degrees.

In separate flat bowls or plates, arrange in order in three separate containers: the almond flour with the salt, pepper and smoked paprika mixed in; 2 beaten eggs; and the panko. One at a time, roll the chicken breasts in the flour, then dip through eggs to coat, then finish with a thick crust of panko.

Carefully lower breasts into oil. Increase heat to bring it back up to 320, and keep an eye on it to maintain that temperature. Fry breasts to a deep golden brown, turning occasionally to keep them browning evenly, until the internal temperature reaches 150 degrees. It took us about 15-20 minutes. Rest on cooling rack for 5 minutes.

For the greens:

Heat a skillet to medium high, then add a good-sized pat of butter and a swirl of olive oil. Add chopped greens, salt and pepper, then cook until they wilt and the stems get slightly translucent. Remove pan from heat and toss greens with the grapefruit sections, broken into chunks.

To plate:

Drop half the puree into a puddle on each plate, then dust with grated chocolate (we used a Microplane). Top with chicken and serve the greens (and more wine!) on the side.