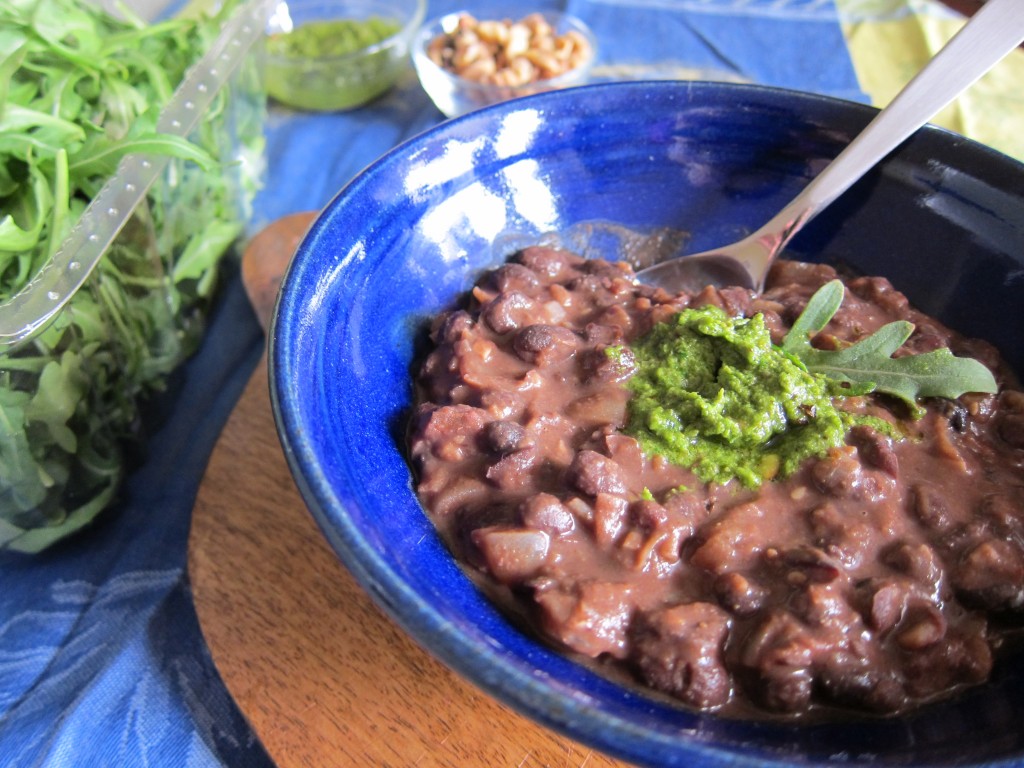 I admit it: For all the "basket" challenges doled out this month, I'm pretty sure I scored the easiest ingredient combination. With all the Indian-inspired cooking we do at my house, cumin is as familiar as salt and pepper. Cooked into black beans and tomatoes? No-brainer.
The arugula and capers did throw me a bit, but I decided that, combined in a pesto, their zippy bite should complement the earthy beans nicely. So all-in-all, I feel I lucked out with this combo. I would have had a much harder time with the basket newbie guest Eaters Sarah and Ben take on next week (stay tuned!).
Initially, I decided to play it straight with the black beans, cumin and tomatoes. I planned to add just a bit of onion and garlic to let the cumin shine through.
But when I learned Chopped gives you lots of leeway with other basic ingredients … well, I got a bit carried away. I tossed in coriander, cloves, cayenne and a bit of unsweetened cocoa powder (I've got tons of that leftover after baking a massive wedding cake last month), and blammo! A mole-inspired pot of beans.
Now, does all that meld with caper-arugula pesto? Well, there's only one way to find out, I thought, forging ahead …
… Until I hit a snag. Pesto requires nuts, in my book. My basket was nut-less, and I'm not familiar enough with Chopped to know if nuts would constitute forbidden fruit to the show's judges. But what's a cooking competition without a little touch of rebellion? So into the food processor the walnuts went, along with the greens, capers and olive oil.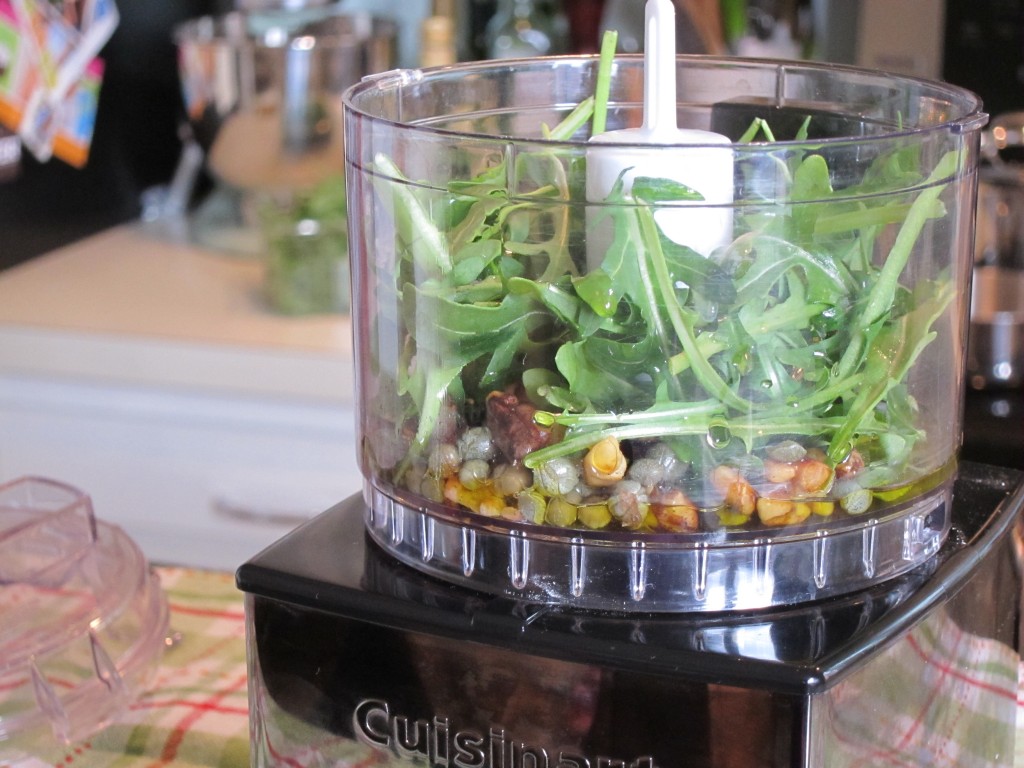 (As it turns out, I needn't have feared. Amy says the judges probably would have given walnuts the all-clear. I didn't know that at the time, and frankly, throwing caution to the wind made me feel sassy.)
I chopped, diced, stirred and simmered, and then it was time to determine if this hodgepodge was really going to work together.
The beans were delicious, although they lacked much zing. No matter — that's precisely what I hoped the pesto would add.
I imagined the dish would taste best with the pesto dolloped on top (and hey, it looks nice in photos!). But truth be told, that left our professional tasters (OK — my husband and I) a bit underwhelmed. The wildly contrasting flavors just tasted … odd.
But I wasn't ready to concede defeat. Hoping I wasn't about to destroy a perfectly delicious bowl of beans, I summoned up the rest of my nerve and just stirred the whole mess together.
And it was good! (Phew!) As I'd hoped, the pesto formed a perfectly piquant counter for the beans' earthy sweetness. Added bonus: The dish came together quickly and made for great leftovers. April's pot 'o beans may not not win big creativity points, but it's got plenty of flavor — and a good measure of sass.
Mole-Inspired Black Beans with Arugula-Walnut Pesto

Note: The pesto has strong flavors, so a little goes a long way. Start with a couple of teaspoons stirred into a single serving and go from there.

For the beans:

1 to 2 tablespoons olive oil
1 onion, diced
3 cloves of garlic, finely chopped
2 teaspoons cumin seed
1 teaspoon sesame seeds
1/8 teaspoon ground cloves
1/2 teaspoon ground cinnamon
1/4 teaspoon cayenne
1/4 teaspoon chili powder
1 teaspoon ground cumin
1/2 teaspoon ground coriander
2 15-ounce cans black beans, drained (if you're vegetarian, reserve the liquid)
1/2 cup chicken broth (more if you'd like your beans more soupy) or, for vegetarians, the liquid from the beans
1 tablespoon unsweetened cocoa powder
2 teaspoons apple cider vinegar
Salt to taste

For the pesto:

2 loosely-packed cups arugula
2 tablespoons capers
2 tablespoons roasted walnuts
1/4 cup olive oil

Heat olive oil over medium-high heat, and add cumin and sesame seeds. Sizzle for about three minutes until fragrant, stirring occasionally (and keep a close eye out so they don't burn — they can go from brown to black very quickly). Add onions, garlic and ground spices. Sauté about 10 minutes until onions are softened. Stir in beans, broth (or beans liquid) and cocoa powder. Reduce heat to medium-low, and simmer with the lid on for about 20 minutes. Remove from heat and stir in vinegar.

While beans are simmering, blend all the pesto ingredients in a food processor or blender.

When it's time to eat, stir in a couple of teaspoons of pesto and adjust salt and any additional pesto to taste.