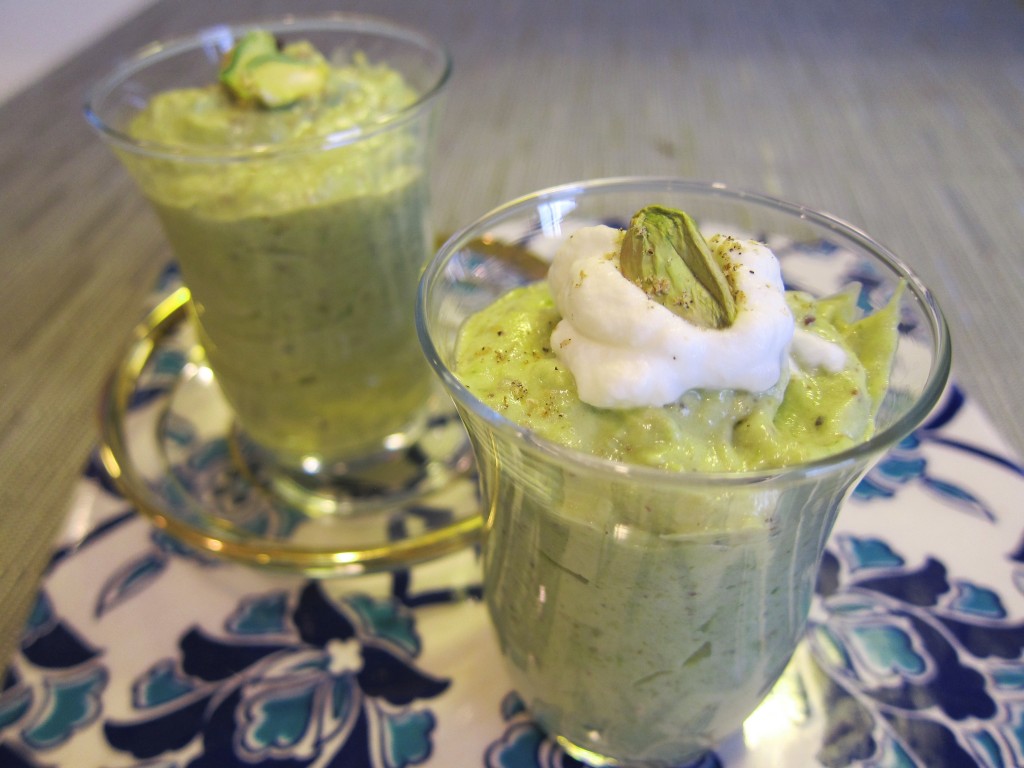 I have to admit, I'm pretty dubious about the idea of aphrodisiatic foods. Desire is a pretty tricky thing to pin down, for one. But the placebo effect is a powerful thing, too, and I'm certain many people think aphrodesiacs work because they want to believe they do.
With that, I'll leave it to my fellow Eaters to explain what science and folklore have to say about the avocado's purportedly amorous qualities (the Aztecs are sure to come up). In the meantime, I'll instead try to sell you on the idea of avocados as a sweet food.
Because why not? They're smooth, rich and creamy, and there's nothing inherently savory about them. Avocados have long been a popular milkshake flavor in Vietnam. In this country, vegans discovered long ago that they make a tasty dairy-free base for chocolate pudding.
Lucky for us, the idea is catching on. You're increasingly likely to find avocado ice cream or gelato at swanky shops in the summer months.
In the meantime, why not try this Persian-inspired, pudding-like pistachio-avocado cream? There's no cooking required, so it couldn't be easier.
I found inspiration in this California Avocado Commission recipe, which uses Crème de Cacao. But I made a number of tweaks based on my love for Indian sweets and the delectable orange blossom-pistachio cupcakes my dear friend, Rubina, baked recently for a wedding.
If you're partial to Indian or Middle Eastern sweets, you're likely to enjoy this treat, too — even if the sweet avocado idea seems strange. And if it leaves you feeling romantic, well, added bonus! Maybe those Aztecs were onto something ….
Pistachio-Avocado Cream

I think subbing rosewater for the orange blossom would make for an equally delicious flavor. One word of warning, though — both rosewater and orange blossom water can quickly overwhelm a dish. It's best to start with a small amount and add just a wee bit more at a time, tasting as you go. Also, you'll notice most ingredients below are "to taste." Again, you'll want to taste while you're mixing things together to end up with a flavor balance that suits you.

1 large avocado
1 1/2 to 2 tablespoons lime juice (to taste)
1/2 cup powdered sugar (to taste)
3/4 cups roasted, shelled (unsalted) pistachios
2 1/2 teaspoons orange blossom water (start here, then add more, 1/4 teaspoon at a time, to taste)
1/4 cup coconut milk
1/2 to 1 teaspoon ground cardamom (to taste)
1/2 cup heavy cream, whipped to stiff peaks

Grind pistachios until fine in a food processor or blender. Add all additional ingredients except the heavy cream and blend until smooth, scraping down as needed. Taste and make any flavor adjustments you like. Scrape into a bowl and fold in the whipped cream until your dessert is incorporated — but don't stir too much, or you'll lose all the whipped cream's lift. Enjoy!

Makes about 4 small ramekins