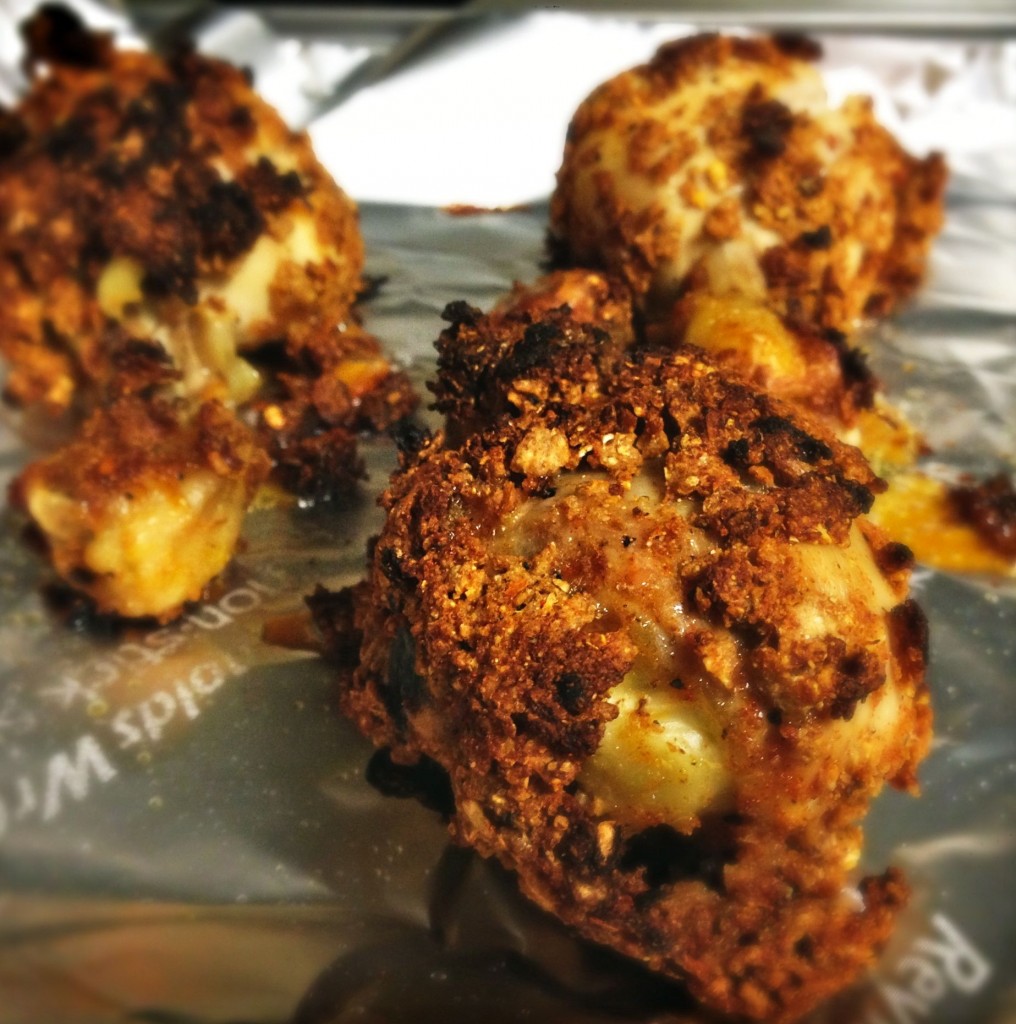 Fried chicken is one of the ultimate unhealthy comfort foods. And like most unhealthy foods, it's darn good. It's juicy, it's crispy, it wraps you up in a greasy warm blanket of yummy. It's almost a sin to try to make it healthy. So, I accepted the challenge, knowing that my healthier chicken may not live up to its deep-fried brethren.
This may seem obvious, but the best place to start when tackling "bad" foods is to list the elements that make them unhealthy, and then figure out how to keep the tasty while eliminating the bad. This can take some amount of experimentation and research. There are plenty of cookbooks and web sites devoted to healthier cooking to help you.
When it comes to fried chicken … the main culprit is in the name. It's fried! Eating too much fried food is linked to high cholesterol, high blood pressure and obesity, which can all contribute to heart disease. Of course, depending on the type of oil used, the risks can be reduced. But I decided to just skip the frying all together, instead opting to bake my chicken.  I figured I could at least maintain some of traditional fried chicken's crispiness in the oven, given the right technique.
But what about the juiciness? No one wants dried un-fried chicken.
Another delicious, yet unhealthy, thing about fried chicken, of course, is that crispy skin. The skin holds in the juices, keeping the meat moist. But the skin also adds unnecessary calories and soaks up all the fat from the frying. So … bye-bye skin!
And then there's the breading. Typically, fried chicken is coated in buttermilk, then floured and breaded. Even more fat and calories! So I had to come up with a replacement: something to maintain the crunch and moisture, but cut down on the calories.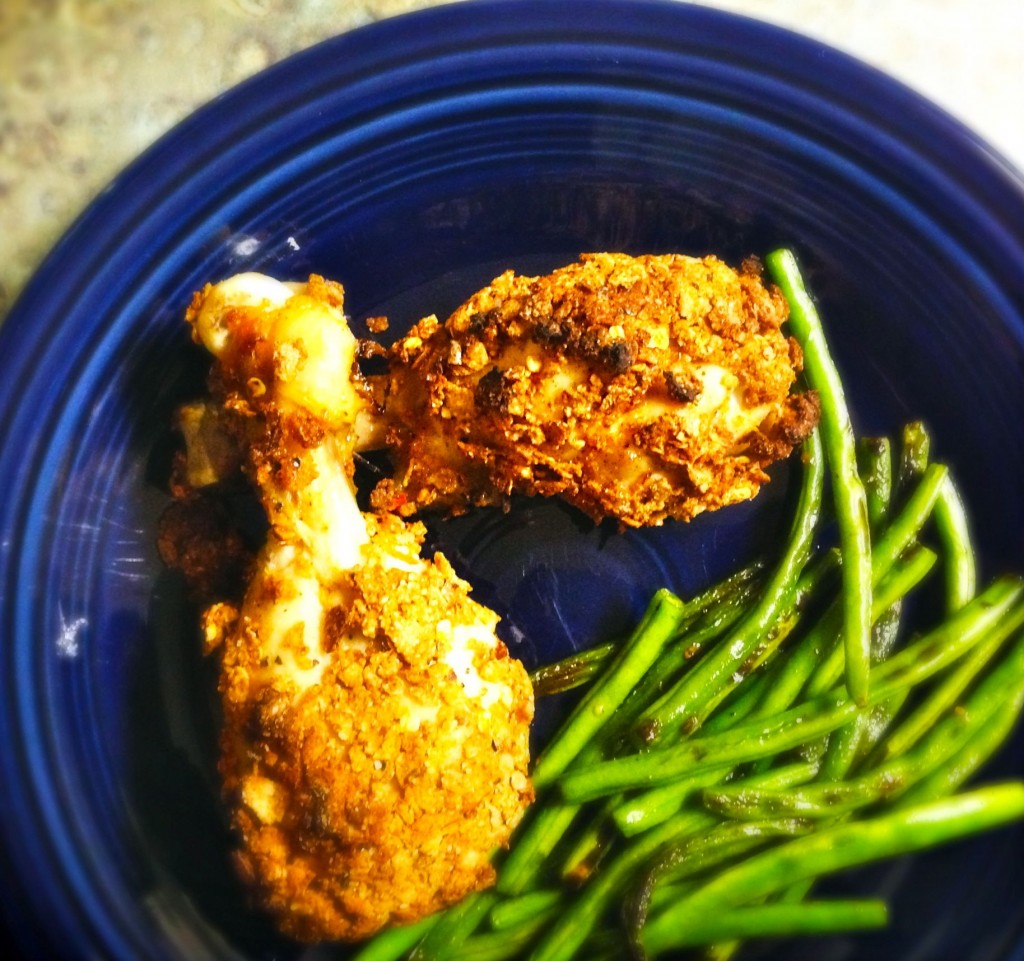 I decided to consult some professionals on the matter. I found a recipe from chef Art Smith, an expert in Southern cooking and former personal chef to Oprah. Seemed like he might know a thing or two about re-inventing comfort foods into healthier alternatives.
Jackpot! He has a recipe for a healthier fried chicken, baked, without skin and with a re-imagined crust. Rather than buttermilk, he used Greek yogurt to soak the chicken, which cut the fat and added extra protein. He also removed the flour and breadcrumbs, replacing them with a multigrain cereal.
I already had most of the necessary ingredients on hand. And when I ran out to grab some chicken drumsticks, I picked up some needed hot sauce. Art's recipe called for "Louisiana hot sauce," which means any cayenne pepper-based sauce. The hubby recommended Crystal Hot Sauce — good flavor and good heat!
The whole thing turned out to be quite easy and quite tasty. The yogurt helped to maintain the moisture and the breading stayed crisp. All-in-all, this healthy version of a comfort staple maintained its sinful, yummy soul.
Kicky Un-Fried Chicken

I found Art Smith's recipe on Oprah's web site. You can use any cut of chicken — breasts, thighs, drumsticks — as long as you remove the skin. I think it would also work quite well with boneless, skinless chicken.

6 drumsticks, skinless
1 cup nonfat Greek yogurt
1 tablespoon hot sauce
1 1/2 cups multigrain cereal, crushed
1 1/2 teaspoons onion powder
1 1/2 teaspoons garlic powder
2 teaspoons black pepper
2 teaspoons hot red pepper
1 teaspoon paprika

Mix the yogurt and hot sauce together in a large bowl. Add the chicken, covering with the yogurt mixture. Let the chicken soak while you create the breading.

Combine the crushed cereal and spices in either a bowl or a bag. Add the chicken and thoroughly coat with the breading mixture. If using a bag, add all the chicken and shake – just make sure that all pieces are coated evenly, not in clumps.

Place coated chicken on a baking sheet or pan. I used non-stick aluminum foil to avoid having to oil the sheet, which would have added a little more fat and calories. Parchment paper would work as well. Set in the fridge for about 30 minutes, then bake the chicken in a 400-degree oven for about 40 minutes.