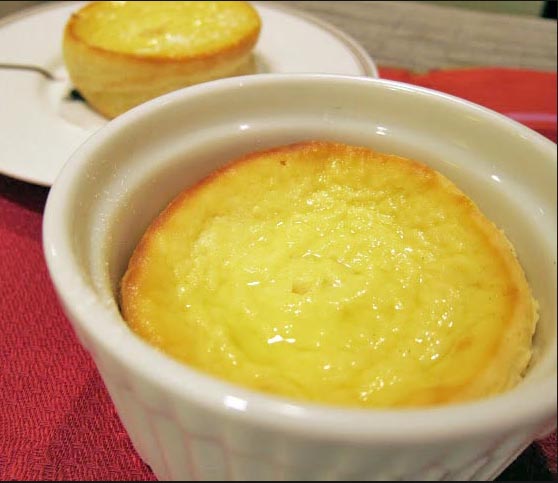 Unlike most folks I know, I'm not much of a cheesecake fan. Mind you, I'll happily devour a graham cracker crust. But that super-rich brick of cream cheese that sits on top of it? No thanks. Too rich. Too much.
This aversion to cheesecake makes me either the perfect or the worst person to offer you a lightened-up version of this American favorite; I can't tell which. One thing I do know: if you're looking for a relatively conventional lower-calorie cheesecake option, this post won't be of much help to you.
Luckily, drawing the "spin" straw in this week's Sweet, Savory and Spin gives me leeway to offer you a more April-friendly cheesecake alternative.  So, dear Eaters, I bring you a similar, but refreshingly different, take!
Granted, a ricotta-based spin on cheesecake may not be entirely new to some of you fabulous foodies, particularly if you happen to hail from Italy. Italian cooks have been baking delicious ricotta cakes for centuries (although not particularly light ones, if my online reading is any guide). But the concept was new to me, and I found it absolutely delicious.
These lovely, moist-yet-crumbly little cakes (I made mine in ramekins, rather than tackle an entire pie) are both rich and light, with a lovely lemony flavor. They don't taste like cheesecake in the American sense; more like a dense, sweet cross between a quiche and a pound cake, if you can imagine that.
And why imagine it, when you can make it? Because this is one easy little recipe! Just ricotta, eggs, sugar, almond extract, lemon juice and lemon zest. And while this weighs in at about 195 calories per serving (depending on the size of your ramekins, naturally), that's at least 100 fewer calories than a small cheesecake slice.
Not too rich, not too much. Just right.
 Lemony Mini Ricotta Cheesecakes

I didn't really follow a particular recipe for this, but was inspired by similar treats at the New York Times, About.com and Food.com.

By the way, if you're not interested in lightening things up, feel free to use whole milk ricotta (and keep in mind that the higher quality cheese you buy, the better this dessert will taste) and add a graham cracker crumb crust, if you like.

One more note: Some recipes recommend you beat the egg whites separately until they're stiff, then fold them into the other blended ingredients. I didn't do this, as I was going for a somewhat denser texture, but that method will presumably yield fluffier cakes.

1 pound part-skim ricotta
2 eggs
1/3 cup sugar
1 teaspoon almond extract or vanilla
Juice of one lemon (or to taste)
Zest of half a lemon (or to taste)

Drain ricotta in a fine sieve for about 30 minutes.

Preheat oven to 375 degrees.

Meanwhile, butter four or five small ramekins well (the size is really up to you. Also keep in mind that, while these will puff up in the oven, they will fall while cooling, ending up at about the height you see when you initially pour in the batter). Cut parchment paper the size of your ramekin bottoms, add those to the buttered dishes, and butter the paper, too.

Combine drained ricotta, eggs, sugar, extract and lemon juice and zest in a mixer on medium speed for about five minutes (you want it thick and well-blended).

Spoon evenly into the ramekins and bake for about 30 minutes, until the cakes lightly brown at the edges.

Some recipes recommend letting the flavors meld overnight in the fridge before enjoying. Good luck with that!