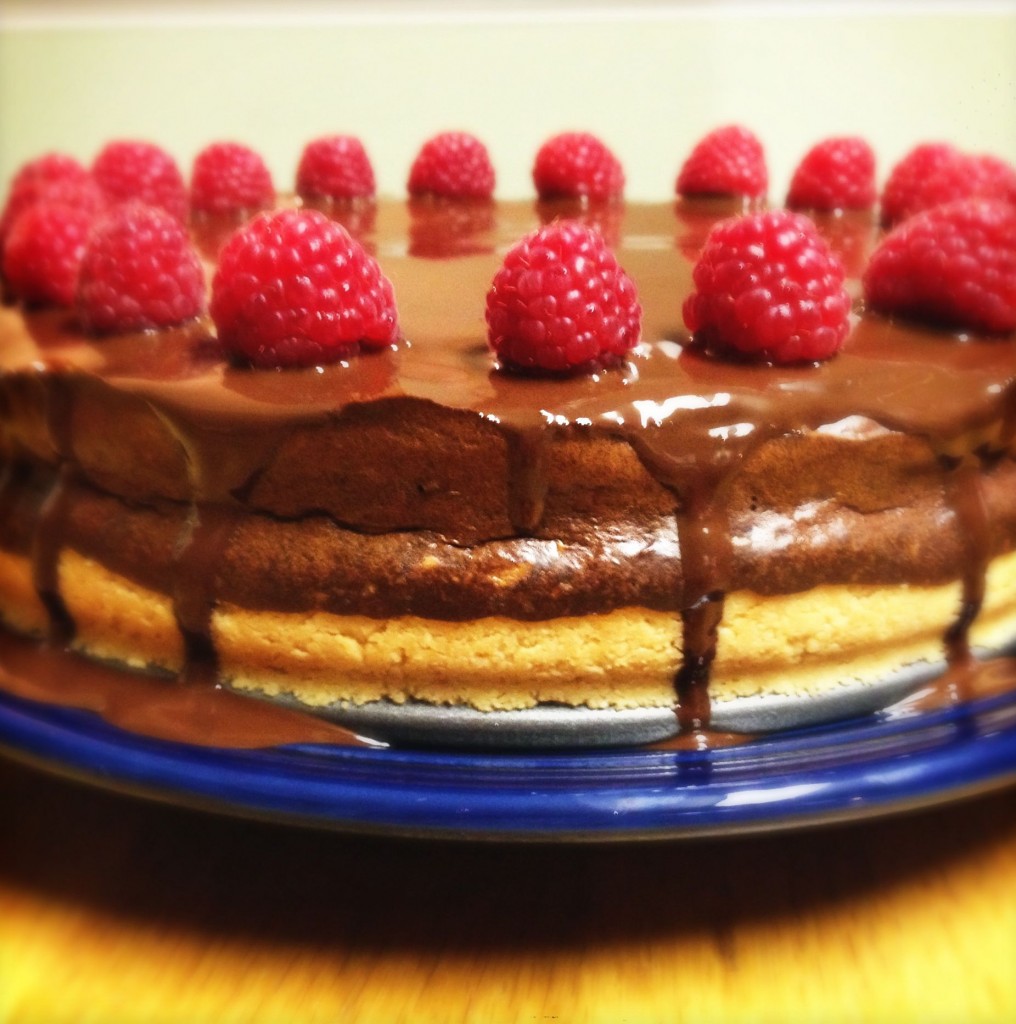 Here's a tip: never look at the nutritional content of cheesecake. I made that mistake years ago after buying a whole one from a chain that shall remain nameless. The calorie and fat content still haunt me to this day. The only way to conquer my fear is to face it.
Welcome to my nightmare. Time to make it over.
My challenge didn't seem quite so challenging. Cheesecake is traditionally sweet … in other words, lots of sugar. And let's not forget all that fat from the cream cheese and the butter. It all adds up.
To start, I checked out some recipes in my cookbooks and online. I saw some healthier alternatives for the cream cheese filling using tofu or lower-fat cream cheese. They all seemed to use a combination of ingredients that were lower in fat and calories, and all around healthier. To try to achieve the consistency of cheesecake, I settled on a combo of Neufchatel cheese and Greek yogurt.
As a special request from my hubby, I made a chocolate cheesecake. Of course, in choosing chocolate we are going to have more calories than if we went with a plain or vanilla cheesecake. To compensate with a healthier option, I used dark chocolate. Health benefits galore! It decreases the risk of stroke and heart disease, lowers blood pressure and the bad LDL cholesterol, and it's full of antioxidants and fiber.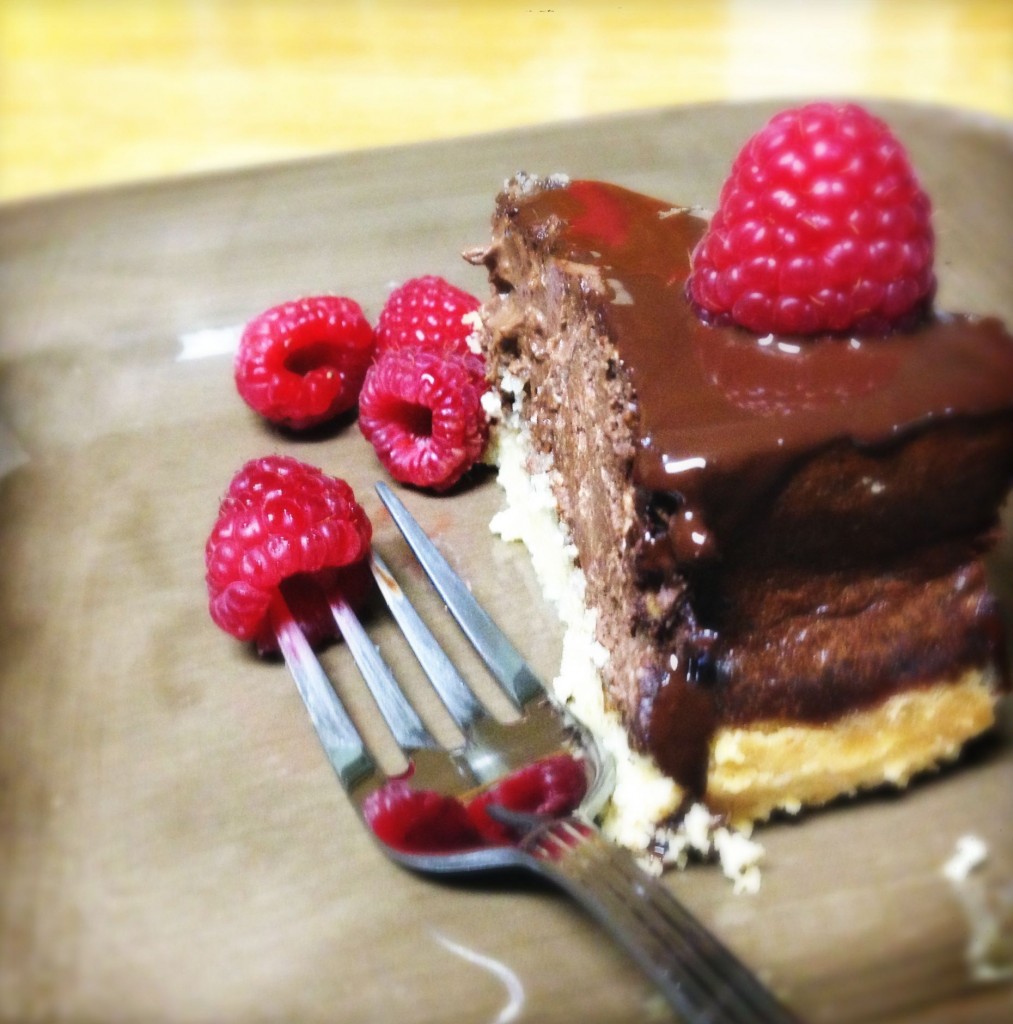 My favorite element of cheesecake is that graham cracker crust. I could seriously just flip my slice over and munch up that crunchy, dense bottom. Is that gross? Ok … moving on. As much as I love graham cracker and want to keep it, I thought it was a perfect place  to experiment. The recipe I went with replaced the crust with a simple almond meal. I found it to be a little bland and didn't have that consistency I wanted. Next time I would add in some crushed up almonds or walnuts … something to get that crunch back into the crust.
And lastly, how to tackle "the sweet"? I haven't done much baking using alternative sweeteners. Sugar is in my bloodstream … passed down from generations and generations. Whatever alternative I was going to choose, it had to be natural. This recipe uses honey in the filling to sweeten it. I found that this wasn't quite enough to cut the richness of all the dark chocolate, but I solved this by eating more raspberries with my bites of cheesecake.
In the end, I learned that making a healthy, sweet cheesecake wasn't quite as scary as I thought it would be. There are TONS of options for changing the filling, the crust, and replacing the sweet component. Cheesecake makes an awesome vessel for experimentation.
Dark Chocolate Cheesecake with Almond Crust
I found my inspiration on Pidge's Pantry, tweaked slightly.

Crust
3 cups almond meal
½ cup unsalted butter, melted

Filling
16 ounces Neufchatel cheese, at room temperature
6 ounces plain Greek yogurt
4 eggs
2 teaspoons vanilla extract
½ teaspoon salt
2 tablespoons honey
3 tablespoons unsweetened cocoa powder
7 ounces dark chocolate (around 85 percent cocoa)
2 ounces semi-sweet chocolate
2 tablespoons soy milk

Topping

8 ounces dark chocolate (around 70percent cocoa)
fresh raspberries

To make the crust, combine the almond meal and melted butter. Press into the bottom of a 9-inch springform pan. Bake at 350 degrees for about 10 minutes to set the crust. When done, remove from oven and set aside.

Using a mixer, combine the cheese and soy milk, beating until it is smooth and fluffy, about 2 minutes. While it is beating, melt the 7 ounces dark and 2 ounces semi-sweet chocolate using a double boiler (or a makeshift one: I like to use a small Pyrex mixing bowl, set over a small pan of boiling water, to melt chocolate. But be careful not to get any water in the chocolate — it will ruin it).

Add the eggs to the mixer and beat another minute. Add the vanilla, yogurt and honey till combined. Then add the cocoa powder, mixing to combine. While the mixer is running, pour in the melted chocolate and mix until it is fully incorporated. Pour the mixture into the pan and spread it evenly over the almond crust.

Boil 4 cups of water and pour into a pan. Place the pan on the bottom rack of the oven. This will help to keep the cheesecake moist as it bakes. Bake the cheesecake at 350 degrees for 30 to 35 minutes. When done, the top will be firm and slightly cracked. Allow to cool completely before removing the side of the springform pan.

To make the topping, melt the 8 ounces dark chocolate in a double boiler. Allow the chocolate to cool for about 10 minutes and pour over the top of the cheesecake evenly. You can smooth the top with a butter knife, allowing some to fall off the sides here and there. Top with raspberries.