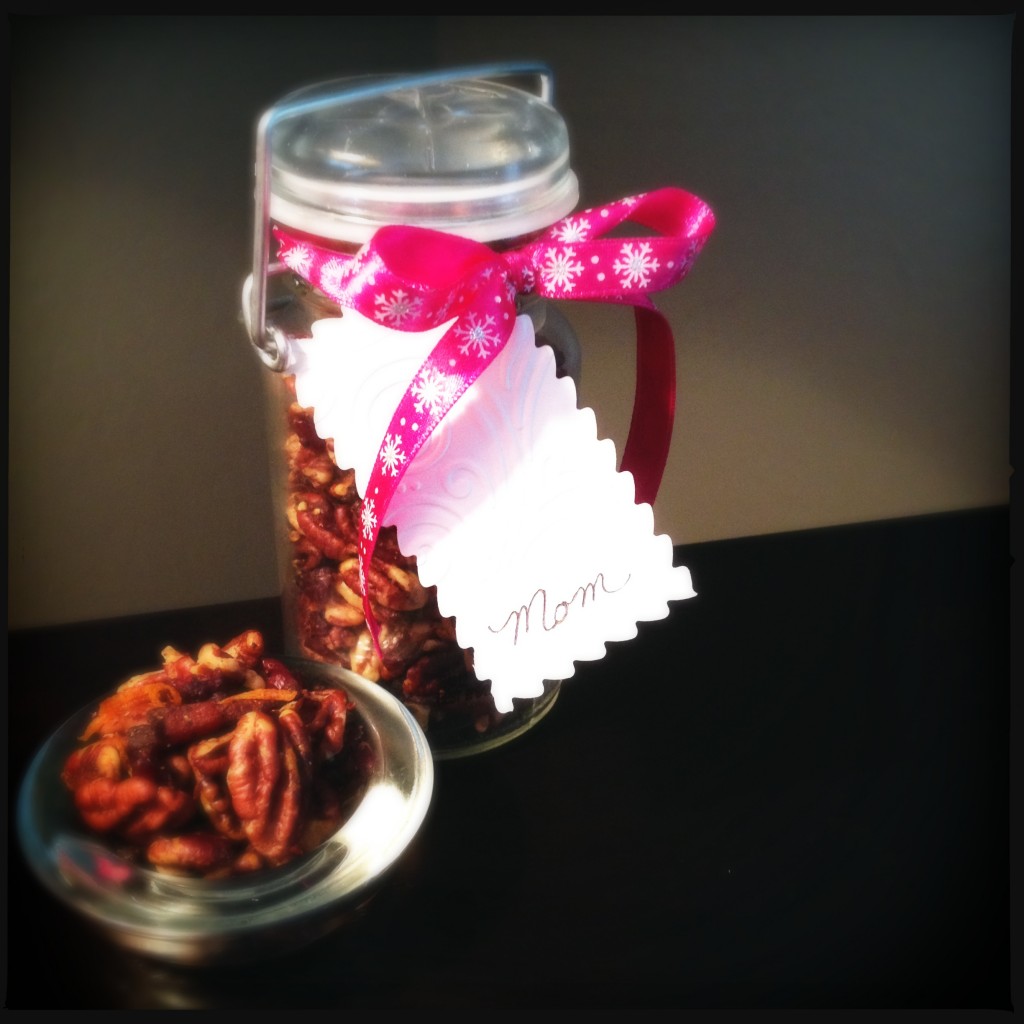 We've got orange, cranberries and honey for the sugar; pepper and paprika for the spice — and bacon just about sums it up for "everything nice." I mean, really: How can anything steeped in bacon not taste good?
I first found a recipe for bacon-roasted pecans in a local magazine, the Washingtonian. I made them for a party earlier this year and found that my guests couldn't stop eating them. Neither could I. I have dreams about them: Dancing strips of bacon holding hands with their toasted pecan friends, happily swinging around in circles. Yum.
OK, back on subject. I also love Sahale Snacks' Valdosta Pecans, so why not marry the two, I thought? I stopped by Three Little Pigs again this week to pick up some of their bacon (full disclosure: they are sponsoring the giveaway this week on WTE .)
I love bacon.
This recipe is so easy, which is probably dangerous. When you find you can't stop eating them, you'll remember how easy  they are to make … leading to a vicious cycle. Try to discipline yourself.
Remember, these are for gifts.
These are for gifts.
Gifts.
munch … munch … munch
Speaking of gifts, we're still giving this month (with a little help from our friends) … and this week's gift is a doozy! Three Little Pigs is giving away a $75 gift certificate for one lucky Eater to use toward a class or products in the store. To be entered to win, all you have to do is "like" and "share" any post on our Facebook page that contains "Three Little Pigs." 
Three Little Pigs has provided the gift for this week's giveaway free of charge. As thanks, WTE has offered the company space to advertise their product. The space is also offered free of charge, and has not influenced the material in this  or any other WTE post.
Sweet & Savory Pecans 

Adapted from chef Logan Cox's twist on bar nuts at Ripple, and inspired by Sahale Snacks' Valdosta Pecans. 

1 pound large pecans
3 to 4 slices thick-cut, high quality bacon
1/2 teaspoon orange extract
1 teaspoon honey
1/2 cup cranberries (I prefer unsweetened)
Zest from one orange
1 teaspoon coarse-ground pepper
1/2 teaspoon paprika

Preheat oven to 350 degrees. Cut bacon into 1/4 inch thick strips (lardon) and cook until crisp. Strain and set aside, reserving bacon fat. Spread pecans on a baking sheet and toast about 12 minutes until fragrant. Don't burn them. Nobody likes their nuts burnt.

While nuts are roasting, you may want to chop the cranberries into smaller pieces. Mine were nearly whole. Grind pepper. Zest orange. Get all your ingredients ready. And your resolve (I will not eat all these nuts … I will not eat all these nuts … I will not eat… )

Transfer the toasted pecans to a large bowl. Add crispy bacon pieces, cranberries and orange zest. Start adding bacon drippings a little at a time, stirring until mixture is well coated. Then add a little more for good (delicious) measure. Stir extract and honey together, add this, pepper and paprika to the mix and stir to coat.

Find a 12-step program.

Makes approximately … well, never enough.