Nothing like some holiday spirits to inspire a gift idea.  In this case, bourbon and dark rum.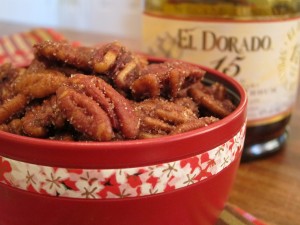 I'd never liked bourbon until, several years ago, my brother-in-law poured a splash into the whipped cream that topped a Thanksgiving pumpkin pie. It's a bit of a tradition in my husband's family, and now I can't imagine a holiday pie without a little extra spirit. This year, we dolloped our bourbon whipped cream on a fantastic pecan bourbon pie.
Mmmm … pecans and bourbon. Now there's a nice combo. It got me thinking that a spiked pecan blend would make a lovely contribution to a holiday party, or, with some pretty packaging, a tasty gift.
Problem was, by the time I had this epiphany, we'd already polished off our bourbon. Luckily, most any rich, dark spirit pairs well with pecans — like dark rum, for example. And we had plenty of that in the house: good old Captain Morgan, and a much higher-shelf El Dorado 15. With my alcohol picked out, I set to work on technique.
There are several standard methods for mixing nuts and spices. The folks at Cooks Illustrated note that a common one, coating the nuts with a sweet egg-white wash, gives you a pretty candy-like product. I wanted something a bit lighter, so I instead riffed on their suggested approach: Toast your nuts, stir them into a butter/sugar/spirit mixture on the stove, and toss with a sweet spice mixture. The best part, aside that these are addictively delicious, is that they are super-duper easy to make. They come together faster than you can polish off your tumbler. 
So give it a whirl, and then give them away. Or maybe you'll just want to chop and sprinkle them over the spiked whipped cream that tops your next holiday pie.
Rum Spiced Pecans
Adapted from Cook's Illustrated, via WBUR's On Point

2 cups raw pecan halves
4 tablespoons sugar
1 1/2 teaspoons table salt
1 teaspoon ground cinnamon
1/8 teaspoon ground nutmeg
2 tablespoons dark rum
2 tablespoons unsalted butter
4 teaspoons vanilla extract
2 teaspoons brown sugar

In a 350 degree oven, toast the pecans on a cookie sheet lined with parchment paper until they start to darken and smell roasty. This will take about 8 minutes or so. Halfway through, turn your cooking sheet so you toast the nuts evenly. Then place the cookie sheet on a rack to cool.

While the nuts are toasting, make the spice mix by stirring the ingredients above from the sugar through nutmeg together in a medium bowl.

When your nuts are no longer hot, bring the rum through brown sugar to a boil in a medium saucepan, stirring constantly, over medium-high heat. Add the pecans and stir, stir, stir until the liquid is evaporated (about two minutes or so).

Pour the nuts into the spice mix bowl, tossing until they're nicely coated. Pour them back onto the parchment-covered baking sheet to cool.