This past weekend, four lucky Eaters and their guests used their winning tickets from We The Eaters to go to the The Metropolitan Cooking & Entertaining Show. The big draw was celebrity chefs taking the stage to show off their kitchen skills and whip up some amazing recipes for a packed house.
Carina Giamarese and her guest attended on Saturday. The chefs taking the stage that day were Giada de Laurentiis, Tom Collichio and Gail Simmons. Here's what she had to say:
Thanks again for hooking me up with tickets to the show yesterday.  Best vendor sample award goes to Mom's Gourmet for the pulled pork that showed off their Red Dog Rub seasoning blend.  Runner up goes to the warm soft Hempzels with whole grain horseradish hemp and honey mustard (what can I say, I'm from Philly).

The highlight was Tom and Gail's cooking demo, of course!  The basil and pistachio-themed meal sounded amazing. They had a great rapport with the audience, and we were treated to a little bit of behind-the-scenes Top Chef insight, too.  I've never seen a cooking demo in front of so many people before, so it was really fun!
Scott Nichols and his guest also attended Saturday. He said this before the show:
We love seeing and tasting new foods, and if we are watching TV, chances are we are watching something on Food Network.  So this just sounds like a fun event and we are looking forward to attending it and hearing from Giada and the other chefs that are there.
Our other two winners — Tanya Ballard Brown, her guest, and Adam Hammond and his mother, Elena (who were given the tickets by our fourth winner, Corey Richardson, who wasn't able to attend) — got to see Jeff Mauro, Michael Symon and Carla Hall, as well as  Claudine and Jacques Pepin.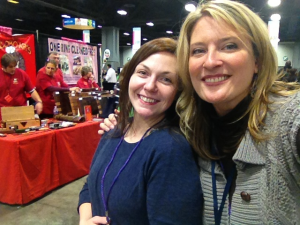 So … what did We The Eaters love about the show (aside from all the eating we got to do)? Sarah and Amy (pictured right) both thought the chef presentations were fabulous. Tom Colicchio's rabbit dish is perfect for something we'll be dishing out later this month. His teammate Gail Simmons whipped up a basil cocktail that we will definitely talk more about in December. But the show-stealer for us was not only seeing some of these celebrity chefs perform their magic in the kitchen, but getting to talk to them in person.
That's right, Eaters, coming up soon, you'll get an up-close-and-personal glimpse into a few of our faves: Sandwich King Jeff Mauro, and father and daughter duo, Claudine and Jacques Pepin. Eeep!