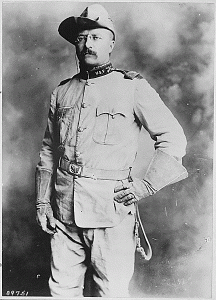 I have a bit of a crush going on for the 26th President, Theodore Roosevelt. Something about the moustache, the rough and tumble charisma.
Teddy was an environmentalist and an adventurer. He boxed regularly, went on African safaris and led the Ruff Ryders … er, make that Rough Riders. He was shot in the chest and still gave a 90-minute campaign speech. Now that's a man.
Roosevelt was the original Ron Swanson. He loved meat and coffee. He ate the game from his frequent hunting expeditions, and drank about a gallon of coffee a day. Incidentally  he also took nitroglycerin pills for a heart condition (go figure). 
OK, just thinking about him brings a rosy blush to my cheeks. I feel like I'm writing in my personal diary!
Focus, Sarah, focus.
I wanted to honor Teddy by cooking a game meat, but it was difficult to narrow down exactly which one to tackle. Of course, this becomes easier when you realize your local big box grocery doesn't carry game. No elk, antelope, venison, rabbit, quail … nothing. And I wasn't going to gear up and "shoot me a beast." I may admire Teddy's hunting prowess, but for me personally, well, that would be tragic.
Luckily, inspiration hit in the form of Top Chef judge Tom Colicchio. We The Eaters recently attended the D.C. Metro Cooking Show, where Tom demonstrated preparing rabbit. And, it just so happens that Tom's dream dinner guest is none other than my favorite historical hottie — Teddy.
According to Tom, rabbit is quite a healthy meat; light and not too fatty. He likes to serve it in many of his restaurants because of its versatility, that he says lends itself well to summer or fall flavors. He described a summer dish he created, for example, in which he paired rabbit with pickled watermelon. For this demonstration, Tom paired his rabbit with figs, basil, and pistachios.
Just as I was thinking, "But Tom, what if I don't want to shoot the rabbits in my backyard?,"an audience member asked where one would purchase rabbit meat. "Become friends with your local butcher shop, they'll know where to find it," he answered.
It was actually a lot easier than I expected. I found The Organic Butcher in McLean, Va., and with one phone call determined that they carry whole rabbits and hind leg quarters. Too easy. No guns, no tears.
Since it's fall and football season is in full swing, I decided on a hearty, beer-braised rabbit recipe I found online. Very manly, I thought. Very Teddy.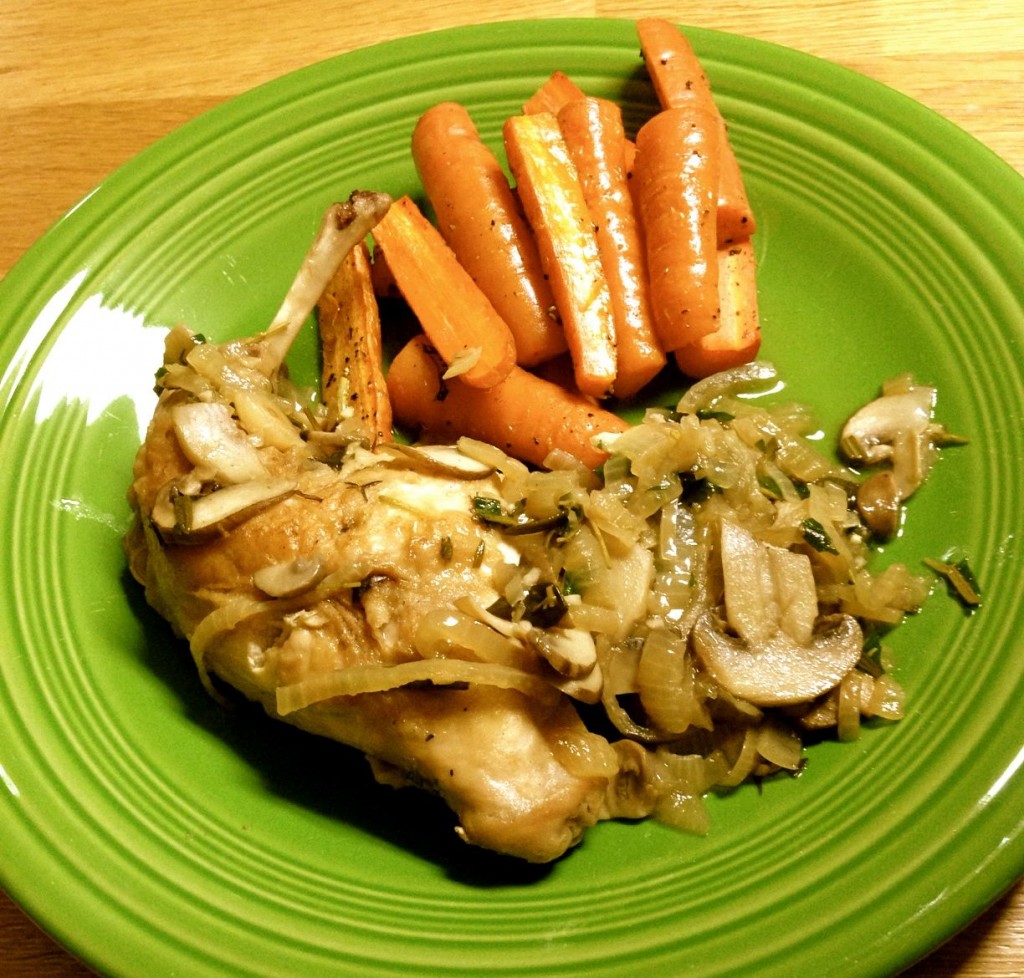 I don't have a lot of experience cooking with beer (or rabbit, for that matter), so I stuck straight to the recipe, choosing St. Rogue Red, a highly rated amber ale. This way, I thought, at least we would enjoy drinking the rest of the pack (and we did!).
My one failure with this recipe was the sauce. Sauces are the bane of my existence! I can never get them to thicken properly, if at all. In this case, the broth never thickened after I whisked in the butter/flour mixture. I'm not sure where I failed — if there wasn't enough flour, or if the heat was too high.  I ended up straining out the onions, mushrooms, and herbs and serving them along side the rabbit. Next time a recipe calls for thickening a sauce, I will consult expert sources!
I was surprised at how chicken-like the rabbit tasted. As Tom pointed out in his demonstration, most rabbit dishes could be swapped out with chicken or duck, as all have a similar taste. The rabbit was also quite tender. Braising in the broth for 30 minutes was enough to get it juicy and remove the toughness often associated with game meat. It may also have helped that this particular rabbit meat was farm raised, not truly a game meat in the Teddy tradition. But we can't all shoot our own, right?
Next time I tackle rabbit, perhaps I'll get a little more adventurous. But until then, I'll branch out by exploring my local butcher shop.
Herb and Beer Braised Rabbit

I found this recipe on allrecipes.com. I chose Dry Hopped St. Rogue Red Ale, which was delicious to drink alongside the rabbit … and while cooking the rabbit. The recipe also called for "rabbit meat, cleaned and cut into pieces." I chose to go with the hind leg quarters, rather than breaking down a whole rabbit (I'll save that for my next adventure).

1/2 cup all-purpose flour
1/2 teaspoon salt
1/4 teaspoon pepper
2 hind leg quarters of rabbit
3 tablespoons extra-virgin olive oil
1 thinly sliced yellow onion
1 pound thinly sliced mushrooms
3 cloves chopped garlic
1 tablespoon chopped fresh thyme
1 tablespoon chopped fresh basil
1 tablespoon chopped fresh rosemary
2 bay leaves
2 cups amber ale
1 quart chicken stock
3 tablespoons all-purpose flour
2 tablespoons softened butter
1 tablespoon minced fresh parsley for garnish

Combine the 1/2 cup flour, salt, and pepper in a bowl. Coat the rabbit in the flour mixture, turning to get it evenly distributed. Shake off excess flour.

Heat 2 tablespoons of the oil in a Dutch oven over medium-high heat, then sear each side of the rabbit until they pieces are golden and set aside.

Heat the last tablespoon of oil in your dutch oven, add the onions, and cook, stirring, until they're softened. Stir in the onions and cook until they have softened. Add the mushrooms and garlic. Cook for an about 2 minutes, then add the  herbs.

Add your meat back into the pan, turn the heat up to high, pour in the beer and stock, and bring it to a boil.  When you reach a boil, reduce the heat to medium-low and simmer, with the cover on, until the rabbit is very tender. This should take about a half an hour.

In a separate bowl, combine 3 tablespoons flour and softened butter until smooth. Set aside the rabbit and skim any fat from the broth. Whisk the butter paste into the broth and simmer for an additional 3 to 4 minutes, until thickened. Remove the bay leaves, stir in the parsley. Serve thickened sauce with the braised rabbit.