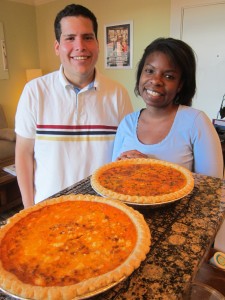 Collaborative meals with friends are always a good idea. Everyone gravitates toward the kitchen at social gatherings anyway — why not use the time cooking something tasty together?
This week, Sarah and I tackled the stone soup idea for our Lunch Box "Food Fight." If the concept of stone soup is unfamiliar, it essentially involves inviting friends to each contribute ingredients to a dish you prepare together.
Sarah has soup covered, so I had to dream up another dish conducive to collective effort. I decided turning lunch into brunch was the answer. Quiche, in particular, is a "kitchen sink" standby at my house. With a crust, four eggs and ¾ cup of milk or half-and-half, you have a perfect foundation for just about any other odds and ends you have in the fridge.
And while "brunch box" felt kind of like cheating, I'm in the clear! Because by the time we wrapped up the prep and baking at our little gathering, it was quite legitimately lunch time.
Time to tackle stone soup's second challenge: what to ask everyone to bring? Not knowing what you're going to get is half the fun, but you don't want to end up with nothing but bell peppers, either.
Ultimately, I realized something interesting about my invitees: Barbara, Luis and Shazia are all "hyphens" — Dominican-American, Mexican-American and Pakistani-American, respectively. Problem solved! I asked each of my cooking compatriots to bring an ingredient or two inspired by their parents' homelands.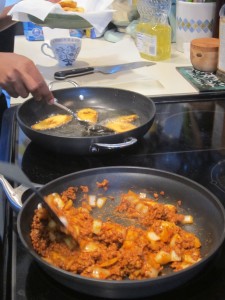 Sadly, Shazia, our Subcontinental ambassador, came down with a bug that kept her at home. But we soldiered forth, without the masala and potatoes she was planning to bring along.
Barbara brought a medium-ripe plantain that she sliced, fried and drained on paper towels (while we chowed down on the scones she brought to tide us over). Paired with a quick sofrito she created with garlic, an onion, a green pepper, cumin and tomato paste — all from Casa de April — we quickly whipped up a tasty Dominican quiche.
Luis also outdid himself, with soy chorizo (could use the real deal, of course), an onion, queso fresco and the star ingredient: dried red chilies, which he steeped in hot water and then food processed into a liquid-y paste (more on that process in the recipe below).
We chopped, we fried, we sautéed, we blended — and baked up two delicious Latin-inspired quiches that would make our mothers proud.
And the best part? My lovely friends left me with two delicious slices for my lunch box.
Plantain And Sofrito Collaborative Quiche

Makes one 9-inch quiche

One prepared or homemade 9-inch pie crust
One large, medium-ripe plantain (medium-brown, but not too soft and blackened), sliced
Vegetable oil, for frying (you'll need about 1 inch of oil in your pan)
1/4 cup  sweet onion, diced
3 garlic cloves, chopped finely
1/2 green bell pepper, diced
2 tablespoons tomato paste (or substitute one large tomato, seeded and diced)
1 teaspoon ground cumin
1/4 cup chopped cilantro
4 eggs
3/4 cup half-and-half or milk
salt and pepper to taste

Fry the plantains: Heat a good inch or two of oil in a pan, drop in the plantains, and fry, turning once, until golden brown, about 3 to 4  minutes on each side. Remove with a slotted spoon and drain on paper towels.


Make the sofrito:  Heat about 2 tablespoons of oil in a pan. Sauté the onions, garlic and bell pepper until they start to soften. Add the tomato paste and cumin, stir, and cook till the veggies are tender, about 5 minutes more. Take off the heat, throw in the chopped cilantro, season with salt and pepper and let cool slightly.

Assemble the quiche: Beat eggs and milk together in a large bowl. When the plantains and sofrito are no longer hot (i.e., cool enough to avoid curdling the eggs), stir everything together, season with salt and pepper and pour into the pie crust.

Bake the quiche in a 375-degree oven for about 40 minutes, or until the center is set.

Chorizo Chili Collaborative Quiche

Some useful tips from Luis:

Make sure you use fresh Mexican-style chorizo, not the dried Spanish variety

We used queso fresco. For a saltier cheese, try crumbling some Mexican panela cheese. Like queso fresco, queso panela is not a melting cheese. For some melting action, try queso asadero or Oaxacan-style Mexican cheese.

Dried chile de árbol is a bright red, slender pepper that's about 2-3 inches long. It packs more heat than a serrano pepper but less than a habanero pepper. If you can't find chile de árbol, you can use dried cayenne pepper powder to taste.

To lessen the heat, remove seeds from chiles.

Makes one 9-inch quiche

One prepared or homemade 9-inch pie crust
3 to 5 dried chili de arbol chilies (see tips above)
10-ounce package soy chorizo, like Cacique brand (see tips above)
1/4 cup sweet onion, diced
About 1/2 cup crumbled queso fresco
4 eggs
3/4 cup milk or half-and-half
Salt and pepper to taste

Prepare the chilies: To rehydrate the dried chiles, boil enough water to cover and remove from heat. Add chiles to water and let them reconstitute, 5-10 minutes. Place chiles and some of the liquid (start with about 3 tablespoons) in a blender or food processor and blend. (Don't breathe too deeply — the chili dust can get you!) Add more water, if needed, until you have a slightly watery paste (if it's too watery, you can cook the extra liquid off once you add it to the pan).

Prepare the chorizo: Add the onion and soy chorizo to a fry pan and sauté over medium-high heat for about 8 minutes, or until the onion is cooked and the chorizo and sauce look nicely incorporated. Add the chili mix to the pan, and sauté about 5 more minutes to meld the flavors and cook the chilies. If your chili mixture is watery, let the liquid cook off. Set it all aside and let cool slightly (you don't want the mixture to cook the eggs when everything is combined).

Assemble the quiche: Spread about half the queso fresco in the bottom of the pie crust. Beat eggs and milk together in a large bowl. When the chorizo mixture is cool enough to avoid curdling the eggs, stir it all together, season with salt and pepper, and pour into the pie crust. Crumble the last of the queso fresco on top, and bake in a 375-degree oven for about 40 minutes, or until the center is set.