I spun my wheels and spun them some more.  Just how does one make a burger sweet?  Red meat — any meat — that's ground up, grilled over smoky flame and served steaming hot on a bun is by definition, savory.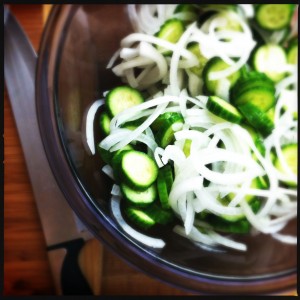 My mind raced. Sweet fruits, chutneys, jams? Pork, goat, turkey? Where to even begin?
Then I stopped, took a breath and listened to my heart. Pickles … sweet, sweet pickles.
From childhood on, bread and butter pickles — the sweeter the better — have been a life-long secret favorite food. Another secret?  Apparently, I have a mega sweet tooth, no doubt inherited from a long line of sweet teeth: my mother, who insists every dinner have a matching dessert, even though none of us still work on a dairy farm; and my father, whose real-life heaven consists of peanut butter-mallow sundaes. In our house, nothing couldn't be fixed or mended with a little sweet somethin' somethin.'
My mother kept pickles in the house at all times. Sweet baby gherkins, bread and butter, and, of course, the pedestrian dills.  Jars were pulled out during holidays, arranged in the segmented crystal serving platter reserved only for pickles and olives and only for holidays.
After leaving home, I often found myself hoarding jars in my own fridge.  Some gals hit the pints of ice cream. Others … jars of bread and butter pickles. Guilty!
One of the more memorable jars in memory was a gift from the kitchen of my mother's ex-boyfriend's mother. Confusing? Maybe. Delicious? Oh, hell yes. They were sweet. Transcendently, other-worldly sweet. The little cukes, thinly sliced and mixed with a healthy dose of pickled onions, were practically candy.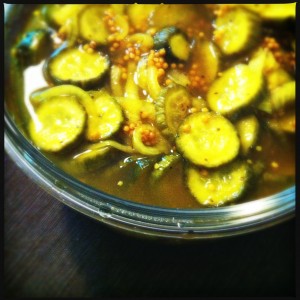 So, when my heart told me, 'Pickles, your "sweet" burger must have sweet pickles,' I decided to try my hand at a version of those memorable little guys. The sweet sassy little cukes would be the star; my grilled burger simply a handsome supporting actor.
So I hit the web, and found a crazy simple adapted recipe at Smitten Kitchen.
It was incredibly easy. I rolled out of bed on a sunny Saturday morning, prepped my little cukes and got to pickling. After two hours, sitting under ice at room temperature (while I got myself a manicure), they were ready to be mixed with a sweet, spicy, vinegar concoction. And into the fridge they went. That. Stupid. Easy.
Within hours, they were chilled and pickle-y, all ready to put on a burger (or eaten at 2 a.m., straight out of the jar).
As for my handsome supporting actor … er, burger … I turned to an expert: my own handsome supporting man. After a hot summer day filled with softball and cold afternoon beers, we got to burger creation. He fired up the coals while I prepped the meat.
Nothing special — the pickles are the star here. To my grass-fed, 85-15 ground beef, I added a little of the same spices from the pickles, thinking that might bring out more pickle flavor. A bit of Worcester sauce to keep it moist and a dash of salt and pepper, and onto the grill it went.
According to the expert, the burgers would start to bleed from the top, signaling the prime time to flip for a good medium doneness. Well … they never did, and the flame from the grill acted out of turn, a little too aggressive on the meat.  They ended up overdone but still moist, with a delectable flame-charred outer crust (this may have been due to my patty-shaping skills — think little and fat).
We added a mild white cheddar cheese at the very end, something to complement but not overpower the pickles.
How did it all work out, you ask?  Well, this might not be a shocker, given my infamous sweet tooth, but the pickles were NOT SWEET ENOUGH!
I had envisioned a pickled candy… crisp and coy. Instead, they retained way too much pickling saltiness. I could have prevented that, had I heeded Smitten Kitchen's salt advice. With a quick read, I would have known to cut back the salt amount, as I used David's Kosher Salt and not the Diamond that Deb recommended.
I was also a tad too heavy-handed with the coriander, one of the pickle seasonings I added to the meat. Next time, I'll either stick to simple salt and pepper or stir in a little of the pickle juice.
While neither the burger nor the bread and butter pickles were exactly what I had imagined, the end result spoke of a promising future. One in which this sweet, sassy leading lady might send her own jars of pickled candy home with you. If you're lucky.
Burgers

1 pound ground beef (I used 85-15, grass-fed beef)
2 dashes Worcester sauce
Fresh ground salt and pepper
Seasonings from pickle recipe (I used ground turmeric and ground coriander)

Combine all ingredients in a medium bowl.  Form into small/medium sized patties.  Prepare grill.  We used a charcoal grill, prepared with cooking spray to prevent too much sticking.  Watch the flame, move patties around as needed to avoid too much flame.  Cook one side of patty until bleeding from the top.  Flip patty and cook till bottom gets charred.  Add cheese and let melt before removing patties.

Pickles (Adapted from Smitten Kitchen)


1 pound cucumbers, sliced 1/4-inch thick — smaller, "pickling" or kirby cucumbers work best here
1 large sweet onion, thinly sliced
1/4 cup kosher salt
1/2 to 3/4 cups sugar
1/2 cup distilled white vinegar
1/4 teaspoon ground turmeric
1 tablespoon mustard seeds
1 tablespoon coriander seeds (if ground, use 1 teaspoon)
1/4 teaspoon celery seed

Combine the cucumbers, onion and salt in a medium bowl. Mix it up well, cover it all with ice and let it stand at room temperature for two hours. In the meantime, boil the sugar, vinegar and spices in a pot. Drain your now-room temp veggies and add them to the pot with the vinegar mixture.  Bring it all back to a boil and then remove it from the heat to cool.

You can keep those sweet babies in an airtight container for up to three weeks in the fridge. But you don't have to wait that long … it only takes two hours before they start tasting like pickles.

Assemble the burgers using soft challah rolls, pickles (generous portion), and a couple slices of fresh sweet tomatoes. Enjoy.